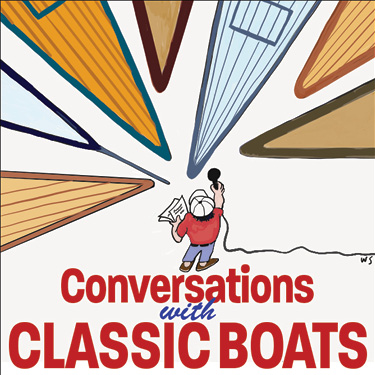 Monday, May 11 marked the date for the rollout of "Conversations with Classic Boats," the website and podcast created by Tom Darling, a longtime WindCheck friend and contributor, featuring a unique look at what Tom calls "classic" boats. "A classic boat doesn't have to be wood, and it doesn't necessarily have to be a yacht," Darling explained. "It could be fiberglass – think of a Dyer Dhow – but everyone agrees that Bolero and Dorade are classics." The website, ConversationswithClassicBoats.com, details each podcast episode with photos of the boat featured. Listeners are encouraged to contribute their own photos, as well as personal recollections.
"The podcasts are 30 minutes long and available from the website ('CWCB' for short) as well as iTunes and Google Play," Darling continued. "They combine narrative from research conducted at the Herreshoff Marine Museum and Mystic Seaport Museum with personal interviews with the owners and skippers of boats, some of are over 100 years old. Legendary boats from Herreshoff and Sparkman & Stephens are part of the initial 2020 season's releases. Season 2 will feature additional sailing venues on the East and West Coast, as well as a look at Australia's classic fleet."
The first episode highlights Dolphin, the 106-year-old Herreshoff Newport 29 that Darling (whose articles on the boat's history and recent sailing record have appeared in WindCheck) calls the "winningest boat still sailing in America." In 2010, Dolphin became one of the original boats to join Oakcliff Sailing's fleet of 23 classic woodies berthed in Oyster Bay, NY.
Conversations with Classic Boats has sponsorship from Team One Newport, with other sponsorship discussion underway. WindCheck, through our website and print editions, expects to work with CWCB on new editorial content and reaching an expanding web-based audience. For more information on the podcast and website, contact Tom Darling at tcd4sail2@gmail.com or log onto ConversationswithClassicBoats.com. ■