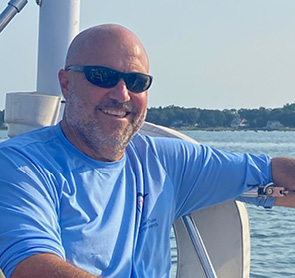 A longtime member of Beverly Yacht Club in his hometown of Marion, Massachusetts, R. Gregg Nourjian is a PHRF New England Commodore Emeritus and an enthusiastic supporter of Courageous Sailing who relishes introducing young people to the joys of sailing.
"My parents, Wendy (Peirson) Nourjian and Bruce Nourjian, met racing 110s against each other and spent their honeymoon on a 40-foot sailboat," says Gregg, who grew up in Stowe, Vermont and spent summers in Marion. "I was probably a month old when I started sailing. Dad would take me racing on his Cal 36 and C&C Viking 33 while I was very young, and I started in the Beverly YC junior program at 5. Mom and Dad were both amazing sailors, and they also had more fun than most competitors, whether in PHRF fleets or the Shields class. People loved sailing with them because it was fun, and they always had a great group of friends aboard."
"I still don't know why I didn't join the sailing teams at Tabor and Dartmouth," says Gregg, "but that decision made room for new experiences I might not have had. Once I started sailing on Boomerang (65-footer) with my dad in 1982, I had a fantastic bunch of sailors to learn from. Other than occasionally sailing our Shields, I'd pretty much gone over to the 'big boat' side of racing."
"With the new 80-foot Boomerang we had an even more experienced team, and aside from sail trim, helming and tactics, the most important thing I learned was teamwork. I loved the way fourteen to eighteen experienced amateur racers could work so well together. I learned how important it is for the helmsman to be confident that if he has to make a quick change on the fly, his team is ready, able, and enthusiastic about making it happen. As I got more experienced and was putting together crews for myself and boats I raced on, it was rewarding to teach new crew members in every position and help them understand how all positions have to work together to achieve great outcomes."
"I did my first Newport Bermuda Race in 1986. I've done sixteen or seventeen Newports, and one Marion. My first Marion Bermuda Race was in 2019. Captain Jim Geil asked me to come with him as tactician aboard Tabor Boy and teach the kids how to race. It was an incredible experience having sixteen youth sailors offshore for four days on the trip of their lives! We also didn't use any instruments. The kids navigated celestial right up to the finish line! An alum made a documentary about our trip called Celestial."
"I spent my summers growing up at Beverly YC, in the youth programs and also almost every job at the club from age 11 including mark boat, snack bar, launch driver, committee boat driver, off-season handyman, and cleaner. I joined the club right after college. My volunteer roles have included Race Committee, Admissions Committee, Member at Large, Cruise Committee, and now Fleet Captain." A member of Stowe Yacht Club, New York Yacht Club, Storm Trysail Club, Cruising Club of America, IYAC, Mattapoisett Yacht Club and Low Tide Yacht Club, Gregg has served on the Buzzards Bay Regatta Committee since 1990 and the Marion Bermuda Race Committee for several years.
"Beverly YC's 150th Anniversary this year is a special moment in our history. We had over 400 members dressed up and celebrating in style with two big tents, a band, great food stations, a photographic history of the club displayed throughout, and a time capsule that will be opened in fifty years. I like to say that we are the most welcoming club on the planet, and I've met many sailors from around the world that agree. I've never visited a club where BYC's reputation didn't precede me, and I am always welcomed with a smile and good cheer."
Gregg is a board member at Courageous Sailing, a Boston-based non-profit organization with a mission to transform lives through sailing programs that inspire learning, personal growth and leadership. "I guess I'm still a kid at heart," he chuckles, "and I love getting kids out on boats to experience nature and learn about leadership, teamwork, math, physics, science, weather, currents, patience, focus, self-confidence, courage, and so much more. Sailing is just a tool to learn so much about life, and as Courageous' founder Harry McDonough stated, 'Every child's perspective is improved fifty yards offshore.'"
"Courageous serves more than 1,000 kids annually with a variety of engaging youth development programs. We bring in kids from all walks of life. They build leadership skills, learn teamwork and self-reliance, study STEM, gain an appreciation for the marine environment, and reverse summer learning loss. This is Courageous Sailing's 35th Anniversary and we're hosting a gala on November 30 to raise funds for our Youth Development programs. Visit CourageousSailing.org to learn more and support a great community!"
"We're blessed with a reliable sou'wester on Buzzards Bay, and I enjoy getting out on big boats with a fun group of friends and racing around the Bay. I also like racing my J/80 with my daughters or friends. I've got a good group of friends in Newport where we race occasionally, and I love winter regattas where the first leg is from Marion to Logan Airport, with a long run to St. Martin or Tortola. I also enjoy cruising – for an overnight or longer – with family. While I rarely unplug altogether, an occasional email is always better served at the nav station while visiting Edgartown, Nantucket or Cuttyhunk. The key is to be enjoying the sport with friends and family." ■