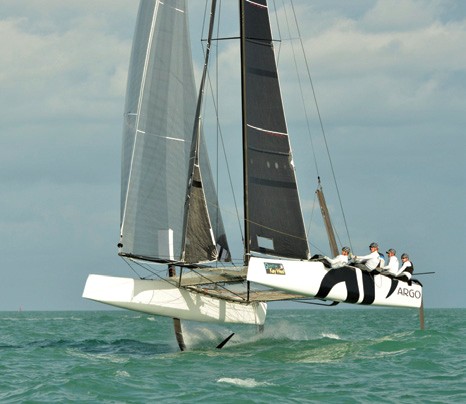 Organized by Premiere Racing, the 28th edition of Key West Race Week, sailed January 18 – 23 in Key West, FL, was a great success. Sailors on 146 boats from around the U.S. as well as Canada, Bermuda, Cayman Islands, Mexico, Brazil, England, Ireland, France, Italy, Switzerland, The Netherlands, Norway and Sweden reveled in five days of racing and shoreside festivities.
Jason Carroll's Argo (New York, NY) won three race in the new GC 32 Class, but rudder damage in Friday's rough conditions relegated her to third place.  © Allen Clark/PhotoBoat.com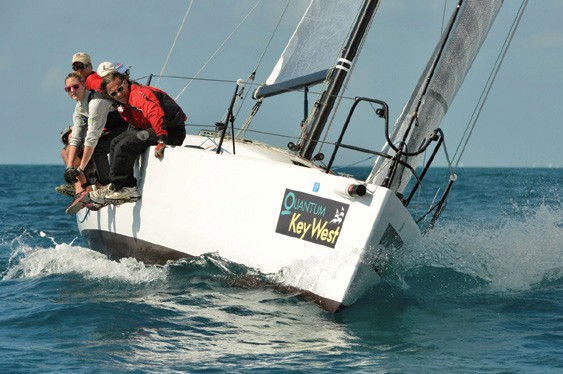 Points battles in most of the marquee classes came down to the last day of the regatta, which delivered the week's toughest conditions. Howling winds and rough seas challenged competitors on Friday, forcing the top contenders to raise their game in order to claim overall victory. That was certainly the case aboard Hap Fauth's Judel-Vrolijk 72 Bella Mente (Minneapolis, MN), winner of the Maxi 72 (IRC 1) Class. Fauth steered Bella Mente to first place in both races on Friday to
Iris Vogel's Deviation (New Rochelle, NY) lost a tie-breaker for first place in the six-boat J/88 Class.  © Allen Clark/PhotoBoat.com
hold off a stiff challenge from Gunther Buerman's JV/66 Numbers (Highland Beach, FL). "The wind gods cooperated today and gave us great racing," said Fauth. "We sailed hard in both races…and the whole crew did an impeccable job."
The GC 32 Class made its North American competition debut at Key West, and a quartet of these foiling catamarans posted the fastest speeds ever recorded at Race Week. With winds gusting to nearly 30 knots during the second race on Friday, the helmeted GC 32 crews hung on for dear life as the high-tech speedsters flew off waves, often completely out of the water. Ken Legler, Principal Race Officer on Division 1, reported that the ultra-fast cats completed a downwind leg in only six minutes. Flavio Marazzi's ARMIN STROM Sailing Team (Bern, SUI) scored a one-point victory over Erik Maris' ZouLou (Junal les Pins, Paca, FRA). The two American entries, Jason Carroll's Argo (New York, NY) and Alex Jackson's Leenabarca (Riverside, CT) were unable to compete in the last race after sustaining rudder damage in the rough conditions.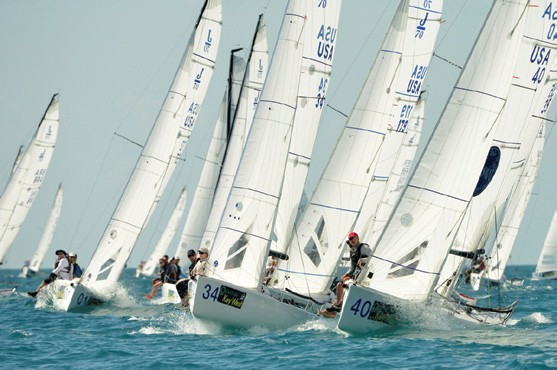 The largest class of the regatta, the 54 boat J/70 Class, had a week-long dog fight with constant changes at the top end of the standings. When the spray had settled, Carlo Alberini's Calvi Network (Pesaro, ITA) emerged as overall winner thanks to single-digit finishes in nine of 11 races, and was named Quantum Sails Boat of the Week.
Competition was fierce in the 54-boat J/70 Class.  © Allen Clark/PhotoBoat.com
Event sponsors included Title Sponsor Quantum Sail Design Group (Official Sailmaker) and Day Sponsors Lewmar (Official Marine Hardware) and Mount Gay® Rum (Official Rum). Supporting Sponsors were B&G (Official Marine Electronics), Marlow Ropes (Official Rope), and Gaastra (Official Clothing and Footwear). Quantum Key West Race Week is also supported by The Florida Keys & Key West Tourism Council. Sapporo USA is the Official Beer, and Regatta Ginger Beer is the Official Ginger Beer. Chelsea Clock provided their classic Shipstrike Clocks for the Boat of the Day trophies, and 20 Industry Partners brought support through a program that is now in its 14th year. For more information and complete results by YachtScoring.com, visit premiere-racing.com.
Sharon Benton and Quantum Key West Race Week Press Officer Bill Wagner contributed to this report.