New York City is home to some 520 miles of shoreline, but the Harbor is unlikely to be the first thing that comes to mind when you talk to New Yorkers about their city.
At Billion Oyster Project, a nonprofit headquartered on Governors Island, a small crew is working to elevate New York Harbor in the minds of New Yorkers by restoring oyster reefs with the help of students, volunteers, and community scientists.
When European settlers arrived in the 17th Century, they would have discovered hundreds of thousands of acres of oyster reefs and abundant marine wildlife. Oysters are a keystone species. They filter up to 50 gallons of water per day, and their reefs provide habitat for marine species and protection for shorelines.
A couple hundred years later, local waterways are still recovering from the dredging, pollution and overfishing that accompanied the Industrial Revolution. Water quality in New York Harbor has significantly improved since the passing of the Clean Water Act in 1972.
Billion Oyster Project and its supporters hope that improving water quality combined with increased access to the waterfront will compel the community to get involved in the restoration of the ecological gem that surrounds them. Earlier this year, 11th Hour Racing renewed its support for Billion Oyster Project. The Newport, RI-based professional sailing team is dedicated to ocean health, and their contribution will go toward the restoration of eight acres of oyster reefs across six reef sites in New York City. This collaboration will also increase Billion Oyster Project's capacity to collect shells from dozens of local restaurants and advance experiential education in the classrooms and along the waterfront.
"It's a pleasure to partner with an organization that shares our passion for thriving waterways," says Rebecca Resner, Hatchery Manager at Billion Oyster Project. "Science and education can help move the needle, so we are excited to team up with 11th Hour Racing again this year!"
Since its founding in 2014, Billion Oyster Project has partnered with schools, like the Urban Assembly New York Harbor School — a public high school focused on marine and maritime career paths — to educate New Yorkers about oysters and their potential to positively impact New York Harbor.
So far, the restoration initiative has engaged more than 20,000 people and has added nearly 50 million juvenile and adult oysters to the Harbor. The effort has been supported by 10,000 volunteers and more than 8,000 local students from New York City schools. Professional and student divers have also noticed improved visibility in the water near the program's 15 reef sites.
Oyster restoration isn't a new concept. Similar efforts in the Chesapeake, for example, have experienced great success. However, restoring oysters in an urban environment like New York Harbor is a different beast and an ambitious experiment.
"Our team is dedicated to scaling our restoration capacity," explains Billion Oyster Project Communications Director Helene Hetrick. "That being said, engaging young people in our process is equally as important, if not more, than the catchy goal to restore one billion oysters."
Oysters were ingrained in the region's history and culture long before Europeans arrived, thanks to local Lenape tribes. They were enjoyed by New Yorkers, rich and poor, for breakfast, lunch and dinner up until the 1920s when the city's last commercial oyster farm closed. With that history in mind, a commonly asked question is "when can we eat the oysters again?"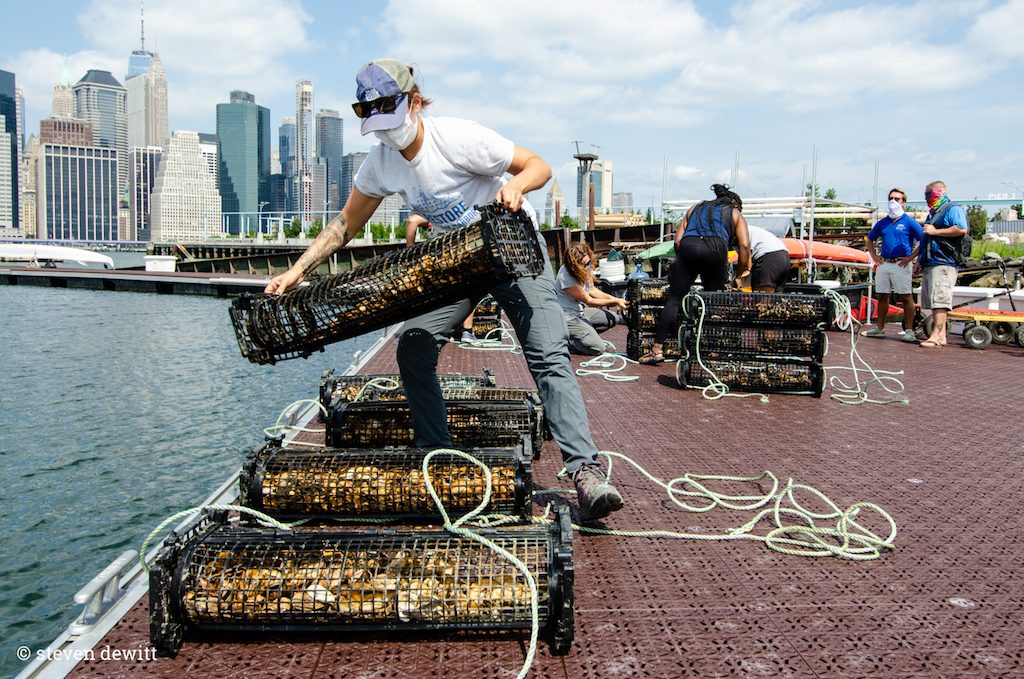 Unfortunately, the answer is "not for a very long time." Plus, they have an important job to do in the water. In theory, one billion oysters in New York Harbor could filter the volume of New York Harbor every 72 hours, but oysters are filter feeders meaning their body absorbs toxins from the water as they eat.
As addressed in CBS This Morning' s Earth Day feature, New York City's combined sewer system discharges billions of gallons of polluted stormwater and raw sewage into New York Harbor each year due to the City's antiquated combined sewer system.
"Luckily, there's a way for everyone to get involved in Billion Oyster Project," says Hetrick, "from prepping reclaimed shells on Governors Island for reef installations to surveying your local coastlines for wild oysters. We also have a membership program that invites New Yorkers to dine at partner restaurants in Manhattan and Brooklyn." For more information on the program and how to contribute to the cause, visit bop.nyc or follow them at @BillionOyster on Instagram and Twitter. ■