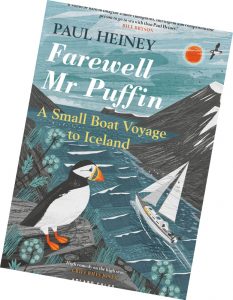 By Paul Heiney
Published by Adlard Coles, an imprint of Bloomsbury Publishing Plc
Comical in appearance with black and white plumage and colorful parrot-like beaks, puffins are known to many as "the jokers of the sea." Although they spend most of their lives at sea, Atlantic puffins have roosted in large numbers on or near Iceland for millenia. The population of these loveable little auklets is declining alarmingly, says author Paul Heiney, who sailed his 38-foot cutter Wild Song from England to the Arctic Circle in hopes of seeing puffins and sharing their waters.
As Heiney ventured northward – with one crew for some legs and solo for others– he saw no puffins in the waters of the Farne Island off Northumberland, England, the Orkney Isles off Scotland's north coast or the Faroe Islands, far to the northwest. Upon arrival in Iceland – reportedly the land base for more than half of the world's Atlantic puffins – they were likewise nowhere to be seen.
A captivating and humorous travel narrative, Farewell Mr Puffin is rich with the natural, social and maritime history of many ports of call, and the lives of folks inhabiting these remote places. The lovely cover art – the first published book cover by British illustrator Matt Johnson – promises a thoroughly enjoyable sea yarn, and Heiney delivers. This fine book is available in paperback or Ebook format at bloomsbury.com/us/farewell-mr-puffin-9781472990976/.
A descendent of beach fishermen and lifeboatmen, Paul Heiney has seafaring in his blood. He has sailed enthusiastically for a quarter century, cruising the waters of the United Kingdom extensively. He recently sailed to Cape Horn and back, mostly singlehanded. Although he's primarily a cruiser – and proudly serves as Commodore of the Royal Cruising Club – he also competed in the Singlehanded Transatlantic Race in 2005. A writer, TV presenter (That's Life, Countrywise) and filmmaker, he's written books on many subjects. His sailing titles include One Wild Song, Last Man Across the Atlantic, and Ocean Sailing. He and his wife Libby Purves live in Suffolk on England's east coast. To learn more, log onto paulheiney.com. ■