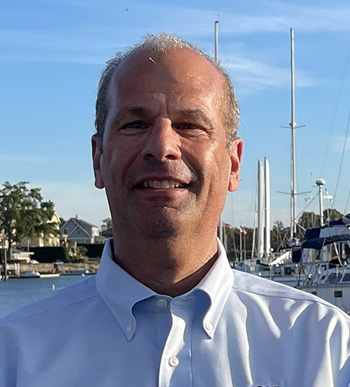 Andrew (Andy) Kaplan has joined the brokerage team at McMichael Yacht Yards & Brokers. The addition increases the McMichael roster to seven full-time yacht brokers serving customers up and down the east coast with a concentration on the Long Island Sound and Narragansett Bay. He will work primarily out of the McMichael Mamaroneck, NY, office as well as Martha's Vineyard, MA.
"Andy is bringing to McMichael a lifetime of experience in sail and power boating with a keen focus in the sailboat racing world," said McMichael President Steve Leicht. "His broad familiarity with offshore and one-design sailboats combined with his powerboating experience makes him an ideal addition to our brokerage team."
Kaplan spent the majority of his career in finance including helping create the Quattro Global Capital, LLC where he was a principal and head of operation and marketing. "I believe that my financial sales and management experience is a great asset as I transition to yacht brokerage," noted Kaplan. "While they are different industries, to succeed in either you need similar disciplines when matching buyers with the right product. That's what creates and maintains long term customer relationships."
Kaplan grew-up in Mamaroneck and has been a member of the Larchmont Yacht Club for over 30 years where he has been active in the Club's leadership. He lives in New Rochelle, NY, and on Martha's Vineyard. He can be reached at AndyK@mcmyacht.com or (914) 522-7581.
In 2021, McMichael Yacht Brokers celebrates its 86th anniversary in the yacht brokerage and service industry. McMichael has a team of brokers operating out of offices in Mamaroneck, NY, Newport, RI, and Huntington, NY. In addition to yacht brokerage, McMichael also owns and operates two yards in Mamaroneck, NY, offering the full range of services. McMichael is a dealer for J Boats, MJM Yachts, Hanse Yachts, Dehler Yachts, Amel, Ryck Yachts, and AB Inflatables. Visit mcmyachts.com to learn more. ■