Mark Zagol is the 2021 Viper 640 North American Champion, with Grace Howie and Meredith Killion victorious in the inaugural Viper 640 Women's North American Championship
Our friends at Noroton Yacht Club in Darien, CT hosted the first ever Viper 640 Women's North American Championship and the 2021 Viper 640 North American Championships on October 2 & 3 and 7 -10, respectively.
Boat speed was the name of the game in the first event of "Viper Week" at NYC, with Grace Howie and Meredith Killion (Larchmont, NY) scoring a convincing win in the Women's Championship. Sailing with Cardwell Potts and Ted Ferrarone, Howie and Killion posted a scoreline of 1-4-3-1-1-2 (throwing out a fourth place finish), by far the most consistent performance in the 18-boat fleet, for a total of 8 points.
Cam Farrah (Ft. Walton, FL), with her father Cliff and Jackson Benvenutti crewing, finished second with 13 points. The final podium positions were claimed by Sarah Warren (Pawcatuck, CT) and Hanna King sailing with Mark Zagol and Tim Desmond in third with 16 points; Mary Ewenson (Annapolis, MC) in fourth with 23 point with Austin Powers and Keenan Hilsinger in crew, and Jane Loutrel Moore (Hampton, VA) in fifth with 25 points sailing with her oldest son Parker and friends Marian and Vir Menon.
The background of this inaugural Viper 640 Women's North Americans started two years ago, initially to be a Worlds event but curtailed and converted to a continental championship due to international travel restrictions. From the beginning, it was acknowledged that it would be difficult to field a sizeable fleet of all-women crewed Vipers as only a handful of the Vipers are owned and regularly helmed by women. Most boats consisted of at least half women or majority female teams, and there was one all-female team.
Leading an all-female Race Committee comprised of volunteers from over a dozen different yacht clubs, PRO Sandy Grosvenor (Annapolis, MD) presented a textbook example of how to keep her committee and sailors informed about changing conditions and anticipated next steps. "The thing that impressed me the most was that the RC team worked together seamlessly," Grosvenor noted. "When you have volunteers from over a dozen different clubs – very few of whom had ever worked together before – the way we ran this championship was keenly satisfying." Event Co-Chair Nancy Pearson of the host club added, "I attribute that success to Sandy's organizational skills and the countless hours she put in setting-up this Championship and her volunteer team."
When asked what allowed them to outperform the other boats, Meredith Killion said, "It was largely a matter of working to keep the boat going fast. It wasn't that shifty, so we weren't tacking or gybing frequently. It was largely a matter of boat speed." Grace Howie continued, "We really had good boat speed up wind, especially when we were in the lead and could concentrate on straight line speed. Being four-up made us heavier than many boats and allowed up to power-up the boat more by pressing, bow down and going fast. Once you got on the long tack, it was a drag race to the mark, and we appeared to have better boat speed than the other boats." Grace also noted how fortunate she was to step onto a boat on which crewmates Cardwell Potts and Ted Ferrarone have been sailing together for close to a decade.
The 2021 Viper 640 NAs was a tale of two halves, with light air dominating the first two days before strong winds prevailed for the final two days. The Day 3 forecast called for winds from the east in the high teens with significant gusts and then building to the low-to-mid 20-knot range. When the competitors arrived, winds were as forecast in the high teens and the overnight easterly had generated steep and close three-to-five-foot breaking wave sets across Long Island Sound. The first planned race of the day, Race 7, got off on time at 1100 as the winds and wave height continued to increase.
Boats were sailing into the current upwind reporting COGs around six knots, but when they turned downwind, the speedos were showing average speeds around 15+ knots with surges well above 17-18 knots…some reporting hitting 20 knots. Mark Zagol (Pawcatuck, CT) got his wish for some exciting downwind sailing as he finished the race in second behind six-time Viper 640 North American Champion Brad Boston (Windsor, ON).
It was about the time that Boston and Zagol's boats crossed the finish line that a particular puff hit the north side of the course, simultaneously knocking over four boats that were mid-fleet. With all the available safety resources absorbed in assisting those boats, and with the wind speed and sea state continuing to worsen, PRO Sandy Grosvenor cancelled any further sailing for the day.
Zagol, sailing NESS with Tim Desmond and Drew Buttner, posted a 4-4-1-6-2-2-2 [6] scoreline to clinch the championship with 16 points. Great Scott!, skippered by Jay Rhame (Shelter Island, NY) with Rachel & Peter Beardsley took second, with USA 163 (Larchmont, NY), sailed by Jennifer & Cardwell Potts, Ted Ferrarone and Meredith Killion, rounding out the podium.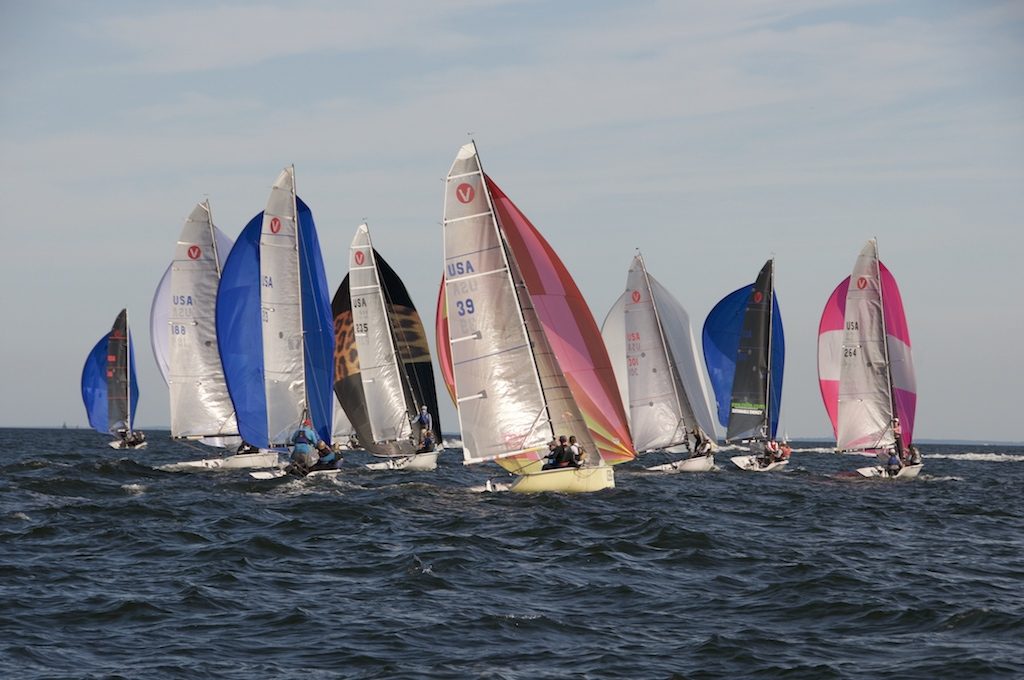 Thirty-six Viper 640s contested this year's NAs.   © Rick Bannerot/OnTheFlyPhoto.net
Being the North American Championship, several other awards were presented.
• The new Geoff Ewenson Memorial Service Award, donated to the Class by Harken Marine and recognizing long-term contributions to the Viper 640 Class, was presented by Mary Ewenson to Peter Beardsley.
• The Viper 640 North American Championship Award for Sportsmanship, donated by the Kleinschrodt Family, was presented to Mary Ewenson for sharing her late husband Geoff's "11 Rules of Sailing" prepared by the EWE Foundation.
• The Governor's Cup (top team with helm over 55) went to Bill Vickers, Jim Lodico, and Tim Williams.
• The Jedi Trophy (top performance by a sailor over 70 – helm or crew) went to Buttons Padin.
• The Youngest Sailor award was presented to 11-year-old Thomas Owen sailing with his father David.
• The MVP Award went to Noroton Yacht Club Operations Director Connor Brady.
• And a special recognition award was presented to Event Co-Chair Nancy Pearson for all her contributions in making the event the success it was.
For more details, photos and videos, visit viper640.org and the Viper 640 Facebook page. The 2022 Viper 640 North American Championship is scheduled to be hosted by Gulfport Yacht Club (MS) from October 13-17, 2022. ■
Viper 640 Class Administrator Buttons Padin contributed to this report.