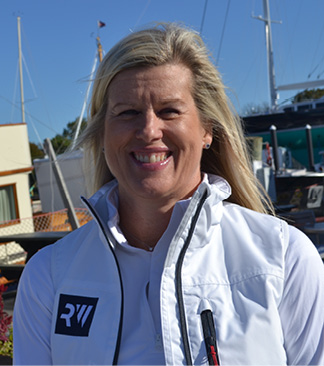 Veronica Brown is the Director of Experiences and Events at Safe Harbor Newport Shipyard in Newport, RI. We chatted over coffee at Belle's in early November.
Coop: Veronica, thanks for the coffee. Where did you grow up, and was sailing a 'thing' in your family?
Veronica Brown: I grew in Bath Maine. My dad was in the Merchant Marine and mum was a politician, so despite that background, I did not grow up sailing.
Coop: Hummm, OK, can you outline for me the course you have taken that got you from Bath to working in the most prominent shipyard in the sailing capital of the world?
VB: I went to school at Wagner College in Staten Island, New York, and after I graduated I went to work at a PR firm in Manhattan, Howard Rubenstein. One of their clients was Bill Koch and that was my introduction to sailing.
Coop: Oh, I see. You worked for Koch on the PR side?
VB: Not there. Another woman worked with him. But when I moved to San Diego in 1995 I worked on the PR for Koch's all-women's team, basically straight out of college.
Coop: Ah, so Suzy Leech, Joan Porter, Linda Lindquist-Bishop, Dawn Riley: The Mighty Mary Marine Mafia…?

VB: Yup, know 'em all. (Smiles)
Coop: So, were you the PR office for Mighty Mary?
VB: Well, the woman I worked with at Howard Rubenstein, and who managed Bill's account, ran the PR under the Rubenstein sign, but then she left, went to work for Bill directly and moved to San Diego, then hired me, so I went out there too. I was not the top dog, but was in the thick of it.
Coop: Did you have any sailing background at all prior to involvement with the America's Cup?
VB: (Smiles.) Nope, "just" the America's Cup, twenty-five years ago.
Coop: Ah, go big or go home. What is your title here, at the Shipyard?
VB: My title is "Director of Experiences" for Safe Harbor Marinas.
Coop: And that means?
VB: Events, marketing. The big events I handle are the Newport Charter Yacht Show, in June. This coming August we will have our second Safe Harbor Marinas Race Weekend on the bay, and a million other things.
Coop: All the other "little events."
VB: Yup. Newport Bermuda Crew Party – that's a big one.
Coop: Candy Store Cup?

VB: Yes, we ran that too from 2016-2019.
Coop: How did you get from San Diego to Newport and the Shipyard?
VB: When I was in San Diego, I met a guy named Peter Craig and after the 1995 America's Cup, Peter took over running Key West Race Week. In 1996 he asked a couple of us from A3 to come and help run the event. I went to Key West four years in a row, and that was where I met my Husband, Chuck Brown. He was sailing on Infinity.
Coop: Ah, the late John Thompson…
VB: Yes, and then Solution, John's Farr 40
Coop: Ah. Is Chuck Newport Rigging Group?
VB: Yes.
Coop: Small world department…

VB: Yes. I met Chuck at Key West in 1998, but I was living in Newport Beach, working on a charter boat. In 1999, I moved to Newport to be with Chuck. And about four months after I moved to Newport, Chuck got a job with Dennis Conner, and we moved to New Zealand. Chuck was on the team, and I did the PR. We came back to Newport, were here for about a year, and were married in 2000. Then Chuck and I got the call from Dennis to come back and work for him. So, we moved to San Diego, lived there for a year, then in Long Beach where the team was training, for six months, then New Zealand for six months. I was working for North Sails – sixteen years in total. Chuck was working for Southern Spars, Rig Pro. During this Cup, I met Eli Dana who was also on the Stars & Stripes team and was coming home afterward to work for his family business, Newport Shipyard.
In 2005, Eli called and asked if I would come work at the Shipyard. I started part-time, then full-time in 2016. I owe a lot to Eli and his parents, especially his mom, Posy, who I worked very closely with for many, many years.
Coop: All your "sailing" has been on the marketing side?

VB: Yes, Events, PR, marketing, social media.
Coop: What, if any, challenges have you faced in this very high-test arena, almost completely occupied by powerful men?

VB: Well yes, go into any meeting and it is usually 99.9% men. As a woman I think you need to follow a course that goes with what you know. Go with the experiences you have. In the end, your skill and experience will prove your spot at the table. Now, ironically, much of the marketing team at Safe Harbor Marinas is women.
Coop: Do you get any time on the water yourself?

VB: Chuck and I own a powerboat and we spend some time on that, and Chuck and our son, Parker, sail a VX One. Chuck owns that boat with Phip [Hallowell-who works with Chuck at Newport Rigging group] and the three of them sail that. Parker has also started sailing with another father and son VX One team, Mike and Luca Danks. Parker "mentors" Luca who is only 8 years old. I think that's kind of cool, since Parker is only 18 but he considers it his chance to give back to a young sailor. And, of course, they have fun.
Coop: You're also involved with the Ida Lewis Yacht Club Junior Program for summer sailing, yes?
VB: Yes, I've been the adult chair of the Ida Junior Sailing summer program for the past four years.
Coop: My favorite topic, kids and sailing. Walk me through your role and responsibilities I see this as you, the Chair, being the connection between the club and the program. I understand there is a program director, whom I imagine reports to you. And the coaches report to her?
VB: The Adult Chair, me, works with Bronwin Gallahue, the Bookkeeper at Ida and we basically handle everything from January or February when registration opens, up until the middle of June. So, emails, paperwork, registrations, back-office accounting, and so on. The Program Director comes into the lineup by middle of June, and we hand it all off to her.
Coop: You will be aware that there is a level of hum about getting more women in sailing, across the spectrum from high school sailing to weekend sailing to the Olympics and everything in between. The Suddenly Alone seminars, for instance, are filling a much-needed gap in the sailing community. What do you see in that part of the sailing milieu?

VB: I feel like there are more clinics, seminars, educational opportunities for women, girls, more high school and college sailing, regattas, for younger women sailors. That is great and certainly a step in the right direction. And you're right, the Suddenly Alone situation, Safe Harbor conducted seminars during the Newport International Boat Show on that very subject, and how you should prepare in case something happens. As you say, so often it is the husband who has the experience, and the woman is commonly quite inexperienced. Raising awareness of this situation is important.
And for instance, in the IC37 Class rules you're allowed to have a youth sailor on board, under 16, and in Class events, there is a requirement for a crew of the opposite gender, which is obviously female. And in events, not major ones but local low-key regattas, the boats are allowed to have one junior on board, and they do not count towards the weight limit or the crew head count. Encouraging junior sailors to take advantage of that is key – that is how you are going to get your foot in the door.
Coop: Yes, foot in the door. At the America's Cup level, none of the boats had women sailors on board. And I think you need to drill down a couple of layers to find women, although there are women engineers and designers on the teams.

VB: It is so interesting you say that because my introduction to sailing was with a women's team.
Coop: So, full circle, eh?
VB: When I joined the Mighty Mary Team, it was obvious that men were very much the majority of high-level sailors. And Bill Koch deserves a lot of credit for that program. The women on that team: Linda, Suzy, and Dawn, are leaders in the sailing community. Thank God for Bill and what he did there.
Coop: Well, yes, I cannot imagine there are too many women around the world with Dawn's experience and are now doing what she is doing.
VB: Yes, it'd great to see those women still leaders in sailing twenty-five years on.
Coop: OK, three $64 questions. What are your three recommendations for high school girls who want to get more into sailing?

VB: Be confident in what you know. Sail as many regattas as you can, and stay engaged in the sport. And never be afraid to introduce yourself to someone you would like to know. And since I have been here, I have had three interns; two boys from Salve and now Allie Bradshaw. She started with me in 2019, and of course 2020 was a bust but this year she's been working here, side by side with me, since May 1. I feel like I am her mentor, and I think that is important to getting more women involved in the world of sailing. She will call sponsors and check in, call the event vendors, and make sure they are on track. She is terrific. And now she is full time with me.
Coop: Veronica, thank you, this has been great. Lovely to catch up.

VB: Thank you. ■