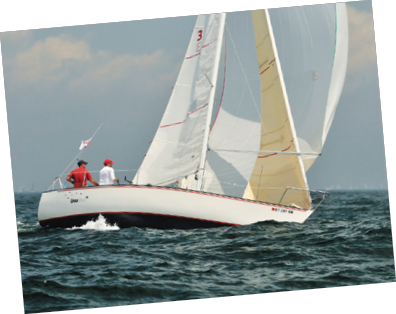 In a presentation hosted by the Mystic River Mudhead Sailing Association, yacht designer and builder Bob Evelyn will speak at Mystic Yachting Center, located on the grounds of Mystic Shipyard at 100 Essex Street, Mystic, CT on Wednesday, November 12 at 7 pm. Evelyn is noted for the light displacement, fast racer/cruisers that bear his name, most of which were built by his own company.
Matt Reichart's Ursa Minor is an Evelyn 25. © Allen Clark/PhotoBoat.com
Evelyn designed and built sailboats that changed a generation of racing sailors. He was instrumental in creating a world in which Mudheads still play. What is a Mudhead? The Mudheads formed in 1976 to help promote racing and camaraderie. Mudheads have grown into arguably the most active racing fleet in the Northeast, with over 60 boats regularly participating in the Donzo Wednesday Night Racing Series. The Mudhead mission is to promote camaraderie and fun among members by encouraging competitive sailing, managing quality races, fostering member participation in racing at all levels, and hosting memorable social events. The Mudhead burgee is frequently visible at regattas from Newport to City Island and around the world.
The presentation will focus on an important time in racing history and Mudhead history. Beer and wine will be served. This event is open to the public and admission is free, although donations to the Dillon Fund encouraged. Named in memory of Richard Dillon, a founding Mudhead, the Dillon Fund is a special account to help Mudheads of all ages compete at the national and international level. For more information, visit mudhead.org/donations/dillon-fund.