"Thanks AYC…for the best regatta around!" – a Viper 640 sailor on Facebook
By David Schwartz-Leeper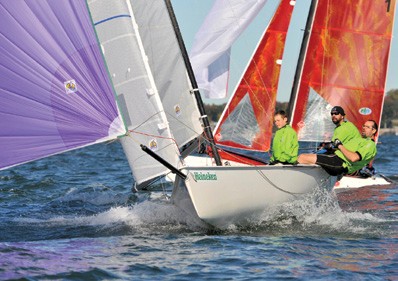 A little bit of everything  – 25-knot gusts and 3-knot zephyrs; rain and sun; choppy waves and flat calm; crews from as far away as British Columbia, Bermuda and Ireland – characterized the 11th running of the American Yacht Club High Performance Dinghy Open in Rye, NY. Sponsored by Heineken, the event also offered a lot of certain key ingredients: "Great racing, great friends and great beer." True to the regatta's motto, eight races were completed in the two-day event, which saw just under 90 boats on two courses
and a parking lot packed with dinghies, trailers and sailors swapping parts, tools and advice. Indeed, the vibe all weekend long epitomized what small boat racing is all about: fierce but friendly competition on the water, and camaraderie ashore.
After attending a Saturday morning skippers meeting conducted in the rain by the two PROs and the head of AYC's Safety & Rescue unit, more than 200 sailors quickly rigged up and fought the chop and some strong inshore currents to the starting lines, where they found just the kind of wind they like: 15-20 knots with gusts up to 25. As for the rain? As one Canadian Fireball competitor said, "We're all gonna be wet anyway – the rain doesn't matter."
More than two dozen Vipers lined up for their first class start on the East Course, soon to be followed by separate class starts for the F-18 catamarans and RSK6 sportboats. The South Course hosted separate starts for 5O5s, Fireballs and the free-for-all Portsmouth Division, which this year included WETA trimarans and Flying Dutchmen (International Canoes, also perennial Portsmouth competitors, were forced to withdraw after several were damaged in a traffic accident on the road to Rye). Following five grueling races, everyone was ready to call it a day and enjoy some Heineken hospitality ashore.
One of the signature features of this event is a sumptuous buffet dinner, and this year was no different. Heineken 5-liter kegs (known to discerning aficionados as "bubbas") graced the center of every table in the house and fueled many discussions about the day's conditions, race tactics and results. During the dinner, regatta founder and Co-Chair John Wyles, assisted by his tireless wife Sally, raffled off some very nice gear provided by sponsors Ronstan and Annapolis Performance Sailing before the competitors returned to the parking lot to tweak their rigs and then retire for some much-needed rest. Many were treated to deluxe accommodations provided by several AYC families. The hospitality of AYC's members is one of the main reasons the event is so popular, as one WETA sailor explained later.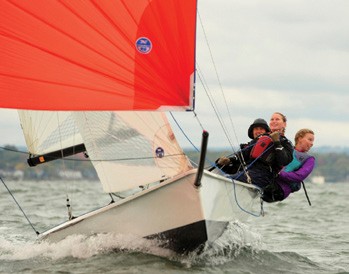 Sunday morning saw bright skies and a surprisingly strong northeasterly breeze that sent the fleets scudding back out to their courses. The wind held long enough to provide another exciting race before shifting to the east and shutting down for the day, but not before the Race Committees each managed to complete three races. As one competitor summed it up online, "Best race committee we have had for the F-18s in a year."
Beautiful engraved photo frames (thanks to sponsor TriBeach Holdings) went to both helm and crew who placed in the money, and first place teams also received more swag from Ronstan and some great toques from event sponsor Zhik; trophies and Zhik toques also went to the top female and top under-21 helm or crew. To see all the results, go to YachtScoring.com and click on "Select Event," scroll down and click on "11th Annual American Yacht Club High Performance Dinghy Open sponsored by Heineken." For more information, visit the regatta Facebook page at facebook.com/HeinekenHPDO, which has event photos courtesy of event sponsor PhotoBoat.com.
David Schwartz-Leeper is the Co-Chair of the American Yacht Club High Performance Dinghy Open sponsored by Heineken.