By Amber Hewett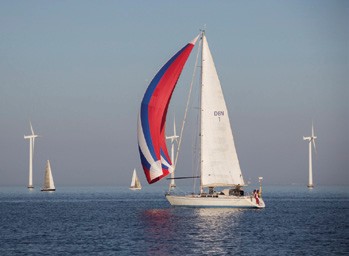 Block Island, RI is poised to make history next year with the much-anticipated construction of five offshore wind turbines. The project – proposed by Providence-based Deepwater Wind over six years ago – crossed major state and federal permitting milestones this year, placing them on track to begin construction in the spring of 2015. The significance of this project goes far beyond its own clean energy production: despite more than two decades of offshore wind power development overseas, America has yet to get in the game. Thanks to persistent
Sailors in Copenhagen, Denmark have been sharing the wind with offshore wind turbines for more than 20 years.   © flickr/Alex Berger
developers and visionary leadership in states like Rhode Island and Massachusetts, that is about to change.
Deepwater Wind's Block Island Project will make for a transformative national model. Such an undertaking – five 6-megawatt turbines three miles off the island's southeast coast – is a relatively small project compared to most of those operating across the Atlantic. The benefits to Block Islanders, the model it will provide for others in the region, and the new energy chapter it will begin, have the potential to spark a conversation that will sweep the nation.
The project's most tangible and immediate value is in what it will replace. Until the wind turbines are online, Block Island will continue its steady burning of diesel fuel – totaling one million gallons annually – and will stay entirely hinged to the exorbitant energy prices that transfer into the cost of every facet of life on the island. The dirty diesel generator currently powering the island endangers the very land that locals have protected for generations. With more than 43% of the island preserved as open space, the persisting threat of a fuel spill is reason alone to consider alternatives. Further, the urgency of responding to climate change with strong clean energy solutions underscores every step of this endeavor. Block Island's rapidly eroding bluffs are a striking reminder of the need to alter our energy course.
It is no surprise to Block Islanders – or Northeast sailors – that when considering the community's alternative energy options, offshore wind power rises to the top. There is a running joke on the island, that the only time you notice the wind is when it stops. Block Island's breeze is strong, nearly constant, and worth even more than a world-class sailing season. Those winds, when harnessed by Deepwater Wind's five turbines, could power the entire island and reduce local electric rates by more than 40 percent – even more so during the especially demanding summer months.
The construction and operation of the Block Island Wind Farm will certainly be noticed by Northeast sailors, as would any form of offshore energy development. But there is an important distinction that highlights the unique perspective the sailing community has to offer. Offshore wind power celebrates an abundant resource that sailors have been harnessing for generations. It carries us to and from our favorite coastal communities, and allows us to slip into that timeless place exclusive to non-consumptive moments and activities. Sailing fosters an innate feeling that we have escaped limitation, because we've managed to detach from our otherwise looming reliance on something finite. Carefully dispersing wind turbines far off our shores begins to move us toward a future in which more and more of our daily lives reflect the stewardship inherent to sailing.
Block Island has a remarkably strong conservation legacy, and being one of the first U.S. states to host an offshore wind power project will be the perfect extension of that legacy. If all goes well, Massachusetts's Cape Wind project will follow a similar timeline. Construction of that project in Nantucket Sound is also expected to begin next year, breaking the barrier inevitable to the nation's first offshore wind power project and launching us toward our next clean energy frontier with game-changing environmental and economic benefits. It is more critical than ever that we diversify our energy portfolio and seize the golden opportunity off our shores. As a Northeast sailor myself, I could not be prouder that America's offshore wind power story is starting right here with my home breeze.
The National Wildlife Federation strongly supports offshore wind power development that protects wildlife and their habitats throughout every stage of siting, construction, and operation. Properly locating turbines and requiring best management practices can minimize or prevent impacts on birds, bats, sea turtles, and marine mammals – and all species benefit from cleaner air and water and cutting the carbon pollution that causes climate change. To get involved, reach out directly to me at hewetta@nwf.org, and learn more at NWF.org/OffshoreWind.
Amber Hewett is the National Wildlife Federation's Northeast Climate Program Assistant. She lives in Newburyport, MA.