By Dan Dickison
Serious Racing and Serious Fun April 20-23, 2017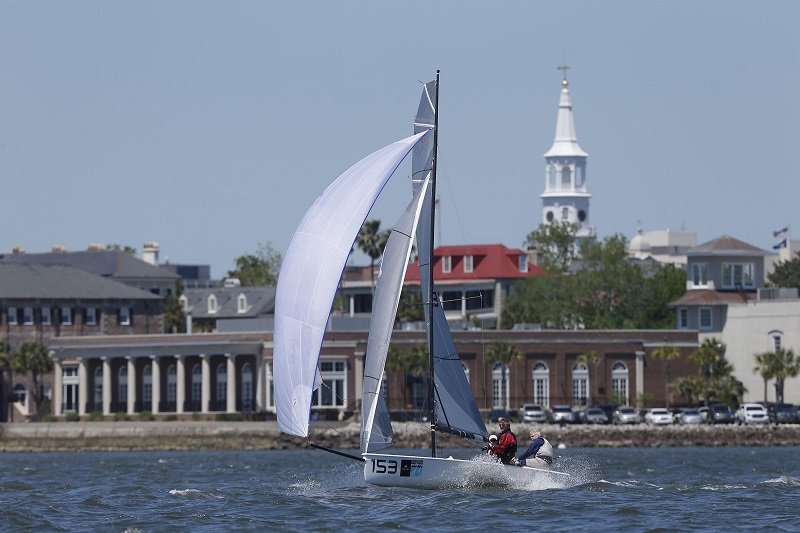 Sperry Charleston Race Week is just over 20 years old, but its notoriety has grown precipitously and it is now a must-do regatta for sailors from across the U.S. That simple fact means that each year, some 20 to 30 percent of the participants are new to the event. Given that, a primer on how to get the most out of your trip to Charleston, South Carolina is in order.
Most of the racecourses are set within the harbor. © 2016 Tim Wilkes Photography
Logistics
Where to launch and haul? Race Week's organizers collaborate with area yacht clubs and boatyards to ensure that launching and hauling is available, accessible and economical for all trailerable entries. These folks even offer free shoreside boat storage in advance, so you can drop your boat off several weeks early. It's always important to be informed well in advance regarding logistical concerns, and the best source of information can be found via the "Logistics" tab on the event website.
Where to tie your boat? During the regatta, most entrants berth at the Charleston Harbor Marina in Mt. Pleasant, which is adjacent the regatta headquarters and the site of all the event's social activities. It's also the closest marina to all of the racecourses. This is a 459-slip facility with ample capacity, but it's always wise to make reservations early. If you choose to berth elsewhere, there are several other marinas not far from the regatta headquarters.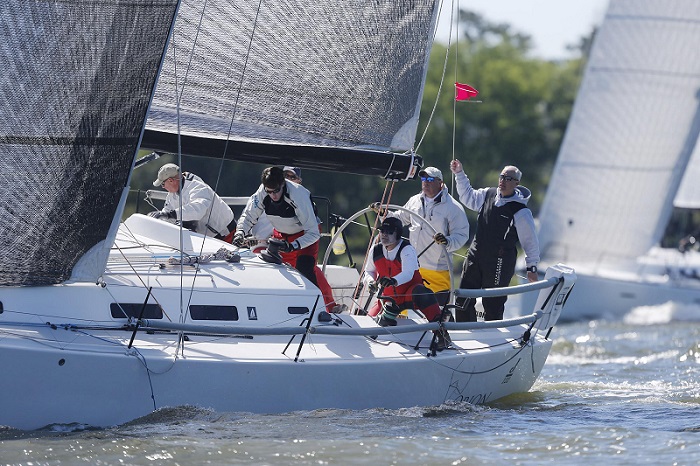 A consistent southwesterly seabreeze can be counted on to materialize each day around noon.
© 2016 Tim Wilkes Photography
Where to lay your head? As the Number 1 tourist destination in the world (according to the readers of Condé Nast Traveler magazine), Charleston has lots of accommodation options from hotels to historic inns to B&Bs and rental homes on the nearby beaches. The best option – if you want to be close to the action – is Charleston Harbor Resort, which is also an event sponsor. The hotel's newest facility boasts 92 luxury rooms, along with an expansive pool patio complete with bars and a bocce court overlooking the marina. For other options, check the Charleston Area Visitors' and Convention Bureau website.
Need sail repair? If you blow out a kite or tear a seam in your mainsail, we've got you covered. There are three sailmakers operating in Charleston year-round, and one of our big sponsors is Quantum Sails, who have an on-site repair facility from Thursday through Sunday.
Need gear? Forgot your spray top? Need a new ratchet block? No worries. Several of our sponsors will be set up on site to assist with issues just like those. Coral Reef Sailing Apparel, a longtime Race Week sponsor, has all the wearables you'll need, and a number of equipment suppliers will be exhibiting and selling merchandise at the event, including B&G, New England Ropes and Bainbridge.
Where to park your vehicle? If you're not staying at the Charleston Harbor Resort (meaning you don't have a parking pass), just park as close as you can to regatta  headquarters each day and take advantage of the event's shuttle service. For the peak morning and afternoon hours, Race Week's organizers have golf carts running from the outer parking areas down to the hotel and back. If you've got a trailer to park, event organizers can accommodate you for free (details will be available via the website).
Is the airport close by? The Charleston International Airport is just 20 minutes' drive from regatta headquarters. You can arrange an Uber, take a cab or pick up a rental car, all right there on site.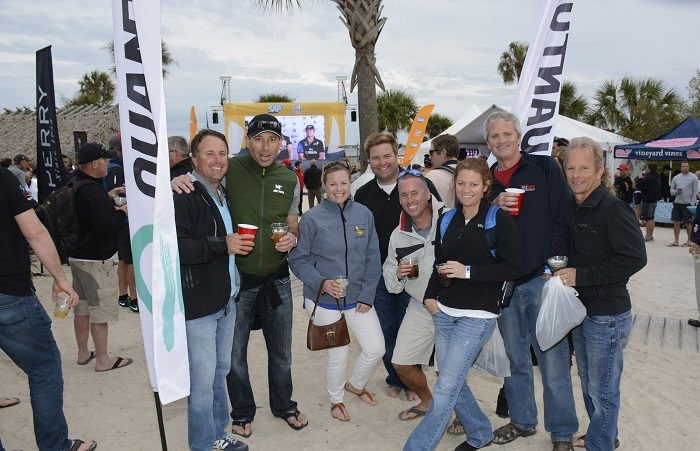 Among the highlights is the beach party after each day's racing.  © 2016 Tim Wilkes Photography
On the water
Local knowledge   For most Race Week competitors, tidal current is the biggest concern. Charleston Harbor's tides can be fierce, particularly if you're not accustomed to sailing in those conditions. To offer everyone a better handle on this aspect of racing, the organizers present a local knowledge briefing each year the day before competition begins. These sessions are usually delivered by College of Charleston Sailing Team coaches who spend a good deal of time on the water in this area.
Courses and conditions   Race Week is held in the spring, a transitional time for the seabreeze phenomenon. Generally speaking, if there isn't a substantial weather system affecting the area, a consistent southwesterly seabreeze can be counted on to materialize each day around noon.
With exception of one offshore course for larger entries, all racecourses are set in the harbor, ordinarily in the South Passage between James Island and Shutes Folly. This is a well protected body of water, yet you can still experience a chop of nearly two feet if the winds are strong, flowing opposite the tidal current and coming out of the east or northeast. Though there are a number of shallow mud flats near the surrounding shoreline, the harbor's only true hazard is Middle Ground, a pile of rocks located just a quarter mile south-southeast from Shutes Folly. This feature can come into play for those boats racing on Circle 2.
Safety and support   Race Week organizers collaborate closely with the Charleston Harbor Pilots Association to ensure that all competitors are made aware of any commercial traffic that's apt to be in the area during racing. They partner with Roper St. Francis Healthcare to employ several teams of paramedics on the water. These emergency personnel are standing by throughout all the on-the-water hours of the event.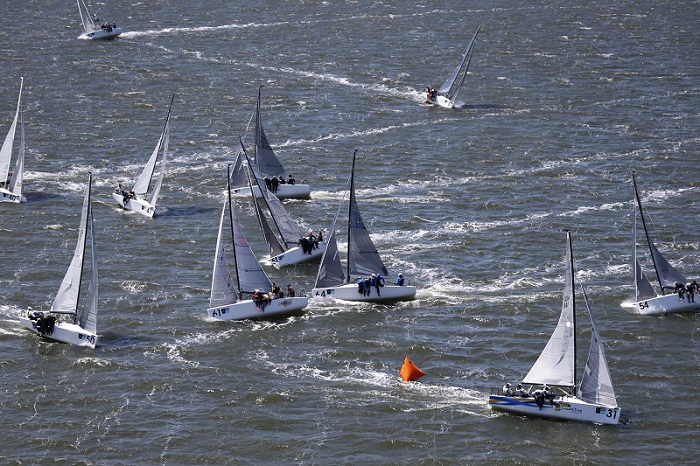 Charleston typically enjoys a reliable afternoon seabreeze in April. © 2016 Tim Wilkes Photography
Charleston's Many Attractions
There's a reason that Charleston is the Number 1 tourist destination in the world; several reasons in fact. If you come to Race Week, you don't want to leave without sampling some of the city's highlights.
Historic Charleston   Downtown Charleston is rife with historic homes and buildings, and it's home to 65 public parks. A good way to see historic Charleston is to rent a bicycle or take a carriage tour. You don't even need a car because the Charleston Water Taxi runs from the marina adjacent to Race Week headquarters across the harbor to the city.
Restaurant mania   You may already know that Charleston is a foodie's paradise. The restaurant scene here rivals that of most major cities in the U.S. According to the Washington Post, "Eating well is almost a birthright here in the Lowcountry." Take the time to look around and you'll discover high-end restaurants, outdoor cafes, fresh-from-the-dock seafood, and more accomplished chefs than a Cordon Bleu conference.
Golf galore   The great thing about golf is that it doesn't conflict with sailboat racing. You can't play golf when it's windy (well, you can't play well) and you can't sail when there's no wind. So, if there's a lay day, or you extend your trip to Charleston by a day, there's plenty of golf to check out. In fact, there's a course right next door to the regatta headquarters, so bring your clubs.
Lay day activities   If the wind gods decide to take a powder one day, there are lots of alternative activities. Only a half mile from regatta headquarters is a multiplex theatre with movie showings beginning as early as 11:00 am. If something more active is your preference, sample some go kart racing just a few miles out Highway 17 at Blackbeard's Cove Family Fun Park. You can rent kayaks or standup paddleboards at one of three nearby outfitters on Shem Creek. And there's always the option of spending the day at one of Charleston's beautiful beaches, just 10 minute's drive from regatta headquarters.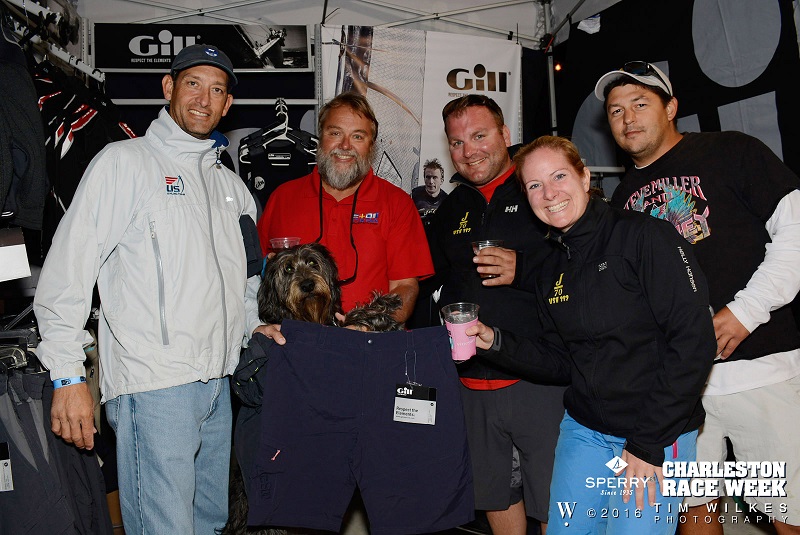 Sperry Charleston Race Week is just over 20 years old, but its notoriety has grown precipitously and it is now a must-do regatta for sailors from across the U.S.. © 2016 Tim Wilkes Photography
So, if you're coming to Sperry Charleston Race Week for the first time, take a few moments to get the lay of the land by checking out some of these options online. The next edition of Sperry Charleston Race Week is April 20 – 23, 2017. For more information, visit charlestonraceweek.com.