The mixed crew will be racing aboard the Hawaii-based Andrews 70 Sailing Yacht TRADER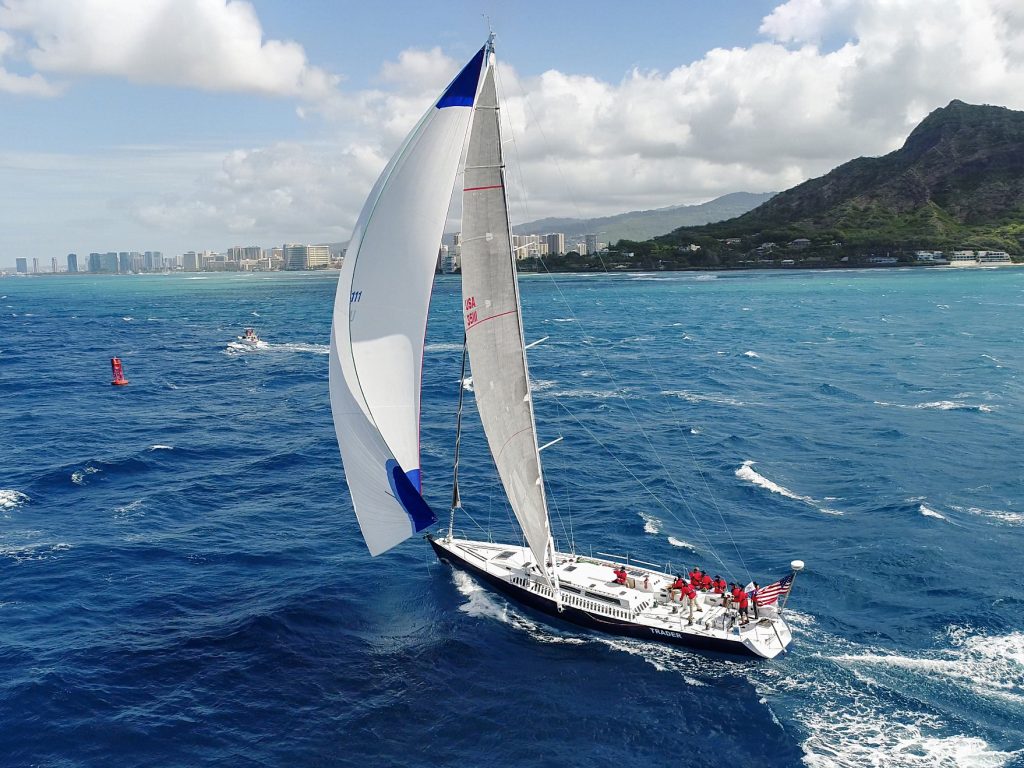 Honolulu, Hawaii – TRADER Sailing, a military veteran outreach sailing program based out of Honolulu, Hawaii, has announced their campaign to race in the 51st edition of the Transpacific Yacht Race (Transpac). Skipper and retired U.S. Marine Doug Pasnik has compiled a national team of military veterans and rising female offshore racers from all corners of the United States, including Hawaii, California, Utah, Texas, Florida, and Connecticut.
Of the team, Pasnik says, "I am driven in this race to build a winning team, synergizing military veteran leaders with up-and-coming young female sailors to compete in this bluewater challenge and celebrate in the camaraderie of adventure."
The 11-member race team consists of Pasnik and his core military crew, Ryan Brown (U.S. Marine Corps, veteran), Fred Jameson (U.S. Marine Corps, retired) and Kenneth Williams (U.S. Air Force, retired). They are joined by Neil Stewart (Royal Air Force, retired) and team medical responder Fred Grimmer. Representing the next generation of American offshore racers are Lindsay Gimple, Annie Longo, Megan Gimple, and Sarah Wilkinson of international sailing organization The Magenta Project and the youth offshore racing team MudRatz, Inc. Rounding out the crew is professional on-board reporter Justin Edelman (U.S. Navy, veteran) of Nobleman Productions.
The team plans to train in Hawaii this spring before delivering the boat to California prior to the race. Edelman will be documenting the road-to-race effort as well as the approximately 8 to 10 day competition to share the Transpac experience with a wider audience. TRADER is scheduled to start the Transpac on July 17th, 2021.
Look for an excellent feature story about TRADER Sailing by Lindsay Gimple in the March edition of WindCheck!
How to Follow TRADER Sailing:
Facebook: https://www.facebook.com/SYTRADER
Instagram: https://www.instagram.com/tradersailing/
Twitter: https://twitter.com/tradersailing
Linkedin: https://www.linkedin.com/company/nach-yachts/
About TRADER Sailing: TRADER Sailing is a military outreach sailing team homeported in Honolulu, Hawaii. Their Skipper, Doug Pasnik, is a retired Marine who rescued the Andrews 70 TRADER in 2014, eventually relocating it to Honolulu, Hawaii. TRADER competed in the 50th Transpacific Yacht Race in 2019, receiving the Dillingham Trophy for first finish by a Hawaii boat. TRADER is a common sight on the waters off of Diamond Head where Pasnik and a core team of sailors practice Tuesdays and Fridays, 50+ days a year. The program seeks to provide opportunities for soldiers, sailors, and young leaders alike to advance their skills, teamwork, leadership, and to grow together through the adventure of offshore ocean racing.
Website: https://www.tradersailing.com/
About the Transpacific Yacht Race:
The Transpacific Yacht Race, otherwise known as the "Transpac" is one of the most enduring long distance sailing contests in the world. The Transpac's 2,225 nautical mile open ocean racecourse begins near Point Fermin, California and finishes at the Diamond Head Buoy off Oahu, Hawaii. The 2021 edition will be the 51st running of the biannual race.
Website: https://transpacyc.com/
Press Contact: Lindsay Gimple
Email: media@tradersailing.com