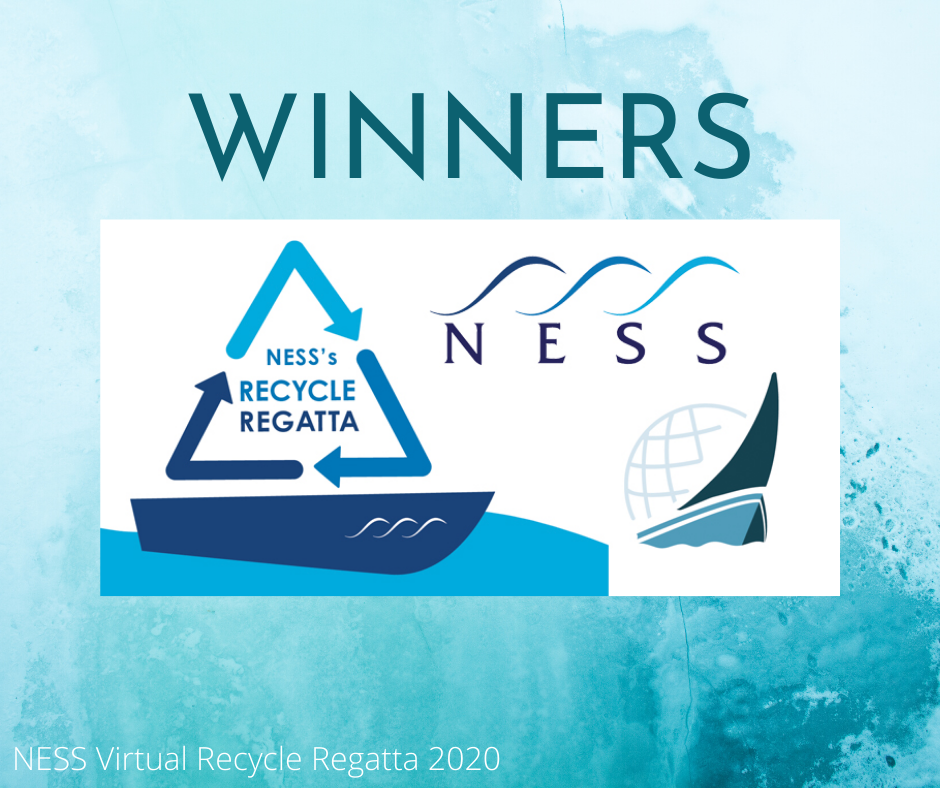 In an effort to bring ocean-based experiential learning to students and families at home, our friends at the New England Science & Sailing Foundation (NESS) in Stonington, Connecticut, in partnership with Educational Passages (EP) and the North American Marine Environment Protection Association (NAMEPA), are sponsoring the second annual virtual Recycle Regatta!

Participating K-12 students will design and engineer a sailboat out of common recycled materials. Students will test their boats and calculate nautical speed using mathematical applications. Students will submit their data and race against other competitors across the world. Two prizes will be awarded per fleet, one for fastest boat and one for the most creative design.
Students will compete in a fleet based on grade level:

Miniboat: grades K – 2
Opti: grades 3 – 5
Hartley: grades 6 – 8L
aser: grades 9 – 12

Submissions will be accepted from March 1 – March 31 and winners will be announced mid-April. Entry into the Recycle Regatta is free for students. K-12 teachers looking to bring the STEM concepts of the Recycle Regatta to the classroom are invited to participate in NESS's Sailing at Home Online Experiential Learning course (www.nessf.org/online) at a discounted rate.

K-12 teachers who schedule an online program in February and March 2021 will receive a $50 discount. This live, NESS instructor-led program is hands-on and engaging, and is aligned with the Next Generation Science Standards (NGSS). Interested teachers may contact Nina Quaratella, Education Specialist, at nquaratella@nessf.org.

To prepare for the regatta, students are invited to view our array of free educational videos related to the engineering method, buoyancy, recycling, marine debris, and ocean currents on the NESS YouTube channel (https://www.youtube.com/user/NESSMedia). Engage with competitors on the Recycle Regatta Facebook event page! For more information, including regatta rules, entry form, and examples of previous submissions please visit: https://educationalpassages.org/recycle-regatta/.
Recycle Regatta Partners:

About NESS
New England Science & Sailing Foundation (NESS) is a nationally recognized and award-winning ocean adventure education non-profit with a mission to empower students with a love of learning through ocean-based experiential programs that serve schools, teachers, and families. NESS offers a unique education model that empowers students with leadership, teamwork, confidence, and problem-solving skills to ensure academic success through marine science, sailing, powerboating, and adventure sports programs. NESS is the first, and only, program of its kind to be accredited by New England Association of Schools and Colleges (NEASC). For more information, visit www.nessf.org.

About Education Passages
Educational Passages is a 501(c)(3) nonprofit organization whose mission is to inspire ocean stewardship through unique global experiences. Participants connect through the building, launching, and tracking of six foot long unmanned and satellite equipped "miniboats" that sail themselves to distant shores. The Finder's Sticker onboard helps connect classrooms if it lands ashore. These boats sail the world's ocean and have connected 28 countries so far, bringing students, teachers, and communities together around fascinating learning opportunities. To learn more about Educational Passages and its Miniboat Program, visit https://educationalpassages.org/.

About North American Marine Environmental Protection Association (NAMEPA)
The North American Marine Environment Protection Association (NAMEPA) is a marine industry-led organization of environmental stewards preserving the marine environment by promoting sustainable marine industry best practices and educating seafarers, students, and the public about the need and strategies for protecting global ocean, lake, and river resources. For more information visit www.namepa.net.