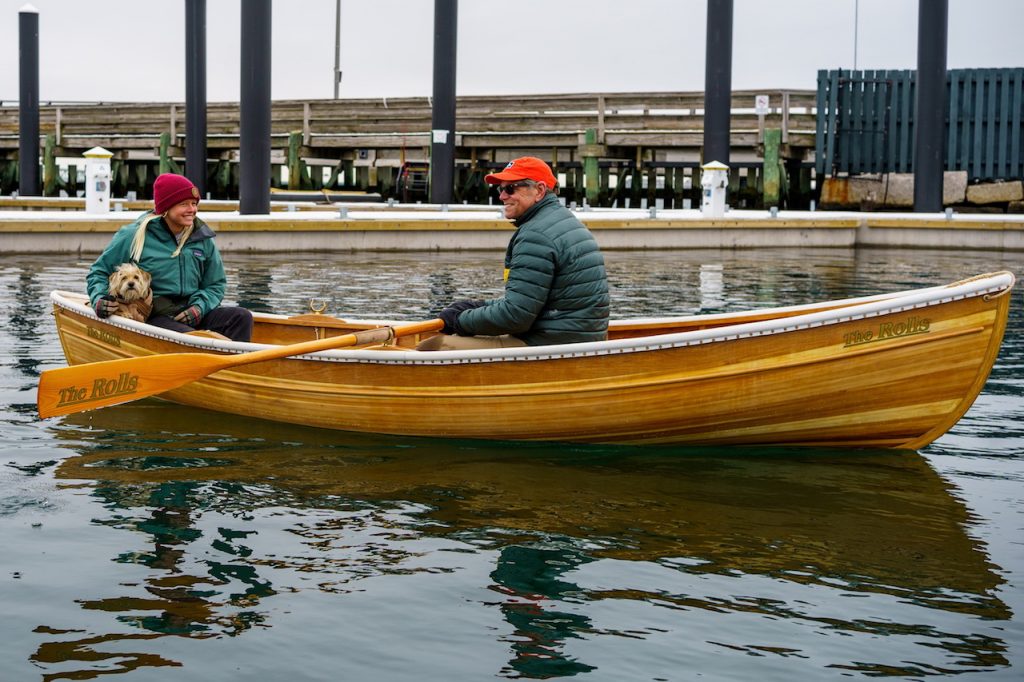 Tradition of the Past Meets Innovation of Today
Through a collaboration with Sparkman & Stephens (S&S), the Downeast Peapod company (a wholly owned subsidiary of W-Class™ Yacht Company in Newport, R.I.) has given its namesake double-ended rowboat a 21st Century makeover. To stay true to the design and thus the heritage of these historic wooden boats, S&S (also located in Newport) scanned the original lines of a Jimmy Steele Downeast Peapod, which was built with plank-on-frame construction over 20 years ago. The company then used 3D modeling to re-engineer the hull (13' 8" length, 4' 8" beam) for strip-planked construction, using western red cedar and WEST SYSTEM epoxy. 
Downeast Peapods have long been revered as some of the finest, most sea kindly small boats ever built in New England," said Downeast Peapod CEO Donald Tofias. "Now we can offer them in three versions that are about half the weight. They can accommodate four adults, and they row just as easily fully loaded or light – well-suited for a day of exploring coastal waters or hauling gear and crew as a tender to a larger yacht."
Downeast Peapods were originally designed and built in Maine during the 1800s for inshore lobster fishing. Their shallow draft and easy maneuverability allowed them to travel in the rocky Maine waters where larger boats could not go. With two ends (visually suggesting a peapod), they were easily rowed in both directions, and lobstermen commonly rowed them while standing.
"We are proud to have had a hand in modernizing this timeless and beautiful New England icon while maintaining its design integrity," said Sparkman & Stephens head designer Brendan Abbott. "Like its predecessor, the new Downeast Peapod is ready to serve the needs of this generation and generations to come."
Hull #1 Splashed
This past Valentine's Day, hull #1 of the new Downeast Peapods (S&S Design Number 2838) was launched at Newport Shipyard/Safe Harbor Marina in Newport, R.I. Representing "The Rolls" model in a three-model series, it was put through its paces alongside the original Jimmy Steele boat, named Ponytail, that had been patiently waiting to meet its new sibling.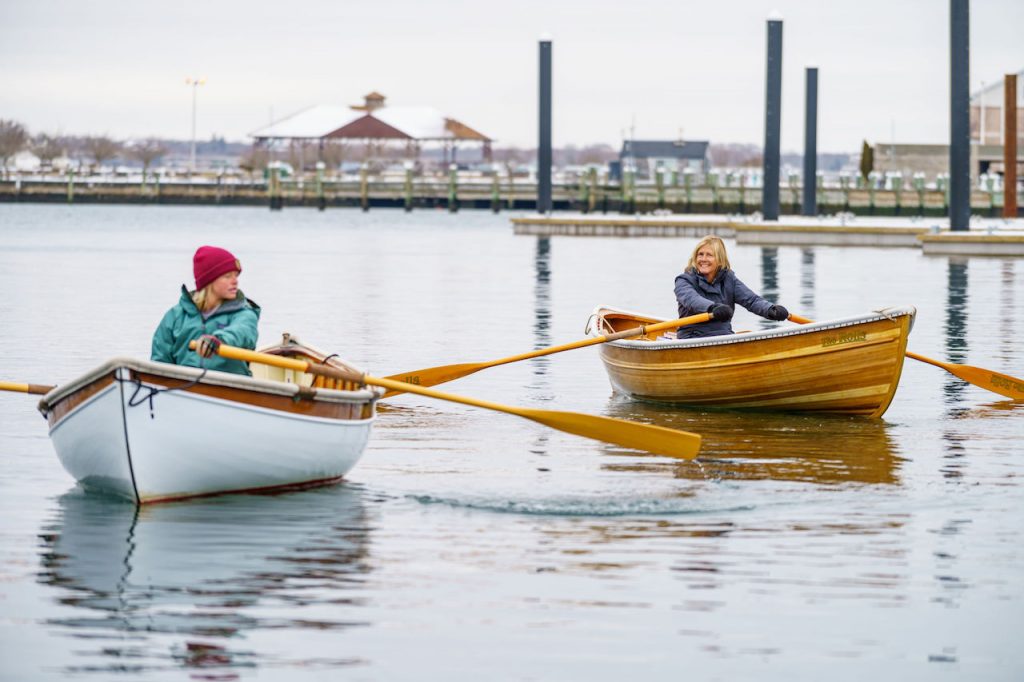 The Rolls' hull of strip-planked western red cedar and WEST SYSTEM epoxy is embellished with seats, floorboards, and sheer strakes of solid cherry, while the keel and frames are laminated locust. She is equipped with two Shaw & Tenney oars with bronze oarlocks.
"It was Jimmy Steele's lifelong dream to build a completely varnished boat, so it's a nod to him that our first boat launched is exactly that," said Tofias, explaining that in the old Downeast Peapods, copper rivets were used to attach the steam-bent wooden planks to the steam-bent wooden frames. With the new construction method, the rivets as well as more than 100 pounds of weight have been eliminated.
Jimmy Steele, who died in 2008, was the last of the great Maine Downeast Peapod builders. Tofias, a wooden boat enthusiast who also owns W-Class Yacht Company, acquired Steele's Downeast Peapod company in 2007 and moved it from Maine to Newport. In 2018, Tofias also acquired Sparkman & Stephens, which has been in continuous operation since its founding in 1929 and is known as the most iconic name in American naval architecture and yacht brokerage.
The Models
Downeast Peapods are Made in America with American wood and products. They are available in three models and can be ordered through the new www.downeastpeapod.com website:
• "The Chevy" with all-painted surfaces.
• "The Cadillac" with varnished seats and sheer strakes
• "The Rolls" varnished inside and out.
For more information go to www.downeastpeapod.com or contact Donald Tofias, President & CEO Sparkman & Stephens, LLC, 401-847-5449.