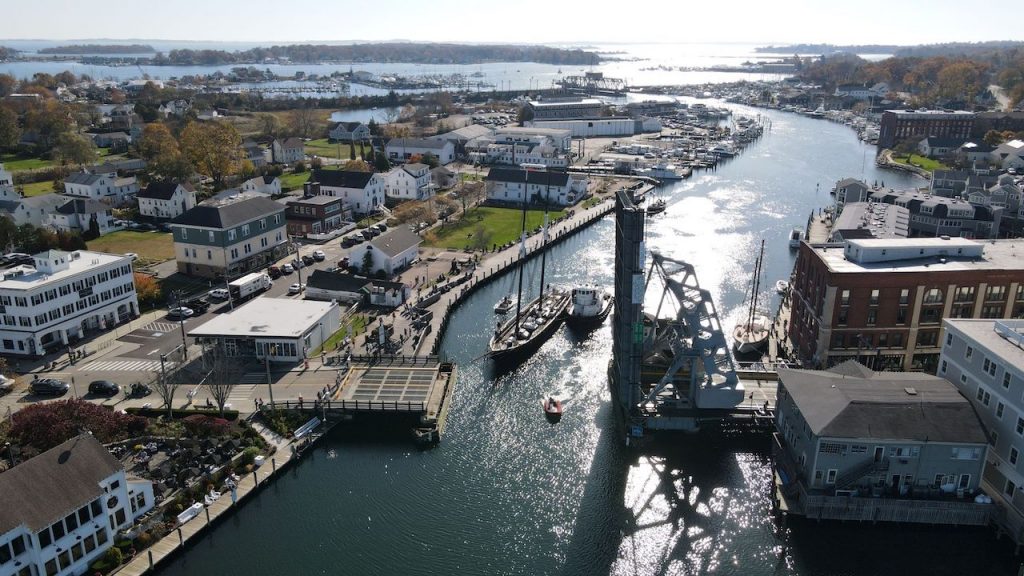 First action by Foundation for Underway Experiential Learning (FUEL) is to complete repairs to the historic vessel at Mystic Seaport Museum's Henry B. duPont Preservation Shipyard
Vineyard Haven, MA: Before dawn on Saturday, November 7, the iconic tall ship SHENANDOAH slid out of Vineyard Haven (Martha's Vineyard) harbor with assistance from the tugboat THUBAN beginning the next chapter in the life of this 57-year old ship. Captains Billy Mabie, a former mate on SHENANDOAH, and Fred Murphy, a well-known merchant-mariner from the Vineyard commanded the tugboat.
SHENANDOAH headed to the Mystic Seaport Museum's Henry B. duPont Preservation Shipyard following a recent announcement by the Black Dog Tall Ships about Captain Robert S. Douglas' intention to donate SHENANDOAH to the Martha's Vineyard nonprofit Foundation for Underway Experiential Learning (FUEL). A $1 million fundraising effort was launched by FUEL this summer for mandatory repairs to the ship in order to resume educational programming for Martha's Vineyard students next summer. Since 1995, the Island's 5th-grade students have taken part in a weeklong voyage aboard SHENANDOAH, an experience that has enriched the lives of more than 5,000 children. COVID-19 took the wind out of the program's sails last summer. Now FUEL, the new owner of SHENANDOAH, is preparing for twice the demand from Island schools and the first critical step is to complete repairs to the ship this winter.
"We are honored to become the custodians of SHENANDOAH and its life-changing programming that contributes to our quality of life on Martha's Vineyard," stated Casey Blum, LCSW, co-founder and Program Director of FUEL. "Knowing that SHENANDOAH was about to be gifted to our organization, I started contacting schools to discuss scheduling for next year and the response has been overwhelmingly positive."
FUEL has earned $400,000 thus far, including generous support from the Island's waterfront businesses. One such donor is Ralph Packer, owner of R.M. Packer Company, who contributed the towing expenses for SHENANDOAH's 80-mile trip to Mystic, CT. "Preserving SHENANDOAH and the heritage of sailing ships in Vineyard Haven is a big plus for the Island. Bob Douglas has done this for so long, he should be praised," stated Ralph Packer. "Now people ought to step forward and do what they can do. Getting the ship to Mystic is what I can do."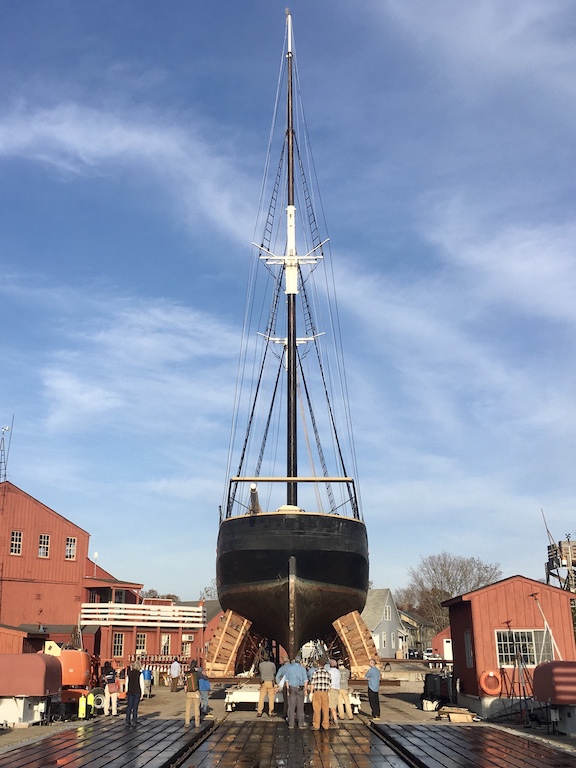 SHENANDOAH was hauled out and carpentry repairs will be completed to the deck and stern of the ship. "Mystic Seaport is the perfect partner for us. The Henry B. duPont Preservation Shipyard exists to save these historic ships, and their talented shipwrights are second to none," stated Ian Ridgeway, co-founder and Executive Director of FUEL. "The fact that SHENANDOAH will be viewable to the public while at the shipyard, promotes the ship's educational value and our goal of expanding its programming in the years to come."
FUEL seeks contributions of all sizes to reach its time-sensitive fundraising goal. To make a tax-deductible gift to the Shenandoah Campaign, visit www.ShenandoahFund.org or contact Ian Ridgeway at ian@fuelprogram.org.