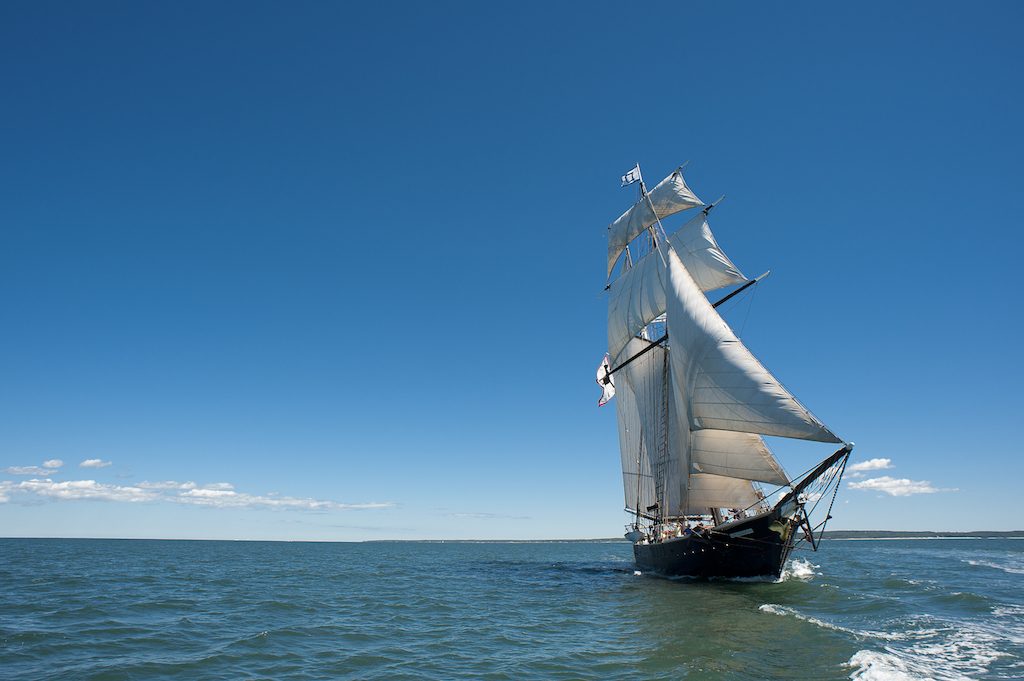 Martha's Vineyard Nonprofit raising funds for much needed repairs.
After fifty-seven years at the helm of his iconic schooner Shenandoah, Captain Robert S. Douglas and his family have announced their intention to pass down Captain Douglas' beloved ship to the Foundation for Underway Experiential Learning (FUEL). Based in Vineyard Haven, MA, FUEL is a 501(c)(3) non-profit organization founded by two of Douglas' protégés, Captain Ian Ridgeway and Captain Casey Blum, LCSW.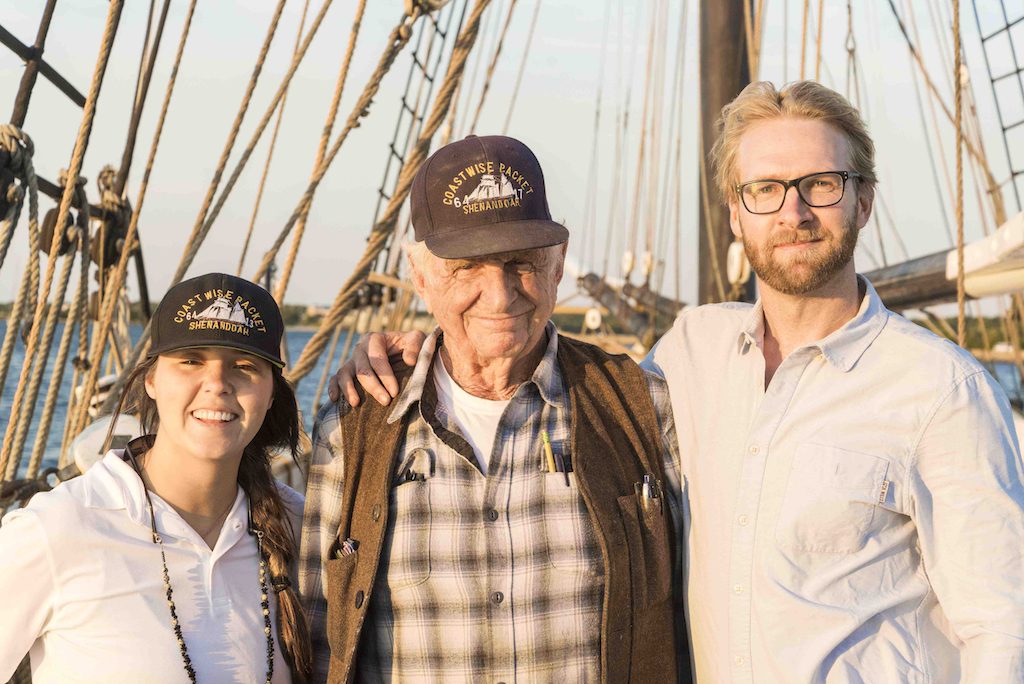 "Sailing Shenandoah is what I wanted to do with my life more than anything else," said Douglas. "It's been my major focus and time commitment since 1964. I know that the ship and program will be in qualified hands. Casey and Ian both came up through the hawsepipe, meaning they climbed the ranks aboard my ships. I couldn't be more proud."
Under the Black Dog flag, an emblem recognized worldwide, Shenandoah has brought more than 5,000 Island children on voyages back in time and out to sea. For many kids, their week on Shenandoah is their first time away from their parents, and developmental breakthroughs are frequent. FUEL has accepted the duty to carry on this treasured educational programming for Island children. However, the ship needs mandatory repairs this winter in order to operate next spring. Until the Shenandoah can sail again, the program is under threat.
FUEL has launched a time-sensitive $1 million campaign to ensure Shenandoah's unique educational programming can continue for Island youth. With one hundred percent participation from FUEL's board of directors, a $50,000 matching challenge and $350,000 raised to date by lead supporters, the campaign has started strong.
FUEL was founded in 2017 by Ian Ridgeway and Casey Blum, former captains of the tall ships Shenandoah and Alabama. Ridgeway and Blum have dedicated their careers to helping young people overcome difficulties in their lives through the challenging and inspiring experiences of sailing and handling a ship at sea. In creating FUEL, they intend to carry out Captain Douglas' vision to advance tall ship educational programming on Martha's Vineyard by building aShenandoah 2.0 to succeed Shenandoah. "This is the next chapter of the same story," Ridgeway explained. "The new ship will be more accessible and enable year-round programming, expanding the number of youth served and offering deeper-impact experiences."
FUEL's Program Director, Casey Blum, is a Licensed Certified Social Worker in Massachusetts. She holds dual Master's Degrees from the University of New Hampshire in Outdoor Education and Social Work. "I am most excited to add a personal development component to Shenandoah's existing curriculum," she said. "Anecdotally, we know that the impacts of Shenandoah's programs have been far-reaching and extensive. Ask any alumni. They will tell you how they gained confidence, conquered a fear, strengthened their tolerance to adversity, etc. These skills are transferrable and necessary to lead a healthy, productive life. We are also eager to start measuring the outcomes students are reporting. The data will provide us a greater understanding of the value of this programming, how it impacts the students' lives, and inform future curriculum."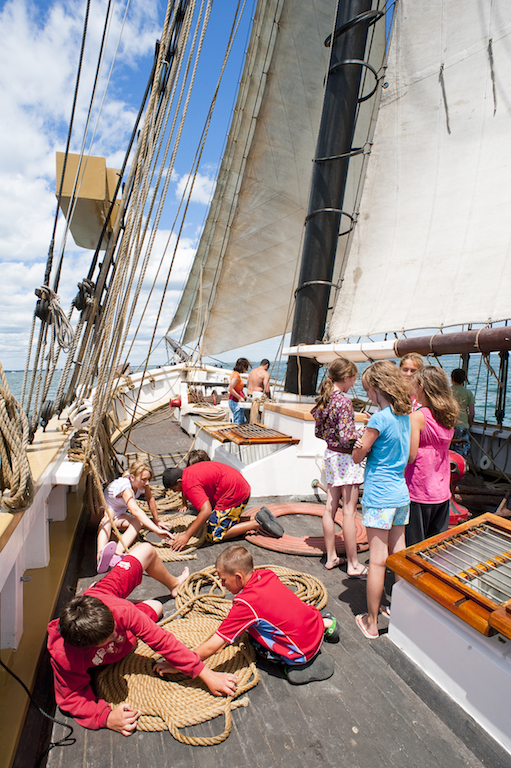 As this new chapter for Shenandoah takes shape, Captain Douglas will still be at the wheel when he can be, and will stay involved by guiding the maintenance and operation of his beloved schooner. He encourages his friends and those who consider Shenandoah a vital feature of island life to help keep the program going. "We've been doing this for fifty-seven years," said Douglas. "Let's ensure six more decades offering this unique opportunity for Vineyarders."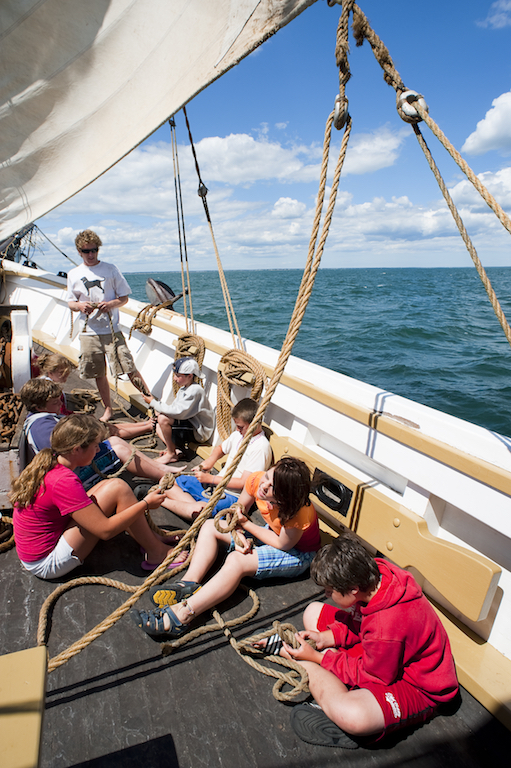 FUEL's time-sensitive fundraising drive has $650,000 left to raise, and the organization is appealing to the Martha's Vineyard community and the Northeast sailing community for large and small contributions. To make a tax-deductible gift to the Shenandoah Campaign, visit ShenandoahFund.org or contact Ian Ridgeway at ian@fuelprogram.org. For more information about FUEL's plans for Martha's Vineyard's new tall ship, log onto fuelprogram.org.
David F. Guertin, Jr. at Vantage in Philanthropy, Inc. contributed to this report.