This year, Sailing for Scholars will honor Tracy Edwards MBE, founder of The Maiden Factor, and all proceeds will directly support HRCS's mission to help underserved students succeed on and off the water
New York, NY—October 14, 2020—Hudson River Community Sailing, a leading nonprofit organization that develops leadership and academic success for New York City youth and provides maritime education and recreation to the community at large, will host its 11th annual Sailing for Scholars Benefit, virtually, and a socially-distanced regatta on October 22-25 in New York City.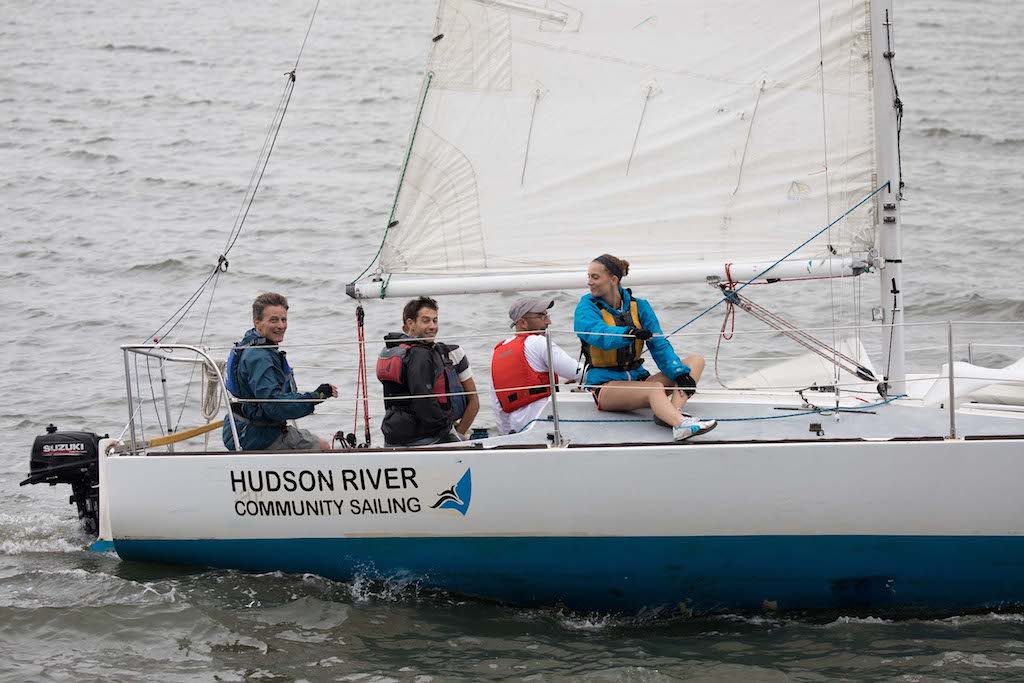 All proceeds from Sailing for Scholars directly support HRCS's Youth Development programs, including Sail Academy, a multi-year program that uses sailing and boat-building to teach math, science, and leadership to middle and high school students. Concepts are taught on land and water using small-group, experiential learning. The HRCS youth development programs include internships, where students are exposed to every aspect of running a sailing school, preparing them with important job skills and career awareness. Students receive college counseling and application support, and their alumni network is growing and getting stronger.
With locations in Chelsea and Inwood, HRCS currently partners with nine New York City middle and high schools to offer academic and social-emotional support, both virtually and in person. The academic curriculum is designed with New York City Department of Education teachers to support state standards, and students earn academic credit in physical education, math, and science as they learn to sail, navigate, construct wooden boats, and study the marine environment. To date, more than 90% of HRCS graduates have gone on to four-year colleges.
"Through the support of our generous donors, dedicated staff, and volunteers, we've been able to keep morale high and support our students during this difficult time. Everyone has pitched in. Sailing for Scholars provides a huge source of funding and brings our community together. We feel fortunate to be able to move forward in a responsible way this year," said HRCS Executive Director Robert Burke.
Tracy Edwards, Sailing for Scholars honoree, skipper of the first all-female crew to sail around the world, and founder of The Maiden Factor, an organization that empowers women to challenge social norms, said: "I'm honored to be recognized at this year's HRCS event. Our mission at The Maiden Factor has been to advocate for young women all over the world and support them through education to change the narrative around what girls think they can achieve. I'm proud to be honored by an organization with like-minded values."
Over the course of the last decade, HRCS has served over 20,000 youth, adults, and families, providing leadership and academic development within a vibrant and inclusive community on the Hudson River.
The 2020 Sailing for Scholars schedule includes:
Thursday, Oct. 22—Virtual Celebration and Silent Auction—HRCS will host a virtual celebration , emceed by students, with an online silent auction starting at 7 p.m. ET. Tickets can be purchased here.
Saturday, Oct. 24 – Sunday, Oct. 25—Regatta—The regatta will take place at Dyckman Marina and will offer modified fleet racing in smaller groups with staggered starts to enforce social distancing and other COVID-19 safety procedures. This year, the regatta will be livestreamed with expert commentary. The full list of competing teams, with options to donate to each, is available here.
Last year, the Sailing for Scholars Gala and Regatta raised more than $280,000 for HRCS and Sail Academy.
For more information about HRCS, email mgately@hudsonsailing.org. For additional information about The Maiden Factor, please visit https://www.themaidenfactor.org.
About Hudson River Community Sailing
Hudson River Community Sailing is a New York-based charitable organization that uses sailing as a vehicle to enrich the lives of underserved New York City students—imparting academic and leadership skills vital to the craft—and to share the joy of sailing with the community at large. HRCS is one of only 26 U.S. Sailing Accredited Community Sailing Centers, and the only one in New York City. For more information, please visit https://hudsonsailing.org.