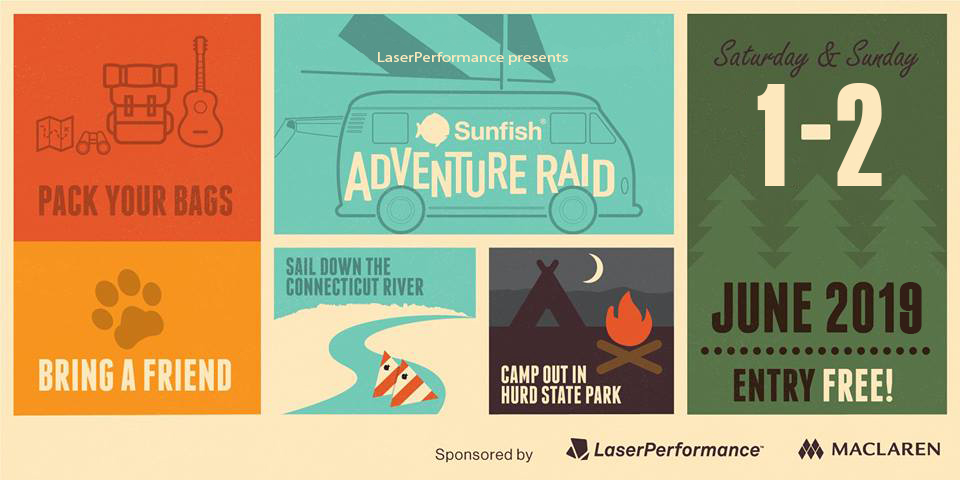 Our friends at LaserPerformance and Maclaren are presenting a unique race down the Connecticut River on Saturday June 1 & Sunday, June 2, and you are cordially invited. A revival of an event that was extremely popular in the 1970s and '80s, the Sunfish Adventure Raid is a two-day race from Rocky Hill to Essex, Connecticut, with an overnight campout in beautiful Hurd State Park in East Hampton.
In the best grassroots racing tradition, the Sunfish Adventure Raid is a "run what ya brung" event that's open to Sunfish and all other monohull and multihull sailboats that have an accurate Portsmouth Yardstick rating and are beachable (daggerboards or centerboards).
"Boats will be launched at the public boat ramp at Ferry Park Boat Launch in Rocky Hill on Saturday, June 1, and competitors will race to Hurd State Park (approximately 16 miles) and camp overnight," said event chair Coco Solsvig, a Technical Engineer with LaserPerformance. "Racing down the river continues Sunday (approximately 19 miles), with haulout and an awards party at Pettipaug Yacht Club in Essex. You can singlehand your boat or bring a partner, but leave enough room on board for camping gear. You'll also need to carry your own beverages, snacks and lunches for Saturday and Sunday. The exact racing format is being determined, and recommendations are encouraged!"
"LaserPerformance will provide a barbecue dinner on Saturday night and breakfast on Sunday morning at Hurd State Park, and food on Sunday afternoon at Pettipaug Yacht Club during the awards party," said Solsvig. "Boats can be delivered to Ferry Park on Friday evening, and racers are encouraged to leave them on the grassy area (without dollies or trailers) to minimize equipment left at the starting point. Boats on trailers can be left overnight in the parking lot. Security will be provided to watch the equipment on Friday night. Please note that these plans are tentative and subject to change. Change notifications will be posted on the event's Facebook page, or communicated via email to registered participants."
"Vehicles should be left at Pettipaug Yacht Club on Saturday morning," Solsvig continued. "A carpool or shuttle will be organized to transport competitors to the launching site, leaving Pettipaug Yacht Club promptly at 8:30 am. The Competitors meeting will take place at the launch area at Rocky Hill at approximately 9:45 am. Sailing instructions with scratch sheet, safety plan and course chart will be available on the regatta Facebook page and at the Competitors meeting. The first warning signal will be at 10:30 am in the area south of the ferry line."
The Sunfish Adventure Raid is open to all sailors, and there is no entry fee. All competitors must sign a safety waiver prior to the event. Written permission from parents or guardians is required for competitors less than 18 years of age, and must be received before the start of racing.
"The Racing Rules of Sailing 2017-2021 shall apply," said Solsvig. "All sailors shall carry zipped or tied U.S. Coast Guard approved personal flotation devices (PFDs) at all times while on the water. The Race Committee reserves the right to require singlehanded sailors to wear zipped full torso wetsuits or drysuits, so please prepare accordingly. All boats are encouraged to have a handheld or fixed VHF radio."
Volunteers and sponsors are also needed. "If you are interested in participating in the Sunfish Adventure Raid but don't want to sail, we're looking for individuals to volunteer onshore and on the water," said Solsvig. "Maybe you can't spare your whole weekend, but come help us throw the party! Cooks and bakers encouraged to identify themselves. We're also looking for volunteer powerboats, and we'll cover gas and launching fees and help with trailer transport! If you'd like to help, please contact me at coco.solsvig@laserperformance.com."
To register for the Sunfish Adventure Raid, visit https://www.eventbrite.com/e/sunfish-adventure-raid-2019-tickets- 59731432322.
To receive updates and additional information, please like the event on Facebook at https://www.facebook.com/events/443023426264443/.