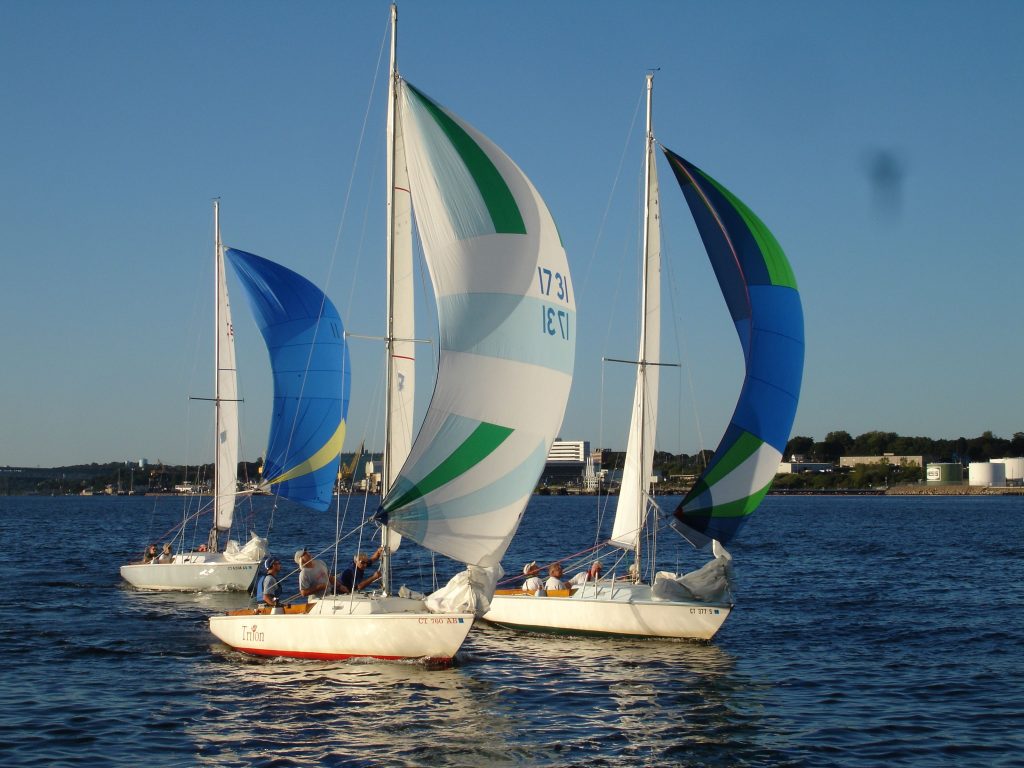 Sound Sailing Center in Norwalk, Connecticut is celebrating their 25th Anniversary, and you are cordially invited to attend their annual Commissioning Day on Sunday, May 19 from 1:00 to 4:00 pm. Hamburgers and salad will be served from 1:00 to 1:30 pm overlooking Norwalk Harbor and the Long Island Sound.
At 1:30, there will be an unveiling of the Arthur B. Hanson Rescue Medal, which was presented by US Sailing on Saturday, May 18 to a team from Sound Sailing Center including founder and President Martin van Breems and instructor Wim Jessup. In July 2017, van Breems, Jessup and four Sound Sailing Center students conducted a rescue of eight kids and a mother at the entrance to the Cape Cod Canal on Buzzards Bay. The rescue took place during Sound Sailing Center's Advanced Coastal Cruising Course, which runs from Norwalk to Maine and is offered every year in late July.   
After the unveiling of the Hanson Medal, Sound Sailing will offer hands-on reefing practice along with grounding and docking demos, followed by a man overboard rescue demonstration at 3:30 pm using van Breems' retrieval technique. The SSC fleet will also be available for viewing.
Sound Sailing Center is an US Sailing Certified Sailing School, offering classes for adults ranging from Basic Sailing to Ocean Cruising. Sound Sailing Center also has the largest shared use sailing club, rentals, charters, and for non-sailors, evening sails or fun racing on their fleet of 23-foot Ensigns.
"Two misconceptions about sailing are that you have to have been born into it, and that it's expensive. Neither is true," said van Breems. "We constantly are seeing people with no experience who take classes and join our member program. After two years of sailing 15 to 30 times a year, they become excellent sailors. Twenty years after our founding, all the local yacht clubs are full of Sound Sailing Center graduates who are winning races, making extensive passages, and just relaxing and having fun with friends and family on the water."
"The Sound Sailing Center fleet uses electric motors on all the smaller boats, and diesel engines on the larger boats, to minimize ecological impact and provide for a more relaxing experience," van Breems continued. "As far as expense, our membership programs allow you to sail our Ensigns as often as you want for a year for $1,680. Weekday memberships cost $1,680, or $2,720 for 7-day access for one year. Members also enjoy longer sails on our fleet of 32- to 40-foot sailboats for rates starting at about $4,000 a year.
"I'm proud of the impact Sound Sailing Center has had in the sailing community," said van Breems. "By offering innovative classes teamed with a membership program, our students are out there sailing on their own right after the end of the class. Single-handing is a huge confidence builder and the best way for students to gain experience, and our fleet was set up to make this possible. We are the only program in the country to encourage or even allow this. This behooves us to do an excellent job teaching our students, since they will soon be out there on my boats!"
Sound Sailing Center is located at 54 Calf Pasture Beach Road in Norwalk, Connecticut. To learn more, call 203-838-1110 or log onto http://soundsailingcenter.com