By Preston Anderson
KINGS POINT, NY (October 16, 2022) – Eighteen women's collegiate sailing teams arrived at Yocum Sailing Center for the Women's Atlantic Coast Championship Finals. The regatta was hosted by the U.S. Merchant Marine Academy in Kings Point, New York. Yale University took the win with Carmen Cowles, Catherine Webb, Helena Ware, Mia Nicolosi, Anisha Arcot, and Ximena Escobar on the water for the Bulldogs.
On Saturday, racing started around noon. Competitors saw conditions starting with a variable 5-12 knots out of the South which eventually filled to 17-22 kts. Yale University led after the first day with a total of 49 points, 46 points ahead of 2nd place Dartmouth College. Brown rounded out the top three ending day one with 111 points.

"It was an awesome day of racing today and great to get a feel for the venue for the 2023 Spring Nationals," said John Mollicone, coach of Brown University following day one of racing. "Our women did a great job today keeping us in a strong position heading into Sunday. Starts were critical and we had a solid day on the starting line and worked hard in the waves and breezy conditions."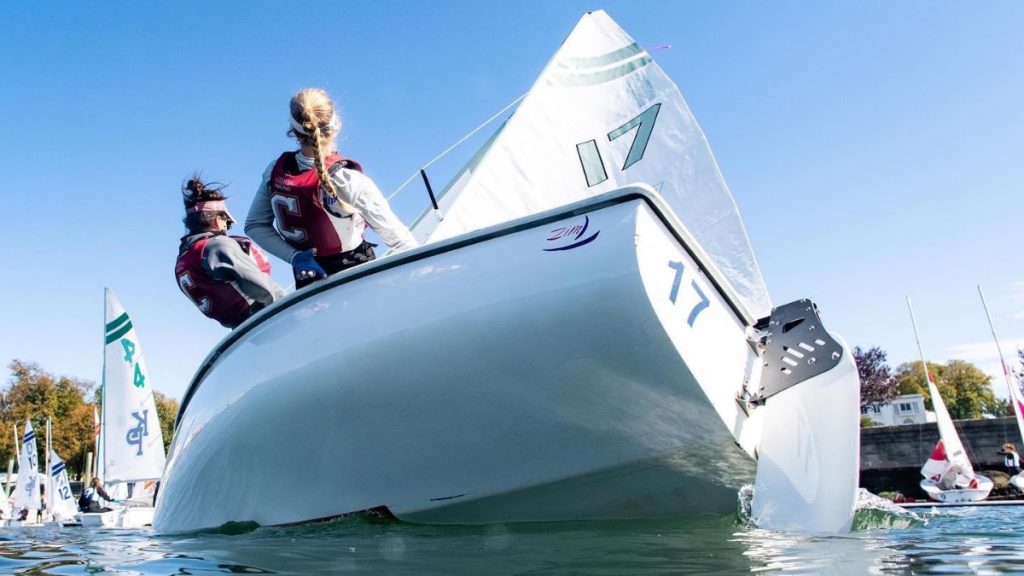 On the second day of ACC finals, competitors experienced conditions starting around 10 kts out of the North East that gradually died throughout the morning. Only one race in each division was completed. Yale University would win the Women's Atlantic Coast Championship Finals with a total of 52 points. Finishing in second, Dartmouth College with 104 points. In third place, Boston College with 131 points.
"This weekend was a great opportunity to sail against an extremely talented women's fleet at the venue hosting the National Championship this spring," said Rebecca McElvain, coach of Dartmouth College. "Our goals were to learn as much about the venue as possible and stay focused on the process. We learned a ton and are happy to come away with second. Still hungry for more!"
The Women's Atlantic Coast Tournament also took place this weekend just across Long Island Sound at SUNY Maritime in the Bronx. After completing a total of 12 races Jacksonville University took home the win. University of South Florida finished second and George Washington University finished third.