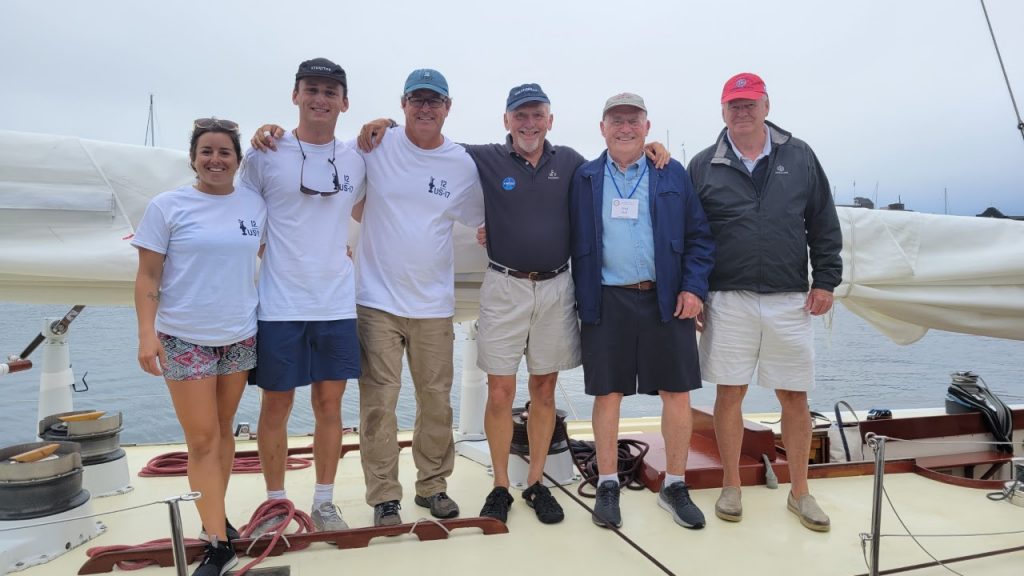 Tonight at 7:00 PM, our friends at the Herreshoff Marine Museum & America's Cup Hall of Fame in Bristol, RI are presenting a special virtual event celebrating the 60th Anniversary of the 12 Metre yacht Weatherly's AC Win over Gretel in 1962.
Join host Gary Jobson and members of the Weatherlycrew including Vincent "Bizzy" Monte-Sano, Ned Hall, Billy Kelly, Bruce Mosbacher and other special guests for a vivid look at Weatherly's exciting defense of the Auld Mug vs. Gretel. With the Kennedy family and other celebrities watching everyday on chase boats, this was one of the more interesting America's Cup races of the golden age of 12 Metres.
This event starts at 7:00 PM EST, and is sponsored by the America's Cup Hall of Fame and the 12 Metre Yacht Club.
Virtual tickets are free for museum members and $15 for non-members.
It has been 60 years last month since Weatherly's fairly narrow defeat of the faster Gretelin the America's Cup in waters roughly 15 miles off the coast of Newport, RI. The victory cemented the legend and legacy of skipper Emil "Bus" Mosbacher and his legendary crew, many of whom followed Mosbacher to the much faster Intrepid's successful defense of the Cup in 1967.
Weatherly's successful campaign also came during the height of Camelot in Washington, DC, when the White House was occupied by one of sailing's biggest fans (and active participants in the sport) in John F. Kennedy, who attended all the races and was seen everywhere in town and on local beaches.

Registration Link & Information About the Herreshoff Lecture Series is available at
https://form.jotform.com/herreshoffmarinemuseum/lecturetickets
Herreshoff Lecture Series
The Herreshoff Marine Museum's Annual Lecture Series brings the knowledge of established authors, sailors, and experts directly to the public. Learn from some of the best sailors, writers, historians, and accomplished individuals amongst historic Herreshoff Boats and the America's Cup Hall of Fame. Tickets are availble online at herreshoff.org.
The Herreshoff Lecture Series offers both in-person, virtual, and hybrid events. Please take note of which ticket type you are purchasing.
All Lecture Begins at 7:00pm (Eastern Time) unless otherwise stated.
In-Person lectures include a welcome reception begining at 6pm. Online sales of in-person tickets close the afternoon of the event. Tickets can still be purchased at the door starting at 6pm.
Virtual Tickets are $10 for Members and $15 for Non-Members.
In-Person tickets are $15 for Members and $20 for Non-Memebers.
Save $5, Support the Museum, Become a Member, Click Here.
Virtual Lectures are hosted on Zoom Webinars.
There are no physical tickets. Tickets are non-refundable.
The Herreshoff Virtual Lecture Series is Proudly Sponsored by: Pella Windows, Bank Newport, Gowrie Group, Pure Insurance, and American Cruise Lines. In-Person lectures are additionally supported by Points East Magazine and Cisco Brewery.