Wisconsin Badgers Dominate, and First-Ever All-Female Team from Charleston win their Division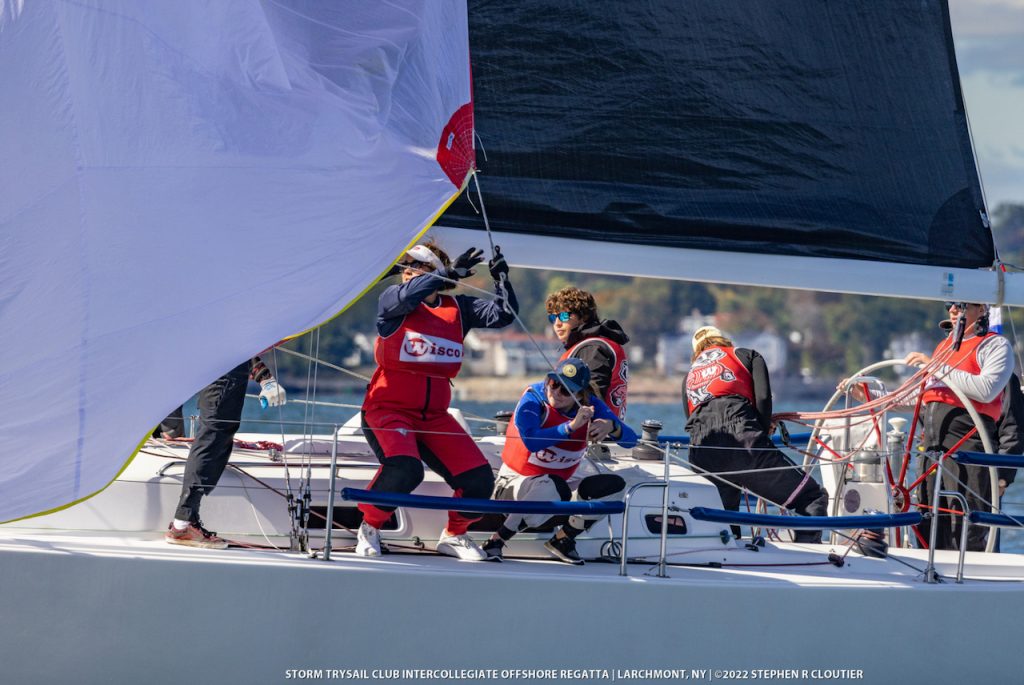 Larchmont, NY – After the 2020 Intercollegiate Offshore Regatta was canceled due to COVID, hopes were high for 2021, but were dashed when the racing was called off due to strong wind and waves. Fortunately, 2022's rendition of the co-hosted event between Storm Trysail Club and Larchmont Yacht Club ran in absolutely perfect conditions, allowing the race committee to get off 7 windward-leeward races over two days. Over 260 college sailors came from all over the country to compete in one of the world's largest intercollegiate big-boat regattas on yachts ranging from 29 – 40 feet. 28 colleges were represented amongst 34 entries divided into five divisions – with five schools fielding multiple teams. (Full Results on YachtScoring).

Storm Trysail Club's Ann Myer, the Event Co-Chair, was well-pleased: "We enjoyed absolutely perfect conditions, sunny skies, 10-15 knots with a few higher gusts, and with some challenging shifts in the northwest winds to keep things interesting. "

The Wisconsin Badgers, fresh off their victory a few weeks ago in the Great Lakes Intercollegiate Offshore Regatta (GLIOR), came out on top with straight bullets, taking home the Paul Hoffman Trophy for Best Overall Performance onboard the J/109, TBD. The team generally has little big boat experience, mostly sailing dinghies in their home lake, but used the Friday practice session to tune themselves up. Team Captain Nicole Giuliana, a junior, thanked Safety Officer and STC Member Ed "Buttons" Padin for the coaching on the Friday practice day. Safety Officers are not allowed to coach during the regatta.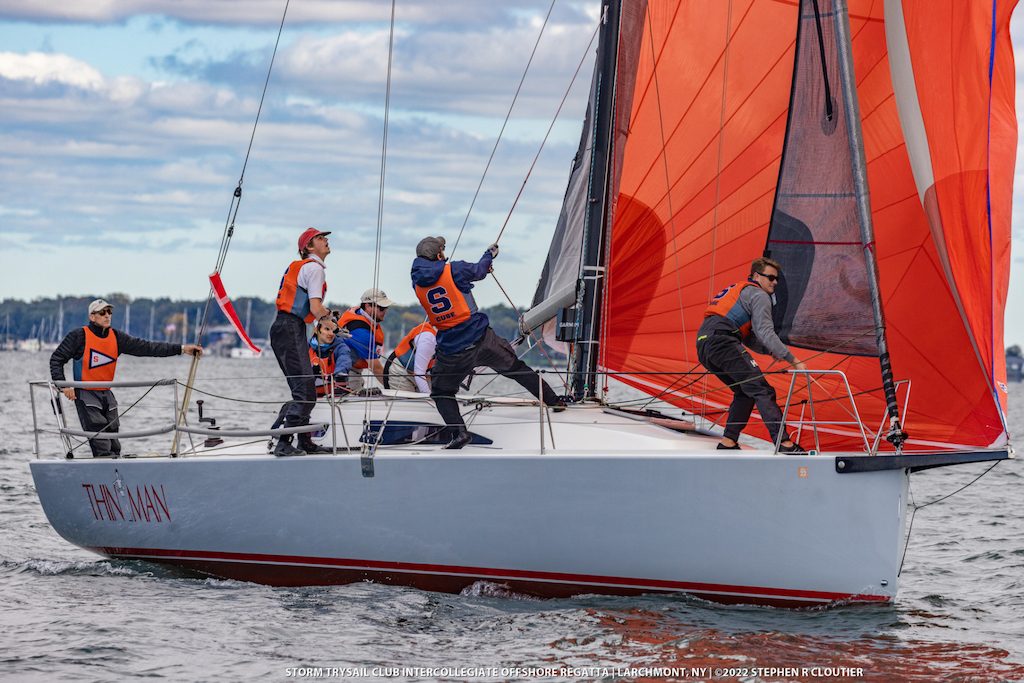 "We had an amazing practice session with him," Co-captain Jack Schweda, elaborated. "We practiced a lot of jibes, 30 or 35, and we knew the corners were going to be critical. We tried different sets and douses too." Nicole continued: "We learned we had to stay in our box, focus on our own roles, and dial in the communication front to back. This is such a great event for building confidence, networking with other sailors, and making lots of great sailing connections. We really want to thank boat owner Julie O'Dowd for providing her boat and really prepping it for us."
The goal of the event is to expose college sailors to keelboat racing – a rare opportunity for most team who only sail dinghies like 420s and FJs.

The College of Charleston Cougars have a well-developed co-ed inshore and offshore racing team, but decided to field their first all-women's offshore team, and this was also the first time the IOR has ever hosted an all-female team. Ann Myer, rode along as Safety Officer, on the J/122e Reviver. Says Ann, "Because there weren't any boys aboard, they called the boat the "no fly zone"! The girls really rocked it!"
Captain Caroline Williams, explains that they have a fair amount of big-boat experience. "We sail three times a week on a Melges 30 and J/36, and we've done the Navy 44 events and the Catalina 37 Harbor Cup in LA, but this was our first time competing together as this group."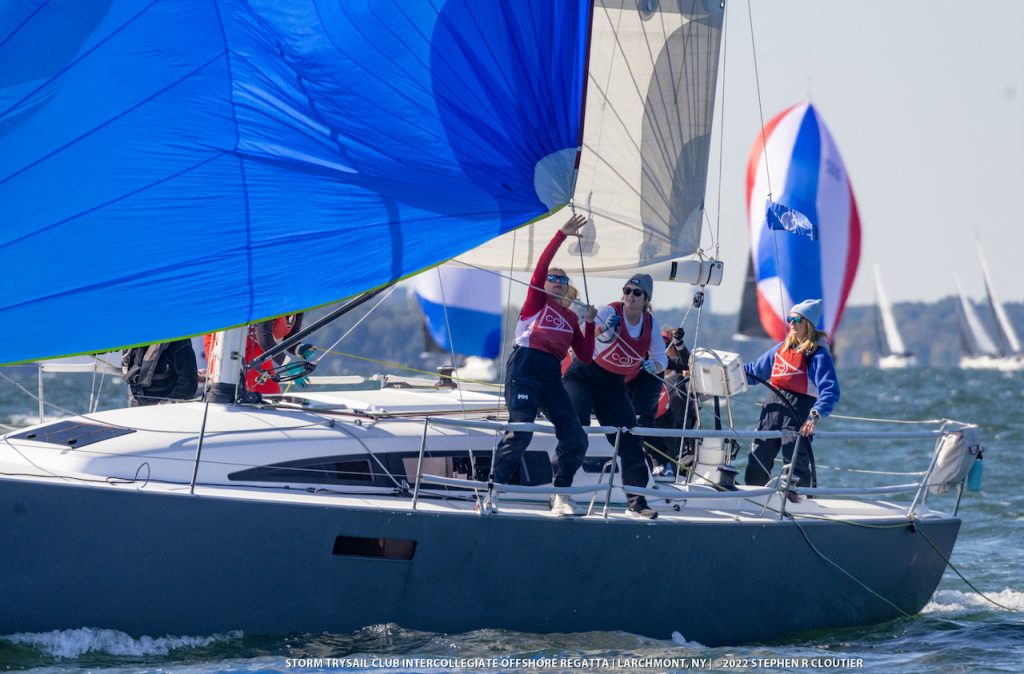 Caroline is from Bayville, NY and works at the Sterling Harbor Foundation in Oyster Bay, so had some local knowledge to boot, and Capt. Juliana Corso works on the vintage 12 Metre Gleam in Newport. Both are enthusiastic about continuing their big-boat passions. Caroline said "This will always be part of my life" and Julianna – the captain of the entire co-ed Offshore squad – is considering a potential career as a sailing professional. She says "Being on this team has taught me that understanding and connecting with each individual on the team makes a huge difference in the performance; it just runs smoother."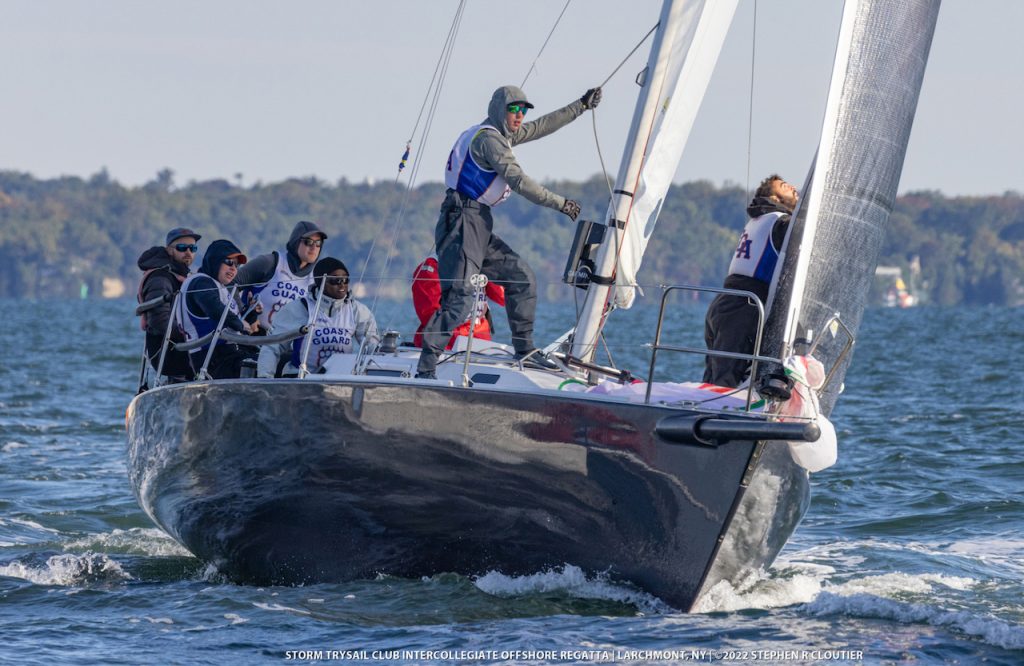 Communication and each crew member focusing on their own job was a common theme among the winning crews. Madelyn Ploch, helmsperson for the winning Naval Academy entry on the J/122 Blue Yonder and who was aboard the 2016 Young American Newport Bermuda Race winner High Noon noted that "I've seen some good and bad leadership from boats I've sailed on, but communications is really the difference maker." Nadia Reynolds, skipper of the Ohio State crew agrees: "Communication was the key and the crew really knew their roles. Teamwork and communication are what I will take away from these experiences when I graduate."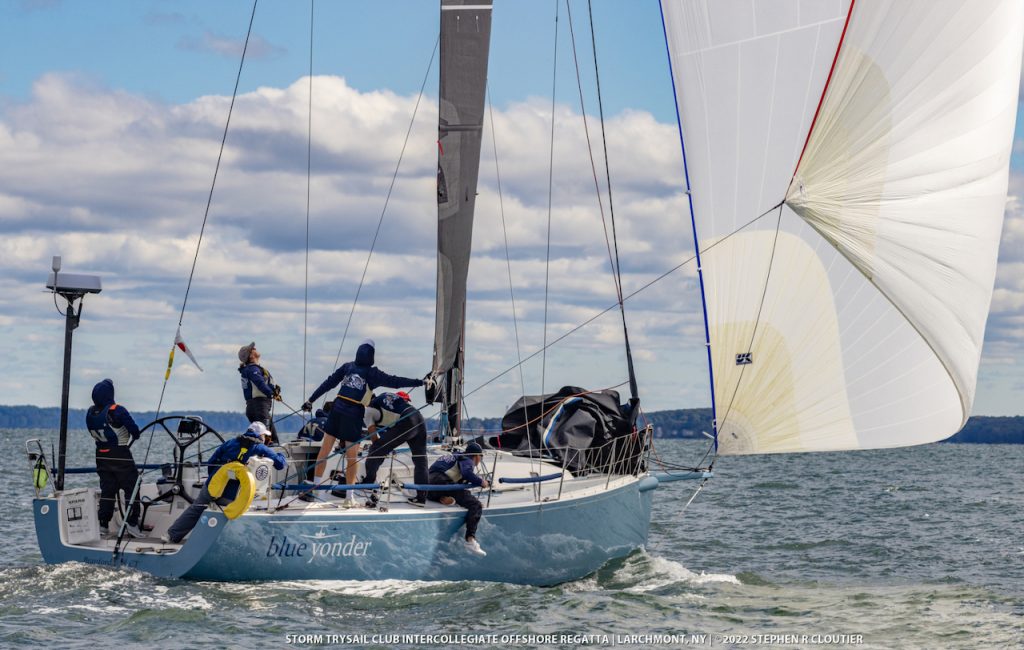 Coleman Peppered, Captain of the USCGA crew who won the J/105 Class onboard Gray Matter , says "Trusting each other, communication and endurance were the keys. We kept reminding ourselves to stay calm, drink water and pass around the Sour Patch Kids! We worked on defining everyone's roles, communicating early, and having solid trust in each other, and that enabled us to overcome mistakes. As officers when we graduate, this racing experience translates really well to being on the ocean, under pressure, fighting exhaustion in high intensity situations…it's very relevant."

Jim Holland, co-chair from Larchmont Yacht Club, said, "I would like to thank the rest of the committee on all the hard work that went into making this event possible and the owners who donate their boats. This regatta is about providing a unique opportunity for these young sailors and seeing all their smiles in the tent made all the effort worth it. We want this to be a life long sport and are very happy to give them the opportunity to start this process. I hope to see them on the starting line of many more events in the future."
STC Commodore Ed Cesare stated, "Congratulations to all are well deserved, it was a superb effort by all the volunteers. This is a very complex undertaking and the IOR is now the STC event that has the highest number of volunteers – surpassing even our Block Island Race Weeks. And special thanks to LYC for the use of their beautiful facility. Of course, this event would not be possible without our sponsors, especially ShopRite of Carteret who have been the title sponsor for several years now."
The Intercollegiate Offshore Regatta is further supported by ShopRite of Carteret, JPW Consulting, Carlsberg, Helly Hansen, Gowrie Group, McMichaels Yachts Sales, UK Sailmakers Northeast, Dimension-Polyant, and Gifted of Larchmont.