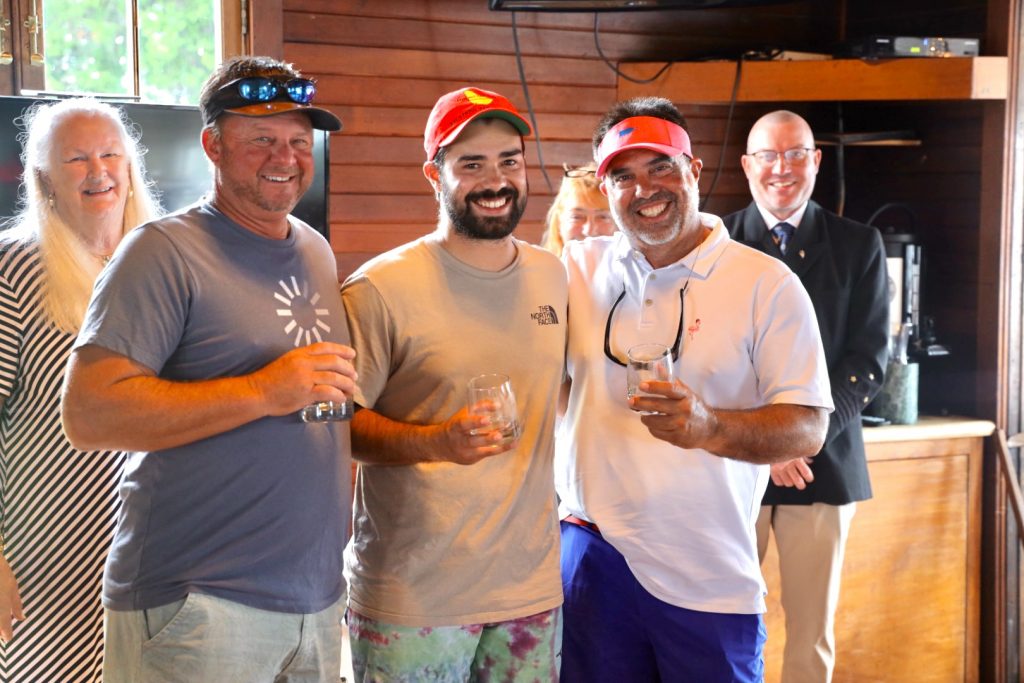 The fifth Clagett/Oakcliff Match Race Clinegatta for sailors with disabilities was hosted by Seawanhaka Corinthian Yacht Club in Oyster Bay, NY over the weekend of September 9-11 with fifteen sailors from across the US and the Caribbean sailing.
Since its inception in 2016, four of the five skippers racing this year have raced at a Clagett/Oakcliff Match Race Clinegatta. This year's edition was a challenge with Mother Nature making racing difficult with a limited sailable breeze over the two days of racing in Cold Spring Harbor. Coach Dave Perry commented after racing was wrapped up, "It was a great example of match racing today. The breeze was light but the racing was as good as a Grade 3 event."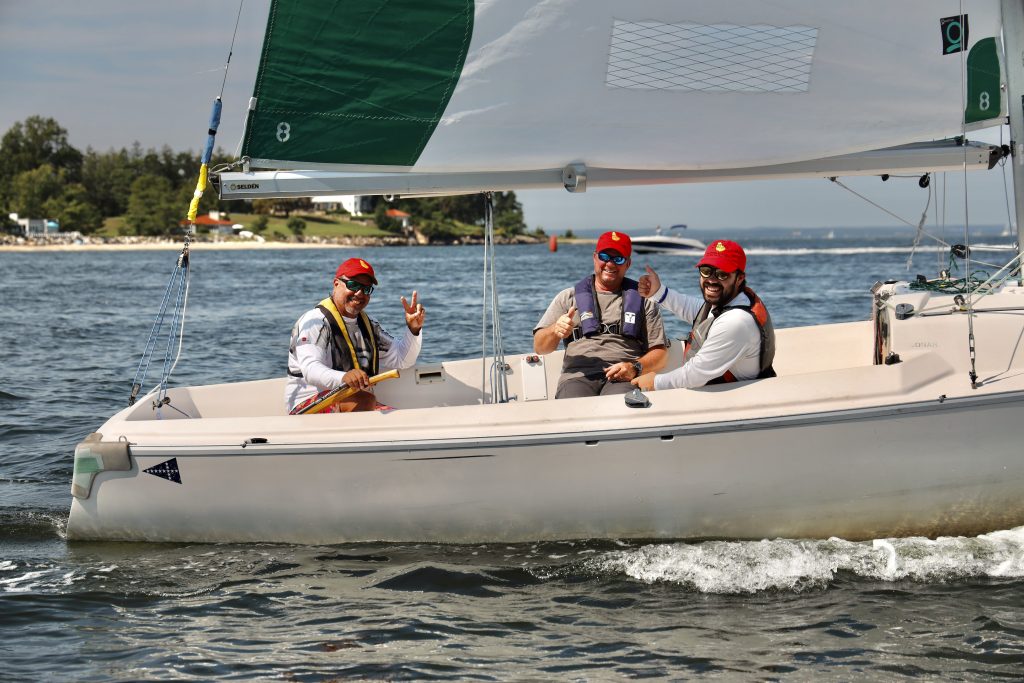 Julio Reguero (San Juan, Puerto Rico) took the title this year after a testing two days of racing. "It was great to be here and learn all that we did. I learned how important communication between the crew is. The light winds were challenging and I have learned that the rules used in match racing can be used in fleet racing. I look forward to coming back next year," commented Reguero. Reguero was sailing with his son Andre (West Palm Beach, Fl.) and Tony Pocklington (Fort Meyers, Fl.). Pocklington and Reguero are usually rivals in the 2.4mR class and joined forces to take home the title this year. His son Andre commented about racing with his father, "It's a lot easier to sail with my father than against him. This way I don't have to worry about trying to beat him (in the 2.4mR class)," he said with a smile during the regatta.
Second placed Charlie Rosenfield (Woodstock, Conn.) has sailed at all five Clagett/Oakcliff regattas with his crew Stu Caplan (Larchmont, N.Y.) and for this regatta was joined by Eli Workman (Southfield, Mich.). This is the first time at Clagett/Oakcliff as well as match racing for Workman, who has sailed in the RS Venture class at the Clagett Newport regatta. He said after racing, "We got everything we possibly could out of the not super cooperative weather. It was a great event."
"After a two year gap due to COVID we were thrilled to be back in Oyster Bay working with Dawn Riley and Patrice Rachlin from Oakcliff Sailing to provide a match racing clinic and regatta for our Clagett sailors. Our deepest thanks and appreciation go to Commodore Blaise and Board member Karen Martin of Seawanhaka Corinthian Yacht Club for hosting the Clagett/Oakcliff match racing sailors and we were delighted that the Commodore has invited us back and we have accepted. Once again our sailors were able to avail themselves of the expert coaching from Dave Perry and Dave Dellenbaugh. Both the winning skipper Julio Reguero and the second placed skipper Charles Rosenfield are both members of the 2022 Team Clagett. The Team Clagett sailors will be racing in the 2.4 mR Open World Championship in Florida in November. This year's event has been a wonderful warm up opportunity for the upcoming 2.4mR Worlds," commented Clagett Sailing President, Judy Clagett McLennan (Portsmouth, R.I.)
Seawanhaka Corinthian Yacht Club provided the Sonars used by the teams, which were fitted with adaptive equipment. Race management was provided by Oakcliff Sailing staff and The Clagett, along with an army of volunteers who ensured another successful regatta was experienced by the visiting sailors.
The coaching team of America's Cup helmsman, Dave Dellenbaugh, and five-time US Match Racing Champion, Dave Perry worked with the sailors for all three days of the clinic and regatta.
"While wind conditions were not optimal, we completed a full Round Robin with very close racing and multiple tiebreaks. Oakcliff was happy to work with Clagett Sailing once again and very excited for the addition of Seawanhaka Corinthian Yacht Club, joining the party," remarked Oakcliff Sailing Executive Director, Dawn Riley (Oyster Bay, N.Y.).
The dates for the 2023 Clagett/Oakcliff Match Race Clinegatta will be announced once calendars are finalized.
1st Julio Reguero
2nd Charlie Rosenfield
3rd John Seepe
4th Julia Dorsett
5th Donoray Bickham
Entry list

Sailors Club/Organization
1 Donoray Bickham ShakeaLeg Miami
Julio Gonzalez
Edwin Marrero
2 Julia Dorsett Tred Avon Yacht Club
Dawn Hart
Cindy Walker
3 Julio Reguero Club De Vela Carolina – CDVC
Tony Pocklington
Andre Reguero
4 Charlie Rosenfield Sail Newport
Stu Caplan
Eli Workman
5 John Seepe Charlotte Harbor Yacht Club
Bryan Tabler
Allie Shand
For more information about the Clagett/Oakcliff Match Racing Clinic and Regatta visit https://theclubspot.com/regatta/oQJ944ieGs
For more information about Clagett Sailing please visit: www.clagettsailing.org or follow Clagett Sailing on Instagram @clagett_sailing or on Facebook @ClagettSailing.
For more information about Oakcliff Sailing and to follow racing visit: www.oakcliffsailling.org or follow Facebook and Twitter http://www.facebook.com/Oakcliffsail https://twitter.com/OakcliffSail
About The Clagett/Oakcliff Match Race: Founded in 2016, The Clagett/Oakcliff Match Race event is open to both adaptive and able-bodied sailors from the US and outside the US. At least the skipper should identify as having a disability. ClagettSailing's motto is "Reach for Success", and its mission is "to assist sailors in realizing their potential on the water by providing them both the knowledge and tools to improve their skills and the opportunity to use these skills in competition." Clagett Sailing partnered with Oakcliff Sailing, a non-profit coaching and training center for sailors who have progressed beyond traditional coaching methods. The event will be hosted by Oakcliff Sailing and the Seawanhaka Yacht Club, both in Oyster Bay, NY.