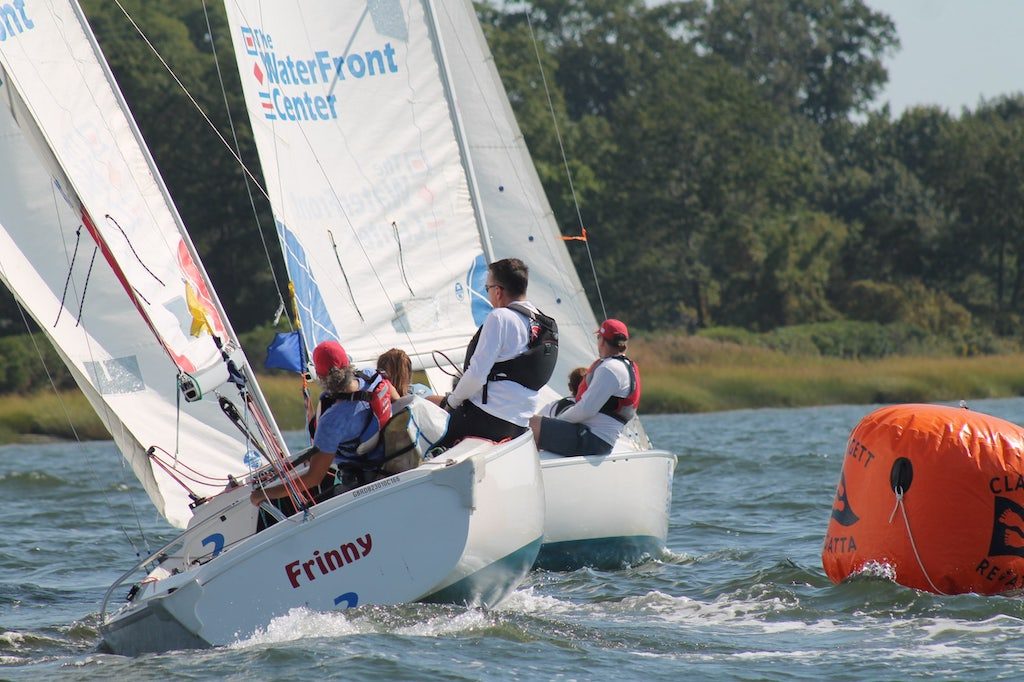 Sailors return to Oyster Bay for the fifth Clagett/Oakcliff Match Race Clinegatta
Newport, R.I. (September 1, 2022) – After a COVID hiatus the Clagett/Oakcliff Match Race Clinegatta will return to Oyster Bay, New York for the fifth edition September 9-11. This year Seawanhaka Corinthian Yacht Club joins Oakcliff as host club.
"We are thrilled to be returning to Oyster Bay and partnering for the fifth time with Oakcliff Sailing and for the addition of Seawanhaka Corinthian Yacht Club as the host for the 2022 Clagett/Oakcliff Match Racing Clinic and Regatta. The COVID pandemic caused a two year hiatus for the sailors and this year we have five teams all ready to learn match racing skills from the coaching team of Dave Perry and Dave Dellenbaugh. Both the "Daves" were also coaching at the 20th anniversary C. Thomas Clagett, Jr. Memorial Clinic and Regatta in Newport in June and I know the sailors are eager to take away as much knowledge and information as they can from the upcoming clinic and regatta," commented Clagett Sailing President, Judy Clagett McLennan (Portsmouth, R.I.)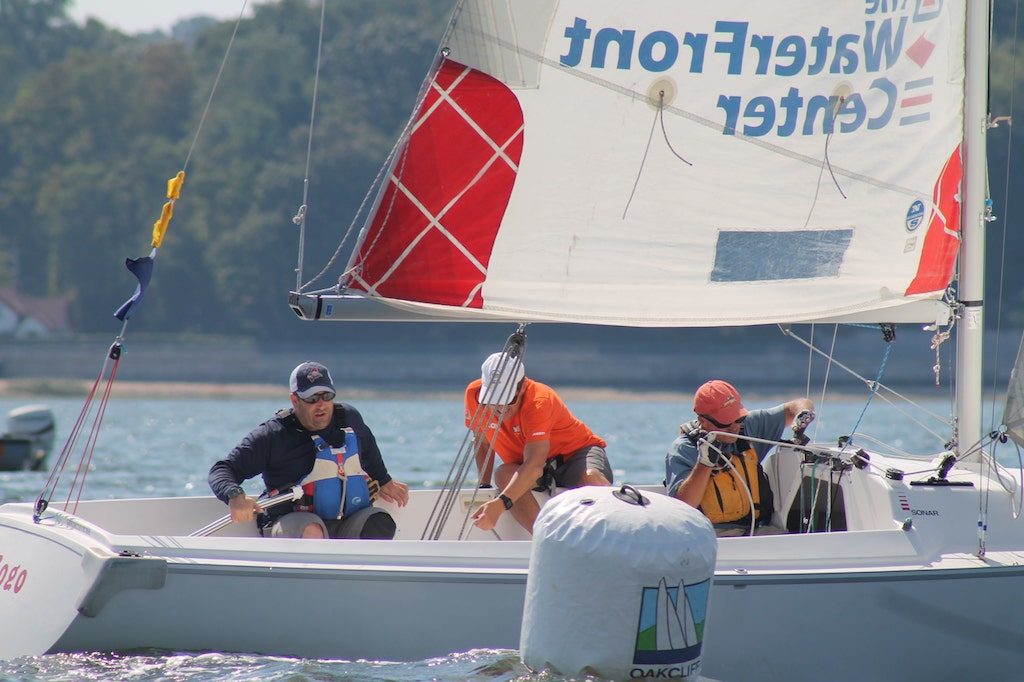 Two of the five teams traveling from North America and the Caribbean will be skippered by newly named members of 'Team Clagett'. Charlie Rosenfield (Woodstock, CT.) and Julio Reguero (San Juan, Puerto Rico) are both members of the team of five sailors who will be representing Clagett Sailing at the 2.4mR World Championships in Florida in November.
The regatta will be raced in Sonars, provided by Seawanhaka Corinthian Yacht Club, which will be fitted with adaptive equipment. Race management will be provided by Oakcliff Sailing staff and The Clagett, along with an army of volunteers. Returning to coach the teams for full-day day clinic and for both days of racing will be America's Cup helmsman, Dave Dellenbaugh, and five-time US Match Racing Champion Dave Perry.
Another new feature this year is that Oakcliff will be concurrently hosting a Grade 5 Clinegatta with a joint clinic on Friday and all social events. "The idea was actually Timmy Larr's and we are so excited to be able to combine these events and look forward to the exchange of information that often comes as sailors relax after racing," commented Oakcliff Sailing Race Director, Patrice Rachlin (Oyster Bay, N.Y.) remarked.
Charlie Rosenfield will be returning to race again for the fourth time at Clagett/Oakcliff with Stuart Caplan (Larchmont, N.Y.). Rosenfield and Caplan have a long history of sailing together at the Clagett/Oakcliff, finishing in second place the last time the Clagett/Oakcliff was raced in 2019. This duo has finished on the podium at every one of their Clagett/Oakcliff appearances and will be aiming to finish on the top of the podium this year.
Racing for the first time at Clagett/Oakcliff will be Julio Reguero (San Juan, Puerto Rico) who will be sailing with his son Andre and fellow 2.4mR sailor Tony Pocklington (Fort Meyers,Fl.). Reguero was the winner of the 2.4mR class at the 20th anniversary C. Thomas Clagett, Jr. Memorial Clinic and Regatta which earned him a place on the inaugural Team Clagett. Reguero, who is a two time Paralympian, sailed in the 2008 and 2012 games in the 2.4mR class.
John Seepe (North Port, Fl.), a sailor who is usually sailing in the single handed 2.4mR boat, will be making his first appearance at Clagett/Oakcliff. Seepe is one of the seven sailors who are racing in 2.4mR boats as part of the Clagett Boat Grant Program.
Entry list (as of September 1, 2022)
Sailors Club/Organization
1 Donoray Bickham ShakeaLeg Miami
2 Julia Dorsett Tred Avon Yacht Club
3 Julio Reguero
Tony Pocklington
Andre Reguero
4 Charlie Rosenfield Sail Newport
Stu Caplan
Eli Workman
5 John Seepe Charlotte Harbor Yacht Club
Bryan Tabler
Allie Shand
For more information about the 2022 Clagett/Oakcliff Match Racing Clinic and Regatta visit https://theclubspot.com/regatta/oQJ944ieGs
For more information about Clagett Sailing please visit: www.clagettsailing.org or follow Clagett Sailing on Instagram @clagett_sailing or on Facebook @ClagettSailing.
For more information about Oakcliff Sailing and to follow racing visit: www.oakcliffsailling.org or follow Facebook and Twitter http://www.facebook.com/Oakcliffsail https://twitter.com/OakcliffSail
About The Clagett/Oakcliff Match Race: Founded in 2016, The Clagett/Oakcliff Match Race event is open to both adaptive and able-bodied sailors from the US and outside the US. At least the skipper should identify as having a disability. Clagett Sailing's motto is "Reach for Success", and its mission is "to assist sailors in realizing their potential on the water by providing them both the knowledge and tools to improve their skills and the opportunity to use these skills in competition." Clagett Sailing partnered with Oakcliff Sailing, a non-profit coaching and training center for sailors who have progressed beyond traditional coaching methods. The event will be hosted by Oakcliff Sailing and the Seawanhaka Yacht Club, both in Oyster Bay, NY.