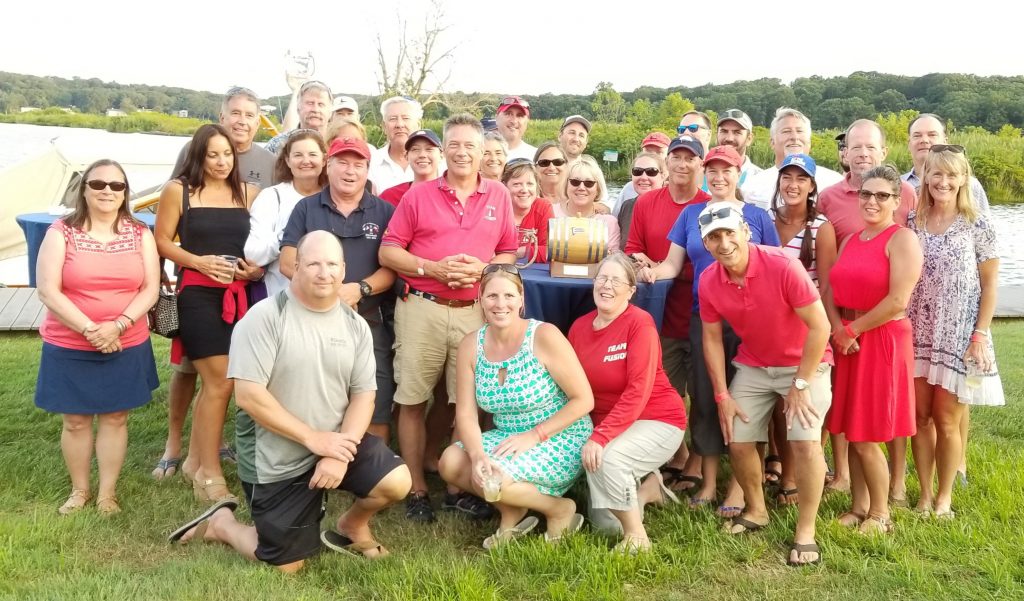 D
The team representing Duck Island Yacht Club in Westbrook, Connecticut won Essex Yacht Club's new trophy by defeating teams from the Off Soundings Club, Essex Yacht Club, and Essex Corinthian Yacht Club. The trophy was awarded on Saturday, July 27 during the awards ceremony for the Essex Rum Challenge Regatta, which is an annual event in late July.
The Essex Rum Challenge Regatta is an Eastern Connecticut Sailing Association (ECSA) sanctioned event and is one of the five qualifying races for the ECSA Long Sand Shoal Cup.
Thirty-nine boats participated in this year's Essex Rum Challenge. Spinnaker classes sailed windward-leeward races on Long Island Sound, while Non-Spinnaker classes raced around the buoys. The Club Challenge Trophy is awarded to the yacht club with the highest combined points of any three boats from their club. Points are awarded to each boat using the ECSA Scoring Matrix.
For the last twenty years, the Rum Challenge has been known for competitive racing and some seriously enjoyable post-event festivities thanks to Goslings Bermuda Rum and Essex Yacht Club's executive chef, Michael Stafford. To learn more, log onto https://www.essexyc.com/On_The_Water/Racing.
To learn more about Duck Island Yacht Club, visit http://www.diyc.com.