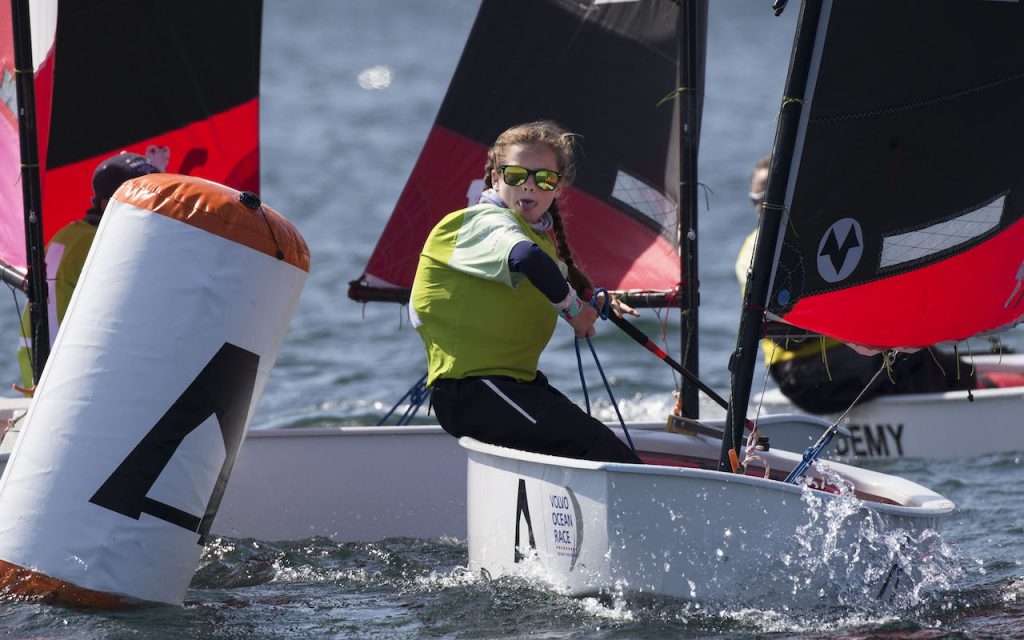 By Daniela Clark
Editor's note: One of the best things you can do for your children is sign them up for sailing lessons. Daniela Clark, former Operations Manager at Longshore Sailing School in Westport, Connecticut, a U.S. Coast Guard licensed Master and the co-owner of PhotoBoat.com and BoatTalent.com, outlines the important life lessons that children learn while they're having fun on the water.
This article was previously published as "5 Reasons Your Kids Should Sail" and "5 More Reasons Your Kids Should Sail" in the December 2013 and May 2016 issues of WindCheck, respectively
Learning to sail helps young people develop many attributes that will serve them throughout their lives.
Sailing will help your kids develop these ten qualities:
1. Self Confidence
There is simply nothing like being able to pilot your own craft at 9 years old. Riding a bike is one thing. Skillfully steering and docking a sailboat is quite another. All of my athletic endeavors helped to shape my sense of self as a kid, but sailing was without a doubt the most instrumental. I have not only noticed this in myself; during my ten years as a sailing instructor, I have seen it again and again in my students.
2. Spatial Awareness
When kids learn how to navigate a boat through narrow spaces and tight turns – how to avoid collisions, coast to a dock with finesse, or squeeze into a packed starting line at a regatta – they develop a spatial awareness that will bring them prowess in all activities that involve coordination. Like driving, for instance.

3. Sense of Direction
When I was 10 years old, I would sail all week with my class, and then go out on weekends by myself. I would pack a lunch and take my Optimist out for a couple of hours to explore. I believe that it was on those trips that I began to develop a good sense of direction. Noticing which direction I had come from, picking out landmarks, and knowing how to get back became a regular part of my stream of consciousness. That awareness is crucial to having a sense of direction.
4. Weather Knowledge
Do you know from which direction thunderstorms normally come? Do you know what the water temperature normally is on Long Island Sound in May? If your child is a sailor, he or she will know, and this knowledge of the weather will come in handy, both on the water and on land.
5. Shipshape Habits
Sailing students learn how to properly rig and unrig a boat. They learn to put things away in the right place, and to keep them tidy while on the water, and that's a skill no mom or dad can argue with. Longshore Sailing School in Westport, Connecticut even has a Shipshape award for every class to encourage this behavior.
6. Toughness
Ever spend any time at an Opti regatta on Long Island Sound in April? These kids are tough. The weather can feel like a day on the slopes, but they don't get to go in for a hot chocolate and a hamburger at lunch. They don't complain. And when racing is over, they pack up their boats before heading inside to warm up and dry off.
7. Accountability
Taking the helm gives a child an accountability for his or her actions that is rarely offered before receipt of a driver's license. Recreational and racing junior sailors alike face right-of-way situations all the time and have to take responsibility for their mistakes.

8. Vision
Balancing the finer details inside the boat with the larger picture of the racecourse or channel is an important skill to hone. This balance helps in school, in business, and in life.

9. Bravery
Sailor kids push their fear threshold. Most kids are scared of capsizing before they experience it. Many are scared in strong breezes. They still capsize and they still go out in rough conditions. It's the job of the instructors to control the situation, but ultimately, the kids have to overcome their fear.

10. Patience
Waiting all day for the wind to fill in at a regatta requires an amazing amount of patience. I've talked with parents who are frustrated with waiting and thinking about what else they could be doing, but the kids know the drill. Waiting for the right weather conditions is part of sailing. I'll reference an Opti regatta again, this one a two-day event with only about 90 sail-able minutes. The kids took it in stride. Would a team of 12-year-old football players act the same way?

So if your kids haven't tried sailing, have them give it a try!
A professional marine photographer, Daniela Clark grew up sailing Optis, Blue Jays and Lasers at Pequot Yacht Club in Southport, Connecticut from 1990 to '96. She instructed at Longshore Sailing School for nine summers, from 1997 to 2005 and in Italy in 2001, and worked on the sailing staff at the Bitter End Yacht Club in 2002 and '03. She and her husband Allen Clark started PhotoBoat.com in 2005, and their excellent photography appears in every issue of WindCheck.