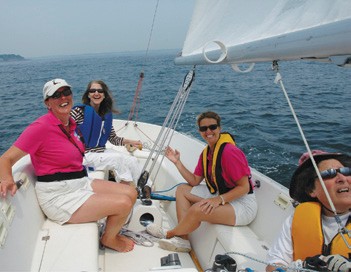 The National Women's Sailing Association (NWSA) is excited to announce the 16th Annual Women's Sailing Conference, slated for Saturday, June 3, 2017 at the Corinthian Yacht Club in Marblehead, MA. The event, which features hands-on land- and water-based workshops and seminars, offers women a fantastic opportunity to learn or hone sailing skills, network with other women sailors; and gain the confidence necessary to become better sailors.
The 16th Annual Women's Sailing Conference is a full day of workshops, seminars and demonstrations, with activities on and off the water.   © BoatUS.com
Featured keynote speaker, two-time Rolex Yachtswoman of the Year Sally Barkow, brings it all together with her unique insights and experiences that can be applied to sailing and to life. "Women of all sailing abilities are encouraged to attend," said NWSA President Linda Newland. "By sharing experiences, women leave with improved skills and knowledge that contribute to better days on the water."
Women can improve sail trim skills or take the helm aboard a Colgate 26 or Sonar. "We are very fortunate to have the support of Black Rock Sailing School, the Corinthian Yacht Club and BoatUS," said Joan Thayer, Conference Committee Chair. Generous support from these organizations enables NWSA to mentor women with sailing training plus teach courses on rigging, reefing, navigation, diesel engine care and much more. Courses are taught by some of the country's most experienced and exceptional sailing women.
The event includes raffles, silent auction events, three meals, and all workshops. Registration will be available in the spring at womensailing.org.  Event proceeds benefit the Women's Sailing Foundation, a 501(c)3 organization which funds the AdventureSail program for at-risk girls ages 9 to 14 and the Sue Corl Youth Sailing Scholarship, which provides all-girl sailing opportunities for older, post-AdventureSail, teenage girls. For additional information, contact Chair Joan Thayer at joan_thayer@comcast.net.
The National Women's Sailing Association (NWSA) is a program of the Women's Sailing Foundation, an organization dedicated to enriching the lives of women and girls through education and access to the sport of sailing.