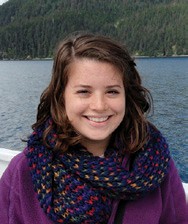 Clean Ocean Access (COA), a non-profit organization with a mission of "action today so future generations can enjoy ocean activities" with an exclusive focus on the Aquidneck Island communities of Newport, Middletown and Portsmouth, RI, has announce the appointment of Eva Touhey as its Program Manager.
A native Aquidneck Islander and resident of Portsmouth, Touhey has always been fascinated with the ocean and marine life. She graduated from Hobart and William Smith Colleges with a Bachelor of Science degree in Biology in 2015, and is currently pursuing a master's degree in Marine Affairs.
"Eva began working with Clean Ocean Access in September 2015 as an intern, composing a report for the Seaweed Nutrient Analysis Program, and assisting with the back-office operations for our environmental work," said Dave McLaughlin, COA's Co-Founder and Executive Director. "In the spring of 2016 and throughout the summer, Eva took on increasing responsibilities and became the COA education coordinator, presenting watershed education to Aquidneck Island elementary schools and summer programs and teaching marine education and environmental conservation to the students, including a 6-week program with the Boys and Girls Clubs of Newport County."
As Program Manager, Touhey leads the efforts for COA's environmental reporting, and is responsible for management and oversight of the core programs for marine debris removal, water quality monitoring and shoreline access protection efforts. "Eva is a talented and highly motivated individual with a deep commitment to the environment," said McLaughlin. "She has a deep intellectual curiosity and a true passion for ocean health, and we stoked to have her on the team!" For more information about COA including numerous volunteer opportunities, visit cleanoceanaccess.com.