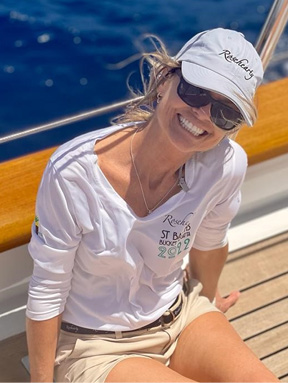 If you have read press releases from Edgartown Race Weekend, the Ida Lewis Distance Race or the Newport Car Museum, amongst others, you have read Barby MacGowan wordsmithing. Barby is the founder and President of Media Pro International, a Newport-based press and public relations company specializing in luxury brands and lifestyle sports.
Coop: Barby, thanks for coming over. Great to see you.
Barby: Good morning (flashes that 1500-watt smile).
Coop: Where are you from, and was sailing a "thing" in your early life?
Barby: I'm from Kemah, Texas and yes, very much. We lived on a canal that issued into Clear Lake and then into Galveston Bay. My parents always had a sailboat. My mom would take me out in a Sunfish every afternoon after school, elementary through high school, and then on a Kingfisher [Coop: a 20' British-designed, small cabin overnight cruiser, like a smaller Bristol Corsair]. My sister and I would sail a Sunfish out of Lakewood Yacht Club. One day I was alone on the Sunfish, and they shoved me off the dock. I said, "I can't do this. My sister's not with me! They said, "Yes, you can. You've been doing this a long time and should be able to do it by yourself." That instant I realized, "Wow, this is great!" and I've loved sailing ever since.
When I was in high school, I became a sailing instructor for the Texas Corinthian Yacht Club and at Watergate Marina. Ruthie and Johnny Maudlin, prominent catamaran sailors, ran it. I taught sailing, including catamarans and windsurfing. That was a wonderful experience, and I was making Eleven Dollars an hour. Back then that was a lot of money! I also attained my USCG license, for six passengers. In my sophomore year of college, I worked for Offshore Sailing School in Martha's Vineyard. I taught the offshore courses because I had that license. That ruffled a few feathers because I was, what, 19, and a woman.
Coop: My God, A WOMAN.
Barby: Anyway, I never thought about it. Now I think a lot of this was that women and their husbands had a boat, but the woman really did not play a role. They could not or did not "sail" themselves so Hubby and Missus come to take the course, but the women could not function properly with husbands looking over their shoulders. The men would immediately take over, "You don't know what you're doing" and the women of course felt terrible. So, I split them up. I took the women and the men had to do their own class. With just women, they blossomed and had so much fun.
Coop: Where did you go to university?
Barby: I went to the University of Texas at Austin and sailed there for four years as a skipper and as crew, to a man. We won the Nationals one year. That team produced a lot of great sailors who subsequently made names for themselves. There was a pair of sisters on the team. Their parents donated a van, and we drove to regattas all over the country. We drove up to Boston, these sweet young things from Texas with our pigtails: "Oh, hi! We are here to sail." (Big smiles). And we ran into these girls who were seriously serious. We did lots of sailing in Charleston, College of Charleston. College sailing gave me the opportunity to see the country in ways I never would have been able to, and to me the sailing team was my sorority, my family.
Coop: What did you study at school?
Barby: Oh, I have a BS in Advertising. Funny thing is, I thought I was studying Communications. Then, after the family home was washed away in Katrina I was given a box, the contents of which was salvaged from above five feet. It had my degree inside, which was in Advertising…not much difference really.
Coop: What was next?
Barby: I went to Florida my sophomore year to look into getting a job as a boat captain. Well, it was there that I met some characters [Coop: Who we shall keep, rightly, nameless] and heard of a few pretty ugly incidents. This made me stop and think, "This is serious business, this being a yacht captain thing. I had my 6-pack and had been sailing my whole life but was thinking, "being a captain on the Great Big Ocean is a bit over my head just now." I decided to start a little smaller and met the person that got me into working at Offshore Sailing School.
After graduation I thought, "I want to get on a boat and go see Pretty Water. Very simplistic for sure, but for my whole life I'd been on canals, lakes, Galveston Bay and the Gulf and could never see the bottom. I had read about coral reefs, tropical fish and crystal-clear water, and had to go and see what that was all about.
In 1981, I ended up getting a job on Kialoa 3, K3, owned by the late Jim Kilroy, a lovely man…amazing. She had been replaced as the race boat by K4 and was now the family cruising boat, a mother ship to K4 if you like. There were three of us: the skipper, the mate – a guy named Billy MacGowan – and me, the cook. I joined the boat and we went to the Caribbean…St. Thomas and most of the other islands. K3 was private, family only, no charters, so I met all of Jim's family including daughter Trice. From the day she got aboard, we became fast friends. She told the guys, "OK, I am taking Barby away with me in the dinghy. We are going to the other side of the island and we may not be back this evening…"
Coop: Have you experienced inappropriate behavior from men, or been looked down upon or not taken seriously?
Barby: No, not really. I just remember just growing up and experiencing all these wonderful things around boats. The only really obvious episode was with guys in the Cruising classes I mentioned earlier…really only one who seemed very agitated about, or by me, and thought I was a) too young and b) a woman. And he told me so. Well, he ended up on another boat so that was an easy fix. But generally, no.
Coop: Scary moments sailing?
Barby: Well, yes. As a kid, I was out in the Sunfish alone and a thunderstorm went through. Squalls, thunder, lightning, big breeze, the works. I capsized and was caught under the boat. I didn't panic, pulled myself together, sailed back in, short tacking up the canal, upwind all the way home, and I was really proud of myself. I was scared, but sometimes things just become a part of you, you know? I had been and continue to be in the water all the time, windsurfing and everything. I know what my limits are, and I'm very attuned to what Mother Nature can do.
Another time, I was with some Newport locals delivering a race boat, Intuition, to St. Thomas. We were caught in a serious gale off Hatteras, [Coop: Of course]. I was below making dinner and started feeling queasy, so I went up on deck and sat on the rail. Bob Sharkey handed me a knife and asked, "Can you go below and cut up some more lengths of line? We're going to lash the mainsail down to the boom." I said, "Sure," but after cutting about ten lengths of line I was thinking, "I'm going to start feeling sick again." Anyway, I did what I was asked. I did not think of it as, "Let's get the girl to do this." It was a job that needed doing and they asked me, so I did it.
Coop: How did you end up in Newport?
Barby: It was 1982, I guess. I actually did only one season in K3, but so full of memories it felt like a lifetime. I left K3 and lived with Trice in Newport. I wanted to write. I had done a couple articles for Cruising World and at UT, and had written a story for Texas Monthly, and that let me believe, "I can do this!" I started, with Billy's sister Laurie, a photographer, doing a magazine for the 1983 America's Cup called 12 Metre Beat.
We were backed by Lee Smith and OL Pitts, owners of the White Horse Tavern and big supporters of Courageous. They supported us with money and introductions, which led to a Vogue designer joining us, in our little office in New York City, and we sold ads out of there. Laurie was from Long Island, so she fit right in. Sometimes on deadlines coming up short for completed articles, Billy and Laurie's mom stepped in and helped finish writing. The McGowan Family was right behind it because Andy and Johnny were in the thick of the America's Cup anyway.
We produced the magazine and it made money – not a lot – but it was profitable. Billy had left K3, and then he and I moved in together and married in 1988. He started his business (Mac Designs) on the dining room table. Through sailing contacts, he was contracted to make a sign for one of the Cup syndicates, and that led to more orders for syndicate signs. Then I worked for US Sailing as Assistant Communications Director for four years. In 1986, after a great lunch with Susan Miles, who had been the Executive Director at Sail Newport, she and I started Media Pro. We ended up doing a lot of work with Rolex, in sailing, Junior Olympics, motorsports, skiing – all sorts of fun events. I ended up with half a dozen staff and was going flat out.
Coop: What are you doing for sailing these days?
Barby: Ah, sailing on Reef Points, a former Pyewacket, Rosehearty, doing Superyacht regattas, and Billy had a 28-foot original sportboat, the mighty Maxx, currently being refit by Jesse Fielding. And board sailing, wing sailing, and just spending time on the water.
Coop: What are your words of wisdom for 16-year-old Barby?
Barby: Get rid of all the noise around you, the supposed inequalities between men and women and just live with the fact that you are likely to be not as strong as a man. Can you be smarter? Yes. Do you have to deal with chauvinistic men? No, just walk away. You don't have to be part of that conversation, because it's irrelevant to what you can contribute to the world and the world of sailing. Find your niche and go from there. Don't ever let being a woman limit you, but don't let comparisons take over your life. It's kind of cool – there are men and women. That's the way the world goes 'round. Sometimes they take the lead and sometimes you take the lead.
Don't be afraid to leave your family, hometown and all the things that are safe for you. Go for adventure and explore new horizons. If it doesn't work, you can always go back. If you don't, you'll never know what you will miss.
Take your head out of social media. It does not matter what everyone is seeing you doing in your life. It's about the life you are living. That's what makes you grow.
Coop: Barby, thanks so much for sharing the great stories.
Barby: Coop, thank you. ■