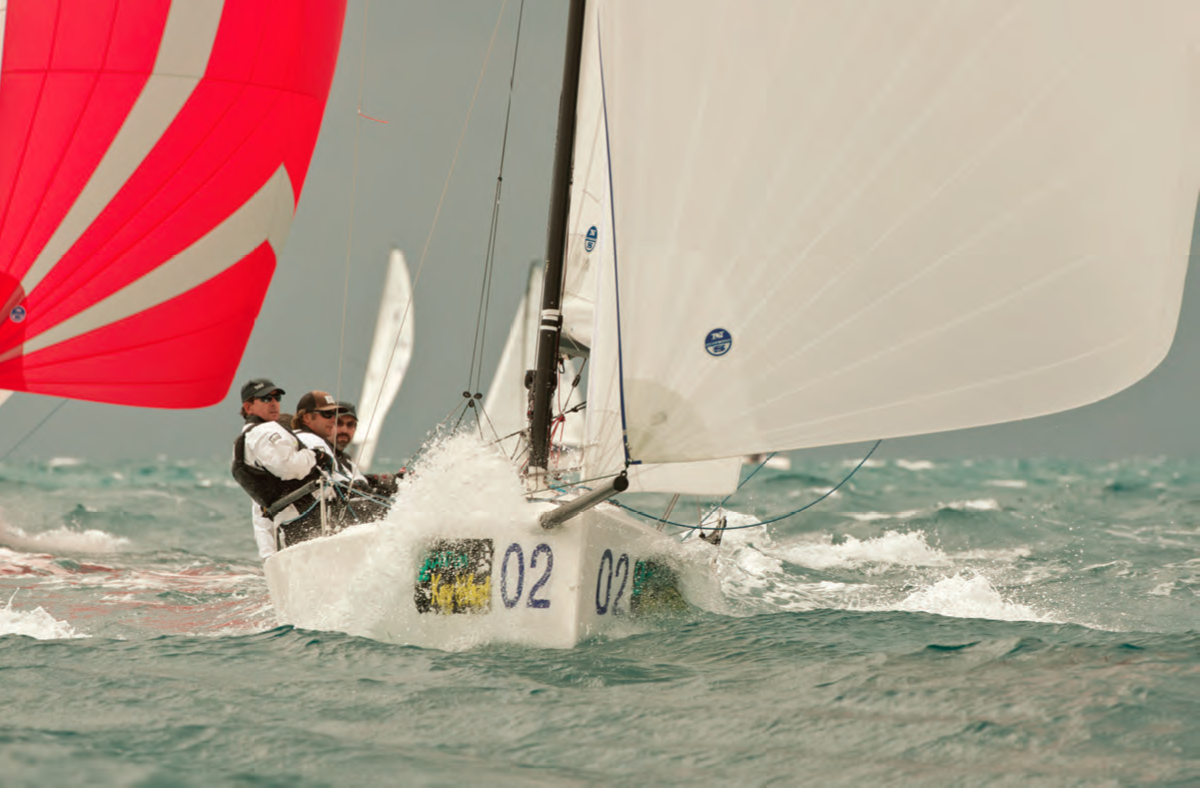 Two events in Florida each January provide keen amateur racers with an opportunity to compete against the world's best professionals. Quantum Key West and the Rolex 24 at Daytona are quite dissimilar, of course, but not just because one is North America's premier winter regatta and the other is a 24-hour sports car race.
If you want to drive your Ferrari 458 Italia in the Rolex 24, the operative phrase is "bring money." And if you can't stand on it like Stroker Ace, stay out of the way! Conversely, the cost of racing in the Conch Republic is much smaller…and with crews more focused on winning than in days of yore, so is the average Duval Street bar tab. Boats – and checkbooks – are subjected to far less abuse than the cars on Daytona's fabled banked turns, apart from the occasional shredded kite. Best of all, some of the fastest pros devote post-race hours to helping fellow competitors boost their performance.
For example, North Sails One Design coordinator Tim Healy of Jamestown, RI, who skippered Helly Hansen to victory in the 60-boat J/70 fleet, spent much of his spare time working closely with North U. Regatta Services, a performance analysis program designed by North Sails to help sailors improve boatspeed and sail trim setups. Healy hosted a pre-regatta J/70 clinic followed by two video debriefs during the event.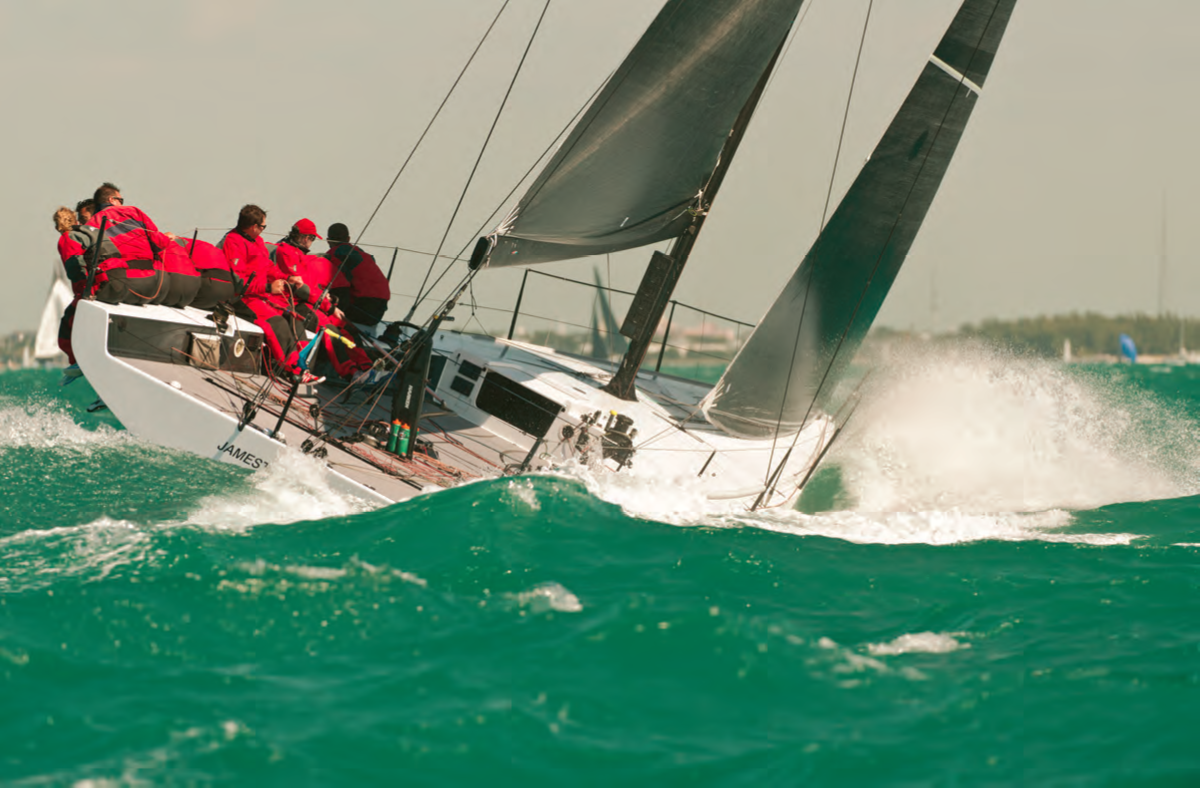 "J/70 trim and tune is still in its infancy," Healy explained. "I learn more every time I sail the boat. As North's J/70 class expert, I'm happy to pass along my knowledge to advance the skills of the class. All of us at North One Design feel improvement is a key factor in people having fun on the water. My guys [Geoff Becker and John Mollicone, who combined on tactics and trim, and Gordon Borges on bow] did an awesome job of boat handling and tactics. This team has also sailed J/24s together the past few years, so we have a comfort level that makes a big difference."
In the 10-boat IRC 3 Class, four boats comprising a diverse group of designs entered the final day with a mathematical chance to win. When the dust had settled, Arethusa, a Swan 42 owned by Phil Lotz of Fort Lauderdale, FL (formerly Newport, RI) emerged with a 5-point margin of victory. "We are very excited about winning our class at such a prestigious regatta," said Lotz. "Our boat was very good in the medium breeze that predominated this week. We tried to start cleanly and had a fairly conservative game plan. Jeff Madrigali [an Olympic bronze medalist in the Soling] was outstanding tactically all week, and did a good job of keeping us in phase."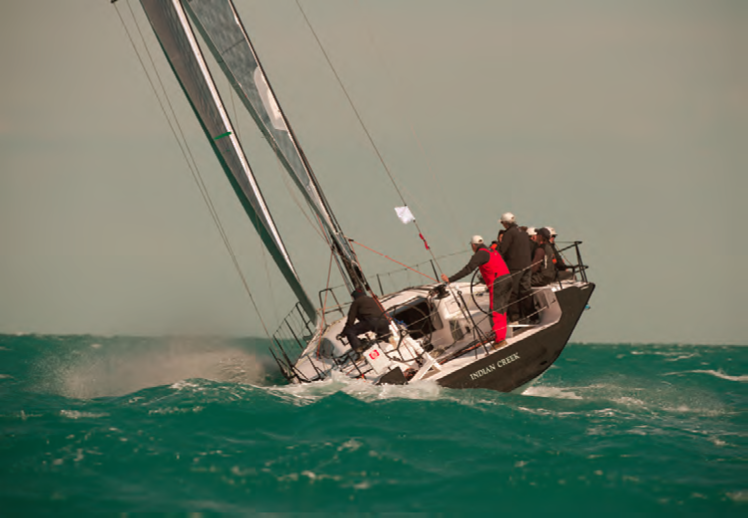 Marc Glimcher's Ker 40 Catapult (New York, NY) claimed third in IRC 3, with Linda & Andrew Weiss's new Sydney 43 Christopher Dragon (Mamaroneck, NY) fourth. "Key West served up a little of everything this year, from light air to a 25-knot blow that had all 10 boats in our class sailing with No. 4 genoas on the last day," said Christopher Dragon crew Adam Loory of UK Sailmakers. "Designed by Jason Ker, Christopher Dragon fell in the middle of the rating band for the hotly contested division and sailed well to her rating. Unfortunately, we are slow starters and the points from our first three races equaled our points for the last seven. We ended up just out of the money, but we learned a lot about how the boat likes to be sailed. Watch out for Chris Dragon this spring!"
Event sponsors include Title Sponsor Quantum Sails and Day Sponsors Lewmar/Navtec (Official Marine Hardware) and Mount Gay® Rum (Official Rum). Supporting sponsors include B&G (Official Marine Electronics), Marlow Ropes (Official Rope), and Gill (Official Technical Gear). Complete results are posted at Premiere-Racing.com.
Quantum Key West Press Officer Bill Wagner contributed to this report.
I