By Paul Jacobs
Photos by Nancy Kaull

In August 2009, the Providence Journal ran a feature article on Croatia and the walled city of Dubrovnik in the travel section of their Sunday edition. Both of us read the article, were intrigued, and began wondering about travel to Croatia, logistics, where the Sunsail base was located, where we might sail, and what fall weather might be like in Croatia.
For anything about Sunsail owners program voyages, call John Keyes! John said that everyone he knew who had gone to Croatia loved it. We like to swim off the boat, so I asked him about Adriatic water temperature in September and October. He said, "70° to 74°Farenheit," and I said, "Do it." He then reserved a Jeanneau 34i at the Sunsail base near Dubrovnik. We made our first "Advanced Notice" booking for the two-week interval 19 September through 4 October.
I read Adriatic Pilot by Trevor & Dinah Thompson, and spent evenings learning about Adriatic harbors. I also discovered Google Earth. Entering "Dubrovnik," Google Earth would swing around the globe and present an aerial view of that city. Scrolling left or right, up or down, you can "move" the view to a selected island, and zoom in to view a harbor. Other travelers post photographs, so you can see what a harbor looks like, or if there is a dinghy dock to go ashore. What a blast!
The Adriatic Pilot and Google Earth enabled a "virtual voyage" before we ever left home! When I found an especially nice potential anchorage, I showed it to Nancy. She would "Ooh and aah," and I would plan to sail to Luka Polace on Otok Mljet. We did not know how to pronounce either place, but we already knew they were beautiful!
I used Travelocity for convenient travel at low prices. A British Airways flight departed Boston at 6 pm, Friday, 18 September, arrived at London, Gatwick on Saturday. With a three-hour layover, a bus transfer to Heathrow and a subsequent flight, we arrived in Dubrovnik at 2 pm.
The Sunsail base is located on the river or "Rijeka Dubrovacka," approximately four miles north of the city. Buses (10 euros each), regularly leave the airport for Dubrovnik. After boarding, I asked a nice fellow which bus went to the town of Komolac, near the Sunsail base. He told us in English with a Slavic accent, "Bus number 1." We soon caught that bus, but learned that we needed to pay with "kuna." As Croatia was not part of the European Union, they still used their own currency. So, I converted euros into kuna. The trip to the Sunsail base cost 10 kuna (about $2) each.
We arrived at the Sunsail base at 4:45 pm. A chart briefing that started at 4:40 was being given by Pavel outdoors on a lovely afternoon. As it had just started, we quickly joined in. Pavel gave the briefing in English, providing great descriptions of the islands, the best anchorages, various restaurants, a few nasty rocks, and other useful information. The chart briefing was well done, and I told that to Pavel when he concluded. He smiled and said, "You are too kind." We located Vadla, a Jeanneau 34i along the quay, and were thrilled at the spectacular view.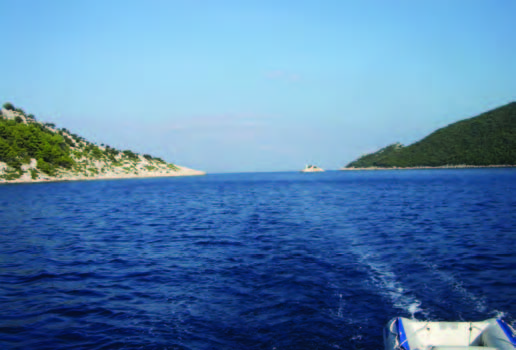 The boat was ready by 4 pm, so we unpacked, stowed our gear, and checked Vadla. She was similar to our 36i, but had three cabins. We found an outdoor restaurant nearby, and shared a large, locally brewed, very cold beer that was terrific! After a nice salad, great crusty bread, pasta Bolognese for me and pasta Carbonara for Nancy, we walked back to Vadla which was tied stern-to a dock adjacent to 27 other Sunsail sailboats. After a long day of planes, trains, buses, and cars, we retired at 10 pm and promptly fell into fathoms of deep sleep.
Sunday, 20 September was the autumnal equinox, so farewell summer and hello fall. Nancy had tea and I had coffee in the cockpit. Then we went to a grocery store 200 meters away for provisions. Nancy bought 997 kuna worth of food. The selection of fruit was good but vegetables were sparse, so we bought only carrots, lettuce and tomatoes, as well as three five-kilogram bags of ice cubes at the restaurant. We always need ice for cold drinks on warm days, so this was a good start. The engine was started, all four docklines were cast off, and we motored down the turquoise water of the Rijeka Dubrovacka, with stately homes on both sides.
The air temperature was 82° F and the water temperature 74° F, with blue sky, bright sun, and white cumulous clouds. We only travel short distances on the first day of any cruise, to get our sea legs. Thus, our destination was the island of Lopud, eight nautical miles west of the Sunsail base. The winds were north at 5 – 7 knots, so we were only sailing at three knots, but were in no hurry. The water was now dark blue, deep, and very clear. While sailing, Nancy made grilled cheese sandwiches using delicious bread from the restaurant, and a local cheese somewhat like Swiss.
We arrived at Uvala Lopud at 4 pm, found a nice spot in five meters of water, and made ready to drop the anchor. However, the windlass was eerily silent! I checked, and its circuit breaker was fine. Nancy took the helm while I manually lowered the anchor and about 120 feet of chain. After it was evident we were secure, I called the Sunsail base and reported the windlass problem. Fortunately, a Sunsail flotilla was only one mile away, and help would thus arrive shortly. Nancy went for a swim in the clear water while I waited on deck. We were anchored just off the lovely little town of Uvala Lopud. A beautiful old stone church, whose bells rung on the quarter hour, created a lovely sound across the calm water. The bells also offered us a chance to re-set our watches to local time (EDST + 7 hours).
In 20 minutes Dario, who had conducted our boat briefing, arrived by dinghy. After checking obvious things, like the circuit breaker, he found a corroded engine wire harness, and would need to return to the Sunsail base for a new one. He then said that he would return to Vadla the next morning at 8:30. We settled into the cockpit with rum, tonic, orange juice, and much ice, with splendid views of a very quaint town only 100 meters away accompanied by the enchanting sound of church bells. Notwithstanding a problem with the windlass wiring, life was great!
Nancy made a favorite; sautéed boneless chicken & mushrooms, but added a local parmesan sauce from a carton with Croatian lettering, so we were "not exactly" sure what this would taste like. Well, it was absolutely fabulous! It was so good that we wish we could get it back home! She also made a salad using fresh tomatoes, lettuce and carrots with balsamic vinegar dressing. All of this plus a cold Chablis, as the sun set. After some reading we sipped Croatian plum brandy and looked up at the Big Dipper; the "pointer stars" aimed at Polaris, with the arc of the Dipper's handle pointing to Arcturus. Far from home, yet old friends still greeted us.
At 8:30 am Monday, Dario and Max arrived with a new wiring harness and in 35 minutes the windlass was working. I noted that the port lifeline was slack, and the toolbox aboard did not include a wrench that fit the turnbuckle. Max got one out of his tool kit, and was applying force when the wrench slipped, he lost his grip, and the wrench flew in a lovely parabolic arc and splashed six feet away in the Adriatic! Max muttered in Croatian, looked at me, and we both laughed. Some things are universal. We hoisted the chain and anchor with the rejuvenated windlass, and set sail at 9:45. The breeze was initially five knots, but soon faded to three. At a boat speed of 1.5 knots it would take "roughly forever" to go 23 NM to Luca Polace near the western end of Otok Mljet (pronounced oh-tock mee-yet), so we turned on the engine and autopilot.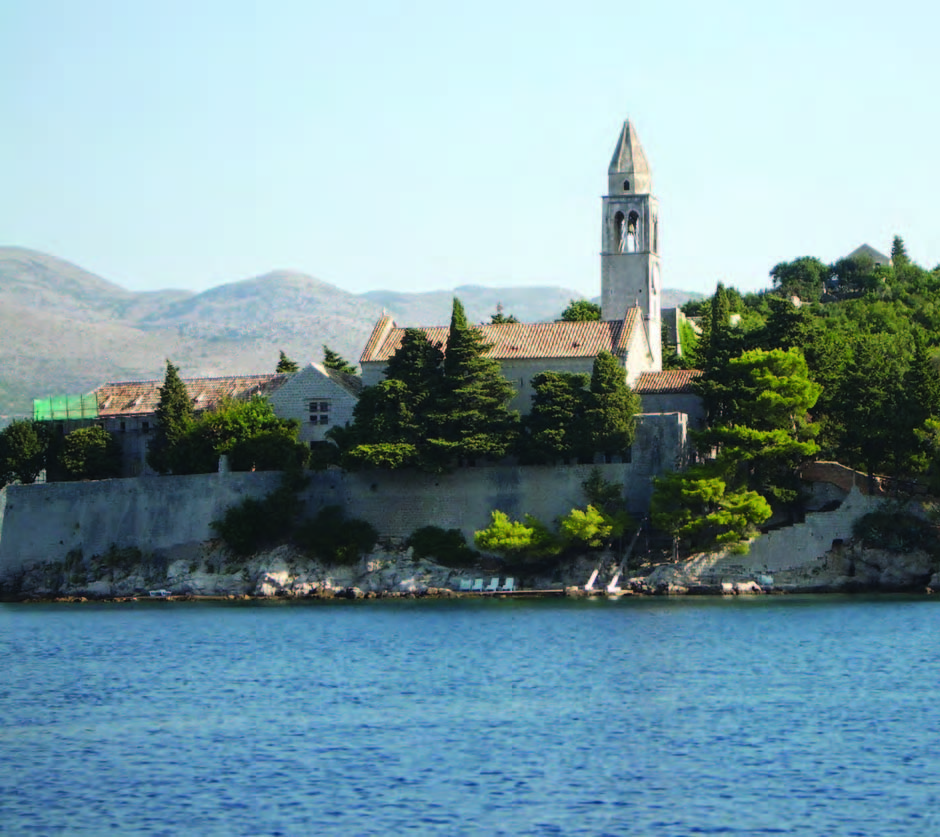 At 1:30 pm a breeze arrived and grew to 7-8 knots. We turned off the engine and sailed on a starboard tack broad reach at five knots, jus
t north of Mljet and south of the adjacent slender island of Kobravce (Koh-bra-vah-chay). This narrow, deep and very beautiful fjord-like passage had steep hills on both sides with pine trees almost to the water's edge. The east entrance is marked by a small lighthouse on a rock just off Mljet. After some wonderful sailing down this long relatively narrow passage, we eventually arrived at the beautiful, well-sheltered harbor of Luca Polace.
Anchored in 6.5 meters of sparkling clear water and once certain the anchor was fast, we went for a swim, and checked the anchor, which was well buried in sand and gravel. This place is even more beautiful than it looked on Google Earth! Nancy and I soon agreed that Luca Polace, Croatia was the most beautiful harbor in which we had ever anchored! The water was so clear that through 21 feet one could see pebbles on the bottom! The water temperature was 74° F. We learned from the Adriatic Pilot that Otok means island in Croatian, and that Mljet is a Croatian National Park, which accounts for the complete absence of industry. The harbor was surrounded on three sides by conifer-covered hills, emitting the fragrance of pines. Incredible!
The water invited us to get wet again. Just prior to sunset, the water was warmer than the air. The humidity was very low, so on getting out droplets evaporated off our skin and we soon got chilly. However, running the engine to charge the batteries soon provided a very nice hot water shower on the transom. Dinner was so excellent the previous night we agreed to have the same thing again, except this time with brown rice, and carrots in butter, and a light Sauvignon Blanc, accompanied by Joshua Bell playing the Mozart violin concerto no. 5.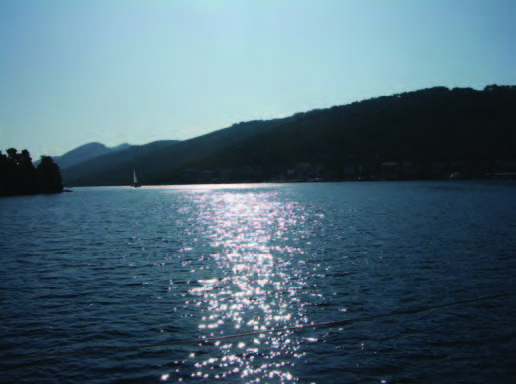 Tuesday morning presented a beautiful blue sky, bright sunshine…and the bare derriere of a snorkeler about 20 meters away, from another sailboat about 50 meters away flying the German ensign. Some Europeans disdain bathing suits! Nonetheless, Nancy and I agreed that the water was gorgeous in the morning sunlight, so we swam again.
We weighed anchor at 9:30 am, and sailed to the village of Korcula. The Adriatic Pilot informed us Korchula is a walled town, a center of trade during the 14th century, and the birthplace of Marco Polo! The breeze again was light and died away before noon, only to return around 1:30 pm. We soon discovered this was a trend in the Adriatic in September. The engine then charged the batteries, and moved us towards Otok Korcula at 5.5 knots.
There is no anchorage at Korcula, so we sailed to nearby Uvala Luca, and anchored in 5 meters, on a sand and gravel bottom. We intended to go for ice and explore the town. Unfortunately, we discovered the outboard was missing a kill switch and thus would not start. I called the base again. We try to be self-sufficient, but had to wait for Dario. After he arrived, he quickly installed a new kill switch, started the engine, and with a smile returned to his flotilla.
We then noticed Vadla had moved! Checking cross-bearings the anchor was clearly dragging, and while not in any danger with open water behind us, a dragging anchor will not serve. The failure of the dinghy outboard was fortuitous lest we had headed off to Korcula, only to return to find Vadla had floated out into the Adriatic! Weighing anchor, we moved to a spot just offshore from a lovely monastery with a sandy bottom, dropped the anchor again, tested it with reverse, and I then swam to check that it was nicely buried in soft sand. By this time the sun was getting low in the western sky, and it was too late to start a visit to Korcula.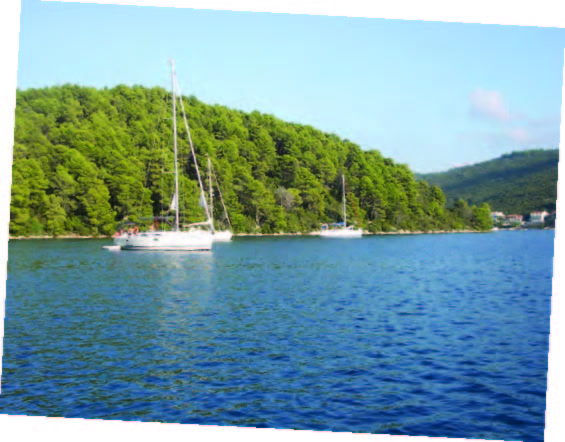 Therefore, we decided to swim, relax in the cockpit, read, and have some wine before Nancy started dinner. She sautéed chicken in butter, with slices of fresh local nectarines, sliced almonds, and topped with orange "nectar" (sold in Croatia, it is much thicker than orange juice and used as a sauce in local cooking). All this was complemented with brown rice, a side salad, and a glass of Riesling. Dinner was superb, and if we can find orange "nectar" in the US, it would serve wondrously well in concert with a dinner for company. We read awhile, accompanied by Beethoven's "Moonlight Sonata" performed by Alfred Brendel at very low volume so as not to disturb the monks, as we know that sound carries well over calm water. Another beautiful evening in an exquisite place. Nancy went below to update her journal by candlelight.
Wednesday dawned bright and sunny, with not a cloud in the sky. We saw the monastery clearly only 150 yards away and heard its resonant bells rung to call the friars to a worship service in their chapel. At 7 am the air temperature was already 78° F while the water temperature was 72° F. Not every day do we swim off the transom, in clear water, near a Croatian monastery! To get some good exercise I rowed us to Uvala Luka (about 1/3 mile away), tied up at the dinghy dock, and walked about 1.5 miles to Korcula. While warm, the walk was shaded by numerous trees, and we soon arrived at the lovely walled town. Beautiful stonework was everywhere! The houses, the cobblestone streets, most of the walls, and the crenelated towers that were battle stations to keep out invaders in the 12th century, are all fashioned from the local stone. Built on a hill on an island, it has steep, very narrow walkways, with beautiful courtyards and colorful flowers in numerous planters.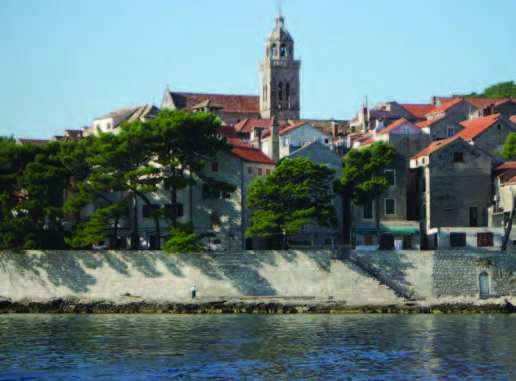 There were also a number of outdoor restaurants adjacent to the waterfront in a plaza atop the wall. We picked one with a great view overlooking the blue Adriatic, and Nancy ordered something in Croatian that turned out to mean "little fishes." They were 3-4 inches long, sautéed in butter and fried onions, and tasted crispy and fabulous. After lunch we purchased and carried two canvas bags of ice back to the dinghy, and then to Vadla. We had dinner, cleaned up, listened to the monastery bells, swam in wonderfully clear water, and read for a while before we retired. It had been a lovely day, and Nancy voted Korcula the quaintest town we had ever sailed to in all our years.
Thursday was again clear and sunny, with bright blue skies but very little wind. So, we powered NW about 19 NM to Luca Lovisce (lo-vee-chay), a harbor with five coves on the tiny island of Scedro, (shed-roe). We picked a side cove and were utterly alone, while only one other sailboat could be seen in another cove. The night sky was filled with stars and a luminous Milky Way. We listened to Chopin while Nancy caught up on her log that later made our book Voyages possible, and I estimated how much fuel and water we had used. With little wind, we were powering more than normal. We love the water, the islands, the anchorages, the towns and the very friendly people of Croatia. We just wish there was a bit more wind.
This concludes Part 1 of our Croation cruise. Part 2 will appear in next month's issue.
Nancy Kaull, a native of Newport, RI, and Paul Jacobs, who was born in New York City, have been sailing together for 12 years This article is excerpted from their forthcoming book Voyages. Since 2009 when they purchased the Jeanneau Sun Odyssey 36i Sandpiper, based in Tortola, BVI, Nancy & Paul have sailed as part of the Sunsail owners program in Abaco, Bahamas; Tortola, St. Martin, St. Barths, St. Kitts, Nevis, Anguilla, St. Vincent & the Grenadines, Granada and Carriacou in the Caribbean; Dubrovnik, Croatia, Tugutreis, Turkey and Vounaki, Greece in the Mediterranean; and Raiatea, Tahaa, Huahine, Bora Bora and Maupiti in French Polynesia. They reside in Saunderstown, RI.