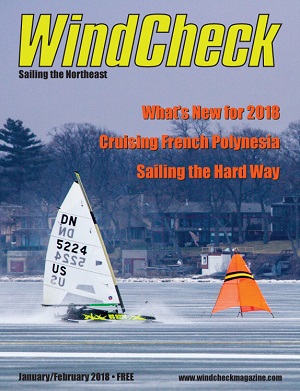 I dislike the use of the term 'Bucket List' to order those events or experiences we wish to do before it's 'too late.' We all have things we'd love to see and accomplish, and regardless, everything we do is on our so-called bucket list because, well, you ain't gonna summit Everest after you've kicked it unless someone carries you up there in a tin can. I have my, call it, 'to-do list' and Everest is nowhere on it. But there is some adventure and challenge, most of which involves sailing in some form or fashion. Go figure.
On the cover: James "T" Thieler's DN iceboat at the completion of a high speed spinout during the 2016 DN North American Championships.  © John Stanton
Boats and crews have been travelling to compete in races around the world for as long as they've been run, and since I was a child, I dreamed of competing in the Whitbread (now the Volvo Ocean Race), the America's Cup and a host of sailing's other greats. But as I've gotten older, my interest in (and ability to do) some of those major events has waned and I've narrowed the race portion of my list down to three.
In recent weeks I have followed with great enthusiasm – and maybe a little envy – the adventures of sailors from the Northeast competing in one of those to-do-list races. The Rolex Sydney Hobart Yacht Race historically dishes up a wide range of conditions, making for challenging situations and exciting competition. I love the complexities of an ocean race that starts in a harbor, heads offshore and finishes in a river.
It reminds me of Vineyard and Block Island Races that have multiple 'restarts' at The Race or Plum Gut or any number of other spots along the route. Many a Vineyard or Block race has been won with craftily employed local knowledge, a trusty Eldridge, and more than a little bit of patience. This year's Hobart saw the two most recognizable super maxis in the world trading position (and almost paint) from start to finish. But the better light air boat, mixed with local knowledge of the River Derwent, saw Wild Oats XI slide past her rival Comanche on the water. Truly exciting racing… and I didn't think anything could be more exciting than what the Volvo Ocean Race has been dishing up since the start in October.
I noticed some time ago that a very large number of my Facebook friends have profile pictures of them on the bow, trimming sails or at the helm of a boat, so it was no surprise to learn that many of them were doing the recent Sydney Hobart Race. I also believe this last running may have seen the most American entries ever (as provisionally confirmed by the elder statesmen of the Storm Trysail Club). I've been living vicariously through the posts and videos provided by crewmembers aboard Christopher Dragon, Dorade, Warrior Won, Triple Lindy, Wizard and Comanche (I've got to get a hold of one of those Garmin VIRB 360 degree cameras!).
The posted updates, videos and images captured aboard, via media boat and even drone have been breathtaking. I was pleased to see a wide range of conditions deliver varying wind speeds and directions, presenting daunting challenges along the way and, more so, to be able to confirm that everyone had the journey of a lifetime and arrived safely in Tasmania.
Incidentally, it should be no surprise that the Rolex Fastnet and the TransPac are the other two races on my list. The idea of doing a race associated with many of the most compelling stories of seamanship and survival has always been appealing to me. Likewise, the thought of sailing downwind to Hawaii for 10 or so days is, well, a no-brainer.
Also on Facebook, our man Coop has been ardently following the journey of a Young American Junior Big Boat Sailing Team member, Carina Becker of Rye, New York, who did Sydney Hobart aboard the Hick 50 Climate Action Now. Carina's voyage is significant because she not only left the comfort of sailing with people with whom she'd grown up sailing, she ventured out with an allwomen crew to promote awareness of our planet's ecology. Carina continues to build her offshore resumé, and add to her already formidable skill set. Perhaps some of the other great offshore races are on her list. Who knows, maybe we'll see her going 'round the globe in an upcoming edition of the Volvo Ocean Race. Talk about an enviable sailing path!
I know I'll be checking off my to-do list races soon and I can only hope that my experiences, like those who've sailed this year, live up to the hype and the expectations I have of completing them. Congratulations to those who competed in this most recent major ocean race. It's been a pleasure following your journey.
For now, a few warm weather, US-based races will have to do, and given the recent cold snap, I'm sure plenty of folks will look upon my Facebook posts with interest – and maybe a little envy – in January as I sail down the Keys en route to the Conch Republic. I've got plenty of sailing to be happy about for the time being. I hope you have the opportunity to check off a few of your to-do sailing adventures, and that you'll share them with us all.
See you on the water.
Chris Gill