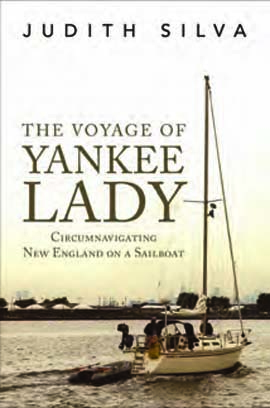 By Judith Silva
With a credo of 'Every day is an adventure,' Judy and Jim Silva have cruised together enthusiastically since they were married in 1996. At the beginning of this century, they decided to embark on a circumnavigation of New England and the Canadian Maritimes. Judy and Jim, sailing her Pearson 28 Yankee Lady, were joined by their longtime cruising companions Barbara and Tom Frasca aboard their Pearson Wanderer Misty, and Rosalie and Tom Isele on their Catalina 30 2nd Wind.
Allotting two seasons to complete their 3,000-mile odyssey, the three crews departed from Old Saybrook, CT, sailed westward through Long Island Sound to New York City, northward on the Hudson River, through Lake Champlain to the St. Lawrence River and on to New Brunswick, where they left the boats for the winter. The second half of their journey brought them to Prince Edward Island, Cape Breton and Newfoundland, southward along Nova Scotia to Maine, and then back home to North Cove on the Connecticut River.
With stops at nearly 90 harbors and anchorages, the sailors aboard Yankee, Lady Misty and 2nd Wind coped with stormy weather and mechanical maladies, and encountered whales, seals and other wildlife. Most memorable, according to the author, was the friendliness of the many Americans and Canadians they met along the way.
Judy Silva has loved boating ever since she stepped into a canoe at the age of twelve. As a teenager she sailed her Penguin on Long Island Sound. She started cruising a little later in life. The best boat of all was Yankee Lady, which she bought new in 1986 and sailed as far as Nantucket. For the most part, she sailed single-handed until she married Jim in 1996. Jim, also an accomplished sailor, has cruised the same waters aboard his Challenger 32, Albatross. Together, they have cruised to the Bahamas aboard Albatross and circumnavigated New England aboard Yankee Lady.
Any sailor who's ever dreamed of making a long voyage on a modest boat and with a modest budget will find much to enjoy in this fine book, which includes a section of photographs and watercolor paintings by Barbara Frasca. Ask the independent bookseller of your choice to order it, find it on Amazon.com or get it directly from the publisher, where it's also available as an e-book download for $15.99, by logging onto tatepublishing.com/bookstore.