Fostering excellence for 93 years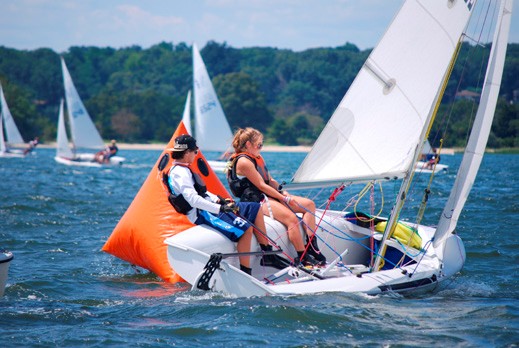 Founded in 1924 to support its member junior sailing programs through leadership, training, communication and event scheduling, the Junior Sailing Association of Long Island Sound (JSA) has produced legions of sailors who have excelled at the highest levels of the sport.
Jake Sal (helm) and Claire Glenn of Seawanhaka Corinthian Yacht Club round the leeward mark during a recent JSA Laser/C420 Championship. © jsablog.com
We spoke with JSA Co-Chairs Karen Quirke, a member of American Yacht Club and New York Yacht Club, and Peter "Pedro" Lorson of Manhasset Bay Yacht Club and Port Washington Yacht Club, who discussed their own experiences as junior sailors and the past, present and future of this venerable non-profit organization.
WindCheck: When did you start sailing?
Karen Quirke: I started sailing when I was seven at the Greystones Yacht Club in Wicklow, Ireland, in the Mirror dinghy. My family subsequently moved to National Yacht Club and the Royal St. George Yacht Club in Dublin, where I raced C420s.
Pedro Lorson: I started sailing Blue Jays in the Manhasset Bay Yacht Club Junior Program in 1972.
Were you a member of an organization like the JSA as a junior sailor?

PL: Yes, this organization! Back in my day was known as the Junior Yacht Racing Association of Long Island Sound.
KQ: The three waterfront yacht clubs in Dublin Bay were a casual junior sailing organization, but not as organized as the JSA. I've never come across such a comprehensive junior sailing organization as the JSA.
Did you have a sailing mentor?

PL: Yes, two of them – Steve Benjamin and Gary Knapp (who just spoke at the JSA Midwinter meeting in March).
KQ: When I was 16 and started racing big boats, my mentor was Liam Shanahan, on whose Shamrock 30 I crewed. He introduced me to offshore racing, which was thrilling. We raced to Wales and the South of England. Racing in the Irish Sea at night was amazing.
What other people or experiences helped shape you as a sailor?
KQ: Dublin Bay is a very windy venue, and the sheer exhilaration of flying around in a boat every afternoon in the summer was thrilling. Also, the social aspect of mixing with kids older and younger was a big draw for me. While racing is very rules-focused, I found the freedom attached to junior sailing very attractive. It kept me coming back for more each summer.
I helped start the Women's Team in University College Dublin, and I was a sailing instructor in the South of France for three summers. As an adult, I approached American Yacht Club Commodore Drake Sparkman and asked if I could start a committee for Women On the Water. He was a huge proponent of this idea and so began my next chapter in sailing, WOW!

PL: My parents Peter & Sally Lorson, my MBYC Junior Program race coaches (the ones I remember helping me the most were Jamie McQuery and Chris Fowler), and of course some private instruction that my Dad set up for me with Steve Benjamin. Finally, my team racing experience as a high school sailor at Tabor Academy opened up a whole new side of sailing that I had never experienced before; something I am very passionate about to this day: Team Racing!!
When did you become Co-Chairs of the JSA, and what are your responsibilities?

KQ: Pedro and I accepted the positions of Co-Chairs in 2015. Pedro is a very positive and upbeat guy, and very easy to work with. We seem to always see things in a similar fashion. When we are presented with a problem, we connect by phone, hash out the topic, address the issues and work out a solution. The JSA is a very well oiled engine. It has a lot of history on the Sound, something Pedro and I both respect. Our role is to adhere closely to the mission statement and by-laws while staying current in the ever-changing face of this sport. We also tend to look towards US Sailing, so if they adopt a new initiative, we assess if it's suitable for the JSA to follow suit. Our board is comprised of a group of hard working people, passionate about sailing, so we form sub-committees to tackle issues.
PL: Karen (who by the way is an awesome Co-Chair!) and I are the first Co-Chairs in the history of the JSA. Our job is to keep the JSA as a highly respected junior sailing organization in the U.S. Karen and I are engaged in all facets, while properly delegating tasks to our very competent board.
What is the JSA's mission?
PL: The JSA supports junior sailors at member programs by fostering and coordinating programs and activities that encourage them to experience the joy of sailing and instill a lifelong love of this great sport. We promote ethical behavior among our sailors and encourage the teaching of lessons that build character, foster teamwork and strengthen respect for self and others. We support both serious competitors and recreational sailors at all skill levels and encourage their sailing in local waters and beyond, and we encourage an appreciation and respect for the marine environment so important to sailing.
How many programs are affiliated with the JSA?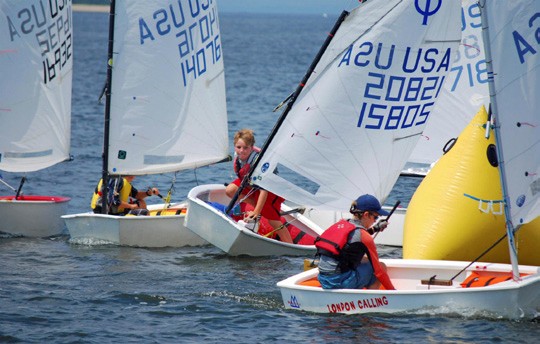 KQ: There are 40 junior programs at JSA member organizations in New York and Connecticut, including yacht, sailing, beach and shore clubs, associations, and youth and community organizations. In recent years there have been around 2,000 junior sailing members. The WaterFront Center in Oyster Bay, NY and the Darien Junior Sailing Program at Weed Beach in Darien, CT are the two public access community programs that are members of the JSA.
The Clash at the mark: Robert Lane of Indian Harbor Yacht Club leads the pack at a JSA Optimist Championship regatta.   © jsablog.com
Please tell us about the JSA board and other people you work with.
KQ: The JSA board is comprised of 16 members selected from three regions around Long Island Sound, many of whom you'll see at junior regattas. Each year, we rotate two or three new members onto the board. In addition, we have invited Kevin Broome, Sailing Director at American Yacht Club, and Nicky Souter, Sailing Director at Riverside Yacht Club, to be representatives of the sailing instructors to the JSA board. Kevin and Nicky are on the front line because each runs a large junior program and they're able to read the nuances of certain situations and issues that come up on Long Island Sound.
PL: Karen and I work very closely on all JSA issues with JSA's Executive Director, Bob Whittredge, who simply does an awesome job. We also work with other board members on their assigned tasks. Both Karen and I can be found at various JSA regattas, talking to parents, regatta committee members and coaches and getting their input.
KQ: Bob Whittredge is a wealth of information, and Pedro and I rely on him throughout the year to help steer this large ship in the right direction. Bob can be seen at many junior regattas. Please introduce yourself sometime, as he is extremely personable and enjoys speaking to sailors, instructors and parents.
What is the JSA doing to engage and retain sailors with fun, non-racing activities? 
KQ: Attrition in sailing used to be a problem for many JSA member yacht clubs. Adventure sailing has taken off in recent years. Within the guidelines of this new endeavor, you will find the O'Pen BICs, Pixels, windsurfers and stand up paddleboards. Some programs have even started kayaking and powerboat handling courses for younger sailors. The JSA recognizes that we have many different types of boat users, including competitive racers who sail year round and adventure sailors.
The issue in sailing is retention, so adventure sailing has been a terrific success and it's helped the bottom line in junior programs, which keeps the flag officers in our local clubs happy. However, the JSA board is mindful that we need both racing and adventure programs to remain vibrant. The racers aren't going away! For example, Jack Parkin is a JSA sailor from Riverside Yacht Club who won I420 Worlds in Japan in 2016. Ashton Borcherding from Belle Haven Yacht Club came fifth in Women's.
You have a very busy calendar of events. How does it all come together? 
KQ: The JSA has an eight-week racing schedule every summer, and the board meets once a month and plans for the following summer. Our board members volunteer for tasks throughout the year, so our sub-committees report back to the board as we get closer to their initiatives.
One of our biggest events is the All Instructor Symposium in June, where over 200 instructors spend the full day at Larchmont Yacht Club. They listen to experts in the industry, then they have break-out sessions in the afternoon where we work on honing their instructor skills. Charlie Enright, skipper of Team Alvimedica in the Volvo Ocean Race 2014-15, gave a compelling presentation last summer.
We are extremely safety conscious, and we have a very high bar for our instructors. In order to work at a JSA member club, each instructor must complete a four-day US Sailing Small Boat Instructor Level 1 training course, plus CPR and First Aid courses. In addition, first-year instructors are required to demonstrate on-water Safe Powerboat Handling proficiency at a US Powerboating course.
How has the JSA changed since 1924?
KQ: In an effort to adhere to our principal of staying current in the sport, we have introduced STEM education, such as US Sailing's REACH program. Team racing has been ramped up, and we have introduced many Green Fleet regattas. The Marlinespike Seamanship Award for individual rope skills was dropped in the 1980s, but it's been reintroduced in an effort to promote seamanship amongst our juniors. We are also requesting that all of our events are "clean regattas." We recognize that communications have gone primarily digital and in 2016 we launched an upgraded website, JSALIS.org. Each summer we hire a social media editor who populates our social media platforms such as Facebook, Twitter and Instagram.
Do you foresee the venerable Optimist, 420 and Laser being supplanted by newer, faster boats?
KQ: We are already seeing member clubs add different boats to their junior programs. The O'pen BIC, RS Feva and Hobie Wave are three of the more recent additions. After they graduate from the JSA, many of our racing sailors are moving into the I420 and 29er, and some to the 49er. These are fast, high performance boats that require a skill set that needs to be originally learned in a smaller and often slower boat. A growing class is the RS Feva, a two-person boat with an asymmetrical spinnaker. The young sailors seem to love its speed.
Last year, my daughter Jacqueline (13) sailed a Feva at Larchmont Race Week with her crew Katherine Stoker. They fell in love with the boat, particularly the Mylar sails. They loved the asymmetrical spinnaker and how responsive it is and really enjoyed their first experience in a two-person boat. There will be eight RS Feva events this summer including the first JSA Feva Champs, and the Feva North Americans will be at Indian Harbor YC in August. This is an exciting time for sailing!
PL: I could see skiffs finding their way into JSA regattas in the future.
Please tell us about the JSA Big Boat Program.
KQ: The growth of the junior big boat sailing programs in the JSA is very impressive, thanks to the many volunteers and generous boat owners who donate their time and resources. One highlight of JSA big boats is the terrific success of the Young American Junior Big Boat Sailing Team from American Yacht Club juniors, who won the 2016 Bermuda Race on the Tripp 41 High Noon (first in Class 10 and third overall, and first recipients of the new Stephens Brothers Youth Division Trophy). They won the Onion Patch Series, and the Boomerang Trophy awarded by Storm Trysail. The Young Americans also won the Vineyard Race in 2013 and the Block Island Race in 2015.
The JSA puts heavy emphasis on the Dorade Trophy and Beach Point Overnight races that have high attendance. The Yacht Racing Association of Long Island Sound, starting with its past director Iris Vogel, is very active in encouraging boat owners to invite juniors aboard to compete for the Youth Challenge Cup during the regular YRA handicap series. The J/70, Melges 24 and Etchells fleets are actively promoting juniors, and this could be seen as a platform to big boat sailing. In the words of Peter Becker, Head Coach of the Young American Junior Big Boat Sailing Team, "the secret to success is to give the keys to the juniors, give them ownership of the race, and allow them all of the glory."
What's most rewarding aspect of your work with the JSA?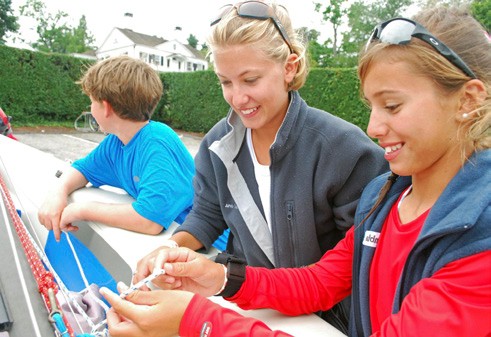 Some of the finest coaches in the sport work at JSA member clubs. Noroton Yacht Club sailor Anna-Luisa Brakman (right) ties down her mast with guidance from coach Jill Fattibene at Pequot Yacht Club's Pixel Regatta.   © jsablog.com
KQ: Watching young sailors grow in the sport and become sailing instructors is very rewarding, as is watching a young Opti sailor progress from caring for his or her first boat to becoming a role model in the sport. I also enjoy the night of the Larchmont Junior Race Week dance, when our house is filled with young sailors attending for the first time, excited and awestruck because of the lore of the dance. The instructors show up in droves, showering after a day on the water and getting dressed up to chaperone the dance…circle of the sailors' life on Long Island Sound.
 PL: Seeing kids succeed and improve their skills while having fun, both on and off the water.
Any advice for parents who want their kids to learn to sail?

KQ: Buy them a "beater" Optimist as a first boat, Let them name their boat whatever they want to name it, and decorate it however they like. We still have lots of laughs with our children when we look at their "first" Opti photos.  We have five children. Our older three are sailing instructors and two of them sail in college. Our two younger children have represented the U.S. in international Opti regattas during the past three summers. My husband Declan and I have never asked any of them where they finished, or who they beat. Not asking young sailors how they scored in a race will take pressure off. That has been our mantra for 21 years of parenting our five children.
PL: Make sure the kids are having fun!!