By Roger Bauman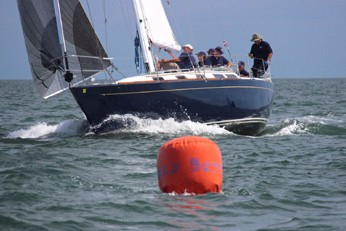 The Eastern Connecticut Sailing Association (ECSA) Leukemia Cup Regatta was held on Friday, August 28 and Saturday, August 29 and hosted by North Cove Yacht Club (NCYC), Duck Island Yacht Club (DIYC), Essex Corinthian Yacht Club (ECYC) and Brewer Pilots Point Marina.
Team Tartuca were this year's top fundraisers. © Mimi Merton Photography
This fundraiser for The Leukemia & Lymphoma Society (LLS) combined social and racing activities for all, including a potluck appetizers/cocktail party and auction on Friday night at NCYC and exciting offshore PHRF and one-design racing on Saturday.
The weekend culminated in a post-race party at Pilots Point Marina Saturday evening with awards, live music by Mid Life Crisis, great Italian food from Saldamarco's, and superb refreshments by Cindy's Wine and Spirits and Gosling's Rum.
This year's ECSA Leukemia Cup Regatta weekend raised more than $56,000 for LLS and welcomed over 300 attendees for the two days' events. Friday night's auctions and cocktail party were one of the highlights of the weekend. The silent auction was packed with donated items from local businesses, and Bob Cika of NCYC auctioned off North Sails pro sailor and longtime LLS supporter, Jack Orr, to the highest bidder, Ruth & Peter Emblin of ECYC won Jack's coaching skills for a day of racing.
Saturday was a beautiful day marked with the ringing of three bells, a moment of silence and Committal speech for the passing of Kappa Sails founder and LLS supporter, Clarke Bassett. The service was officiated by Rev. Peter Floyd with Clarke's wife Kathy and son Luke present aboard Ceilidh, Ruth & Pete Connal's Tolleycraft 44 spectator boat. Racing included two windward leeward courses of five and ten miles for all classes run by the DIYC race committee off Crane Reef. First gun was 1100 with five classes including three non-spinnaker classes, a Nonsuch 30 one-design class, and one spinnaker class. The building 6- to 8-knot southwesterly with light current helped all the boats get off to a good start and around the top mark at the west end of Long Sand Shoal, returning to a leeward mark at Cranes Reef and back to the finish.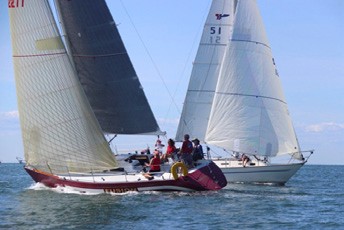 In race one, Mark Kondracky's Pearson 26 Mentor won Class 1, followed by Jeff Going's Morgan 24 Celebration in second and Peter Floyd's Ranger 22 Reepicheep third. Ian Scotland's Elan 31S Brightside took Class 2, with Robert Power's Plastrend PT-32 Tigger and Rich Glassman's Sadler 34 Hot Fudge filling out the podium. The Nonsuch 30 Class was led by Joe Carroll's Judith Marie, followed by Bob Cornell's Halcyon and Bananaquit. In race one of the 8-boat Class 4, Mark Salerno's Tripp 37 Fusion tied Dick Saunder's Frers 33 Out of Reach for first, with Bob McLellan's J/29 Wasp in third. In Class 5, Mark McCarthy's Soverel 33 Slainte captured first in the 10-boat class, with Kathy & Dave Nauber's Frers 33 Wolverine and Paul von Maffei's Schock 35 Snow Bird in second and third.
A second windward-leeward race was held for all classes as the breeze filled in and the current picked up which posed a challenge for the racers as well as the race committee. Mighty Duck, a DIYC chase boat moored to the Race Committee boat Sitting Duck, unexpectedly broke free under the load of the 2- to 3-knot current, much to the surprise of the Race Committee. The dashing DIYC steward, Tim Ott, was quick to strip to his skivvies (causing the predominately female RC to blush) and he dove in pursuing the drifting boat. He swam swiftly over several hundred yards to catch Mighty Duck, saving the day while the spectator boat Ceilidh, with LLS Honored Skipper Devon Marcinko and spectators aboard, stood by to rescue Tim if needed.  Meanwhile, all classes beat up to the west end of Long Sand shoal in an 8- to 12-knot southwesterly and then ran quickly in the strong ebb down to Cranes Reef in a one-lapper for classes 1, 2 and 3 and a two-lap race for classes 4 and 5.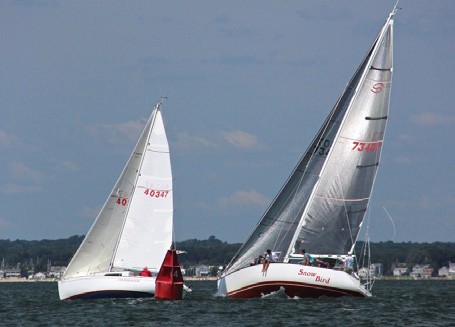 In race two for Class 1, Mentor notched another bullet and was first for the day, Reepicheep was second and second for the day, and Celebration was third and third for the day. In Class 2, Brightside was first and first for the day, with Tigger and Hot Fudge taking second and third respectively for the race and the day. Judith Marie took first for the day in the Nonsuch 30s, with Bananaquit and Halcyon securing second and third for the day. Fusion won again in Class 4, followed by Out of Reach and Ruth & Peter Emblin's Islander 40 Tartuca. For the day, Fusion was first, Out of Reach was second and Wasp was third. In Class 5, Slainte cheered with first and first for the day. Wolverine finished fourth and secured second overall, while Brian Prinz's J/125 Specter recovered from a fifth in race 1 to finish second to gain a podium with third overall.
The highlight of the evening was the speech by 2015 Leukemia Cup Regatta honored skipper and cancer survivor, Devon Marcinko. Devon spoke at this event several years ago, and it was inspiring to see this mature young man with his lovely wife come back to entertain and silence the crowd with his inspiring story of determination to beat childhood leukemia. He ended his story by engaging the crowd with the largest Leukemia Cup selfie ever and smiles all around. This year the Leukemia Cup Trophy, a perpetual award, was given to Peter & Ruth Emblin (Leukemia Cup Co-Chair) aboard Tartuca; Team Tartuca raised over $10,000!
With this year's event, the ECSA Leukemia Cup Regatta surpassed the $500,000 mark in raising funds for LLS. To date, The Leukemia Cup Regatta has raised over $50 million nationwide, with 85% of all donations going to fund blood cancer research, education and support to help patients and their families manage through the difficult times.
I would like to thank all the participants, fundraisers, volunteers and committee members, flag officers, and club members who helped during the Leukemia Cup Regatta, and a Special Thank You to our local sponsors Essex Wellness Center, Chapco Inc. and Sound Rigging Services. Together we are making a difference fighting blood cancers, and I know all our participants feel as good as I do about helping The Leukemia & Lymphoma Society. Your continued support is critical to our success and we are looking forward to next year. We had a great weekend and it was because of all our participants and sponsors!
Roger Bauman is the Co-Chair of the ECSA Leukemia Cup Regatta 2015.