By Nicole Jacques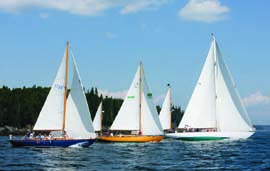 Whether you own a boat or will be chartering one, it's time to start planning your mid-season getaways. We have a selection of fun events at great places this month, including a festival for buccaneers of all ages in the Chesapeake, a wooden boat regatta and a rendezvous for sail- and powerboats in Downeast Maine, and an Independence Day celebration in the Bermuda of the North. We'll visit more summer destinations and events in our May Issue.
The Eggemoggin Reach Regatta fleet heads out to the start line. © Billy Black
A Spectacle Within Reach Jericho Bay, ME
Imagine centuries of maritime heritage made tangible for one day on the water. With traditionally planked gaffers and coldmolded racers alike, the starting line at the annual Eggemoggin Reach Regatta (ERR) is more like a yachting timeline. From the International Rule to the International Offshore Rule, these boats were built to widely varying standards in dramatically different eras. The one thing they all have in common is in their very bones: each boat on the water was built from wood.
The ERR in mid-coast Maine is revered among classic boat enthusiasts for its one-of-a-kind fleet of dazzling woodensailboats. The myriad fleet includes sloops, schooners, cutters and ketches – the majority of which are invaluable maritime antiquities. With such a showcase of boats, the racing has become a dramatic spectacle for history buffs and racing enthusiasts alike. The ERR is embraced as much by spectators as it is by sailors.
Founded in 1985 by Steve White of Brooklin Boat Yard in Brooklin, ME, the regatta was envisioned as a gathering of wooden boats and the fraternity of their admirers. Now cohosted by Rockport Marine of Rockport, ME, the event takes place on one of Downeast's most scenic stretches of water, Eggemoggin Reach in Jericho Bay. The spirited after-party – a highlight of the festivities – goes well into the night on the lawn of WoodenBoat Publications in Brooklin. The entire affair has been a sincere collaboration by a community of wooden boatsailors since its inception.
Like much of the event's logistics, the ERR course hasn't changed much in its 28-year history. Boats cross the starting line at the northern end of the Reach, and then spend the afternoon sailing through a spattering of small islands. The fleet rounds the southernmost mark about two-thirds of the way through the 15-mile course, and then heads north with a flourish of spinnakers in the prevailing southwesterlies.
Off the water, the crews, owners and admirers eat, drink and dance during hours of celebration. The after-party is open to everyone, including spectators who snapped photos from shore. Following chowder and a barbeque, sailors tap a couple kegs and cheer the winners during an animated awards ceremony. Trophy categories extend beyond boats at the top of their class. Last year awards were handed out for "Most Photogenic" (to Elly, an 1875 gaff cutter), "Oldest Boat" (Elly again), and the first plank-on-frame boat to cross the finish line (Black Watch, a 1938 Sparkman & Stephens yawl).
Taking place the first weekend in August every year, the ERR has grown to host anywhere from 100 to 125 boats. Eight classes make the exclusive race an inclusive event: Vintage A and B; Classic A, B and C; Spirit of Tradition A and B; and Gaffs & Schooners. The Spirit of Tradition classes are always the wild card, attracting lightweight modern builds with carbon fiber rigs and asymmetrical sails. Even with more spirit than tradition, these boats boast technology that sustains wood as a premier building material.
Since many of the boats were built or restored by yards along the coast of Maine, the ERR is a chance for them to come home again. Most owners make the ERR a destination during a longer summertime stay Downeast. Thereare two feeder races before ERR – the Castine and Camden Classics – plus weeks of cruising, boat shows andregattas throughout Maine afterward. Thanks to the ERR and the remarkable wooden-boat craftspeople around the region, Maine is a mecca for classics. ERR registration opens soon, and dinner tickets are available for sailors and spectators alike. More information is online at erregatta.com.
Pirates & Wenches Fantasy Weekend
Rock Hall, MD
By Mark & Suzanne Einstein
sixth annual "Best of the Bay" award-winning Pirates & Wenches Fantasy Weekend. The Greater Rock Hall Business Association's Events Committee hosts this town-wide theme party, celebrating the pirate in all of us.
Come by land or by sea to the Town of Rock Hall on the Isle of Delmarva, located on the Upper Chesapeake Bay for a two-and-a-half day party you will not forget! This is a wonderful opportunity to bring your boat and anchor out or raft up with your mates. There is plenty of anchorage, dockage and raft-up space available, as well as plenty of parking for those arriving by land. Rock Hall is less than a tank of gas from Philadelphia, Baltimore, D.C. and northern Virginia.
This year's event promises even more mayhem and surprises! Jump-start the weekend with an evening Rum Tasting at the Inn at Osprey Point and/or a Sea Shanty Sing-a-Long at Bay Wolf Restaurant. Dine at one of the many award-winning restaurants, settle in and enjoy live entertainment at many of the town's watering holes, or just relax under the stars. True-to-life re-enactors, The Skullduggery Crew and the Valhalla's Pirates will take you into a world of wonder and fantasy for all ages, and Captain Black returns to entertain kids and wenches alike!
Take a stroll into the authentic pirate encampment just off Main Street, where you'll find more merchants, grub, and live entertainment. Did we mention belly dancers? On Saturday afternoon, visit Rock Hall Harbor for a magnificent view of the Chesapeake and the Decorated Dinghy Flotilla, and enjoy live piratical music at Harbor Shack for the Cast Off Party. The flotilla of tiny pirate ships will parade around the harbor and land at Rock Hall's public beach. Graybeard's Trophy will be handed down to the Best Decorated Dinghy, and cash prizes will be awarded to the winners.
Festivities continue with a Caribbeanstyle beach party at high noon featuring the Chris Sacks Trop Rock Band, and kids can plunder Graybeard's treasure on the beach. Pirate attire is strongly encouraged! All weekend, the whole town will be in the pirate spirit as merchants, residents, reenactors, musicians and other performers take you to the Golden Age of piracy on the high seas. Some of the pirates offering up music and mayhem include The Brigands, Inishowen, Lizard Creek, Pirates for Sail, Salty Dogs, Skullduggery Crew, Pyrates Royale, and Vallhallas Pirates. Artisans, crafters, pirate tale-tellers and more will be invading the town. There will be shopping and grub and grog for all. Public parking and transportation will make getting around safe and worry-free.
For grown up pirates, The Grand Buccaneer's Ball will take place at Waterman's Crab House on Saturday night, with music, contests, prizes and excellent crabs and seafood. Pirate attire is requested for the evening, and trophies will be awarded for the best-dressed King and Queen of the Ball. Graybeard's look-a-like will be chosen, and his giant treasure chest full of surprises will be given away. Wee scallywags will find much to do in the Kid's Cove on Main Street, with entertainment, games, treasure hunts, a live pirate encampment, crafts, tattoos and more. The party doesn't end on Saturday – stick around for more fun on Sunday! For more information, visit rockhallpirates.com.
On Land, Sea and Air
Camden, ME
By Nicole Jacques
It's the first morning of a three-day regatta and the sun is lazily climbing the translucent Maine sky. As you sail out to the starting line, your mainsail is full, your cooler is packed and your cockpit is abuzz with talk of tides, wind and marks. From the distance, a faint hum begins to escalate into an arresting growl. You and your crew scan the water, and see nothing unusual. Suddenly a single-engine WWII warbird swoops down to mastheight amid the sailboat fleet and then makes a dramatic turn back toward the treeline.
At the annual Penobscot Bay Rendezvous (PBR), this spectacle is just part of the usual fun. Featuring an airshow, fireworks, dancing and even a powerboat poker run, the PBR is one of Maine's most unique annual regattas. This year, PBR takes place Thursday through Sunday, August 15-18 on the waters off Camden, with more than 50 boats expected to take part in the festivities.
PBR welcomes both hardcore and recreational sailors, with plenty of skippers who aren't concerned with getting around the marks first. Instead, each crew chooses the class that best fits their speed, which depends both on PHRF rating and personality. Recruit rock stars and pile on the railmeat, or spend the day leisurely rounding marks as they come. Last year's fleet featured a cruising class, two PHRF classes and the unofficial "J/160 Worlds," plus a double-handed and singled-handed class.
There's also an unexpected class at PBR: powerboaters. Ben Ellison, a longtime Maine cruiser, marine systems guru and photojournalist, is the go-to guy for powerboat owners and guests. Ellison accompanies the fleet aboard his Duffy 37, Gizmo. During the first two days, powerboaters compete in an unusual challenge: snapping the most memorable pics. "Photo Pursuit" participants chase after the sailing fleet, trying to get sensational and striking shots that are entered to win awards. The Photo Pursuit takes place both Friday and Saturday, and makes the entire event one to remember.
PBR officially kicks off on Thursday night with dinner at Lyman-Morse, a yacht yard in Thomaston, and a spectacular fireworks display above Penobscot Bay. Friday morning, the Texas Flying Legends perform their heart-racing air maneuvers. Summering in Wiscasset, ME, the Texas Flying Legends are a fleet of restored and meticulously maintained WWII planes. At PBR, they show off their versatile aeronautics for hundreds of people on the water and on shore.
There's a full schedule during the evenings at PBR. Friday night, an early-evening crew party draws most PBR participants, but ends early enough for crews to head into Camden for dinner at one of the town's many exceptional restaurants. Wayfarer Marine in Camden hosts a Saturday night dinner dance that's considered a highlight of the four-day affair. Crews enjoy a cocktail hour dockside with private tours of Wayfarer's current projects, followed by a surf & turf dinner that fortifies guests for a night of dancing.
After a final sailboat race and powerboat poker run on Sunday, the awards ceremony wraps up the weekend. The winners of each class receive trophies, as do the winners of the Friday and Saturday Photo Pursuit, as judged by some of New England's best photographers. Then it's time for some unusual awards: Longest Distance to Travel to Participate, Hardest Boat to Classify, and Can't Get There From Here. Wrapping up a oneof-a-kind event with one-of-a-kind awards is a fitting finale to Maine's most unusual on-the-water event.
Fourth on the Block
Block Island, RI
There are towns in the Northeast that have larger, more elaborate, or older Fourth of July festivities than New Shoreham, Rhode Island, but you're unlikely to find a place that celebrates Independence Day with the exuberance of this small village, better known as Block Island.
This year's Block Island fireworks start at 9 pm Wednesday, July 3 on Fred Benson Town Beach. The traditional 4th of July Parade, with music, floats, clowns and classic cars, starts at 11 am on Wednesday, July 4 in New Harbor and finishes downtown in Old Harbor. The theme of this year's parade is "A Tribute to Walt Disney."
Block Island is perhaps the most popular cruising destination in the Northeast, and deservedly so. Lying 13 miles south of Rhode Island and 14 miles east of Montauk Point, NY in the Atlantic Ocean, Block is just a few hours from Newport, Jamestown or Mystic by sailboat – perfect for an easy daysail, although you'll want to linger.
Listed by The Nature Conservancy as one of "The Last Great Places," Block is one of only 12 such sites in the Western Hemisphere. Covering only ten square miles, the island boasts 17 miles of beach, and 25 miles of hiking trails that criss-cross a moor-like terrain that, with 400 miles of stone walls, many have compared to Ireland. With its rolling hills, craggy bluffs and an amazing 365 fresh water ponds (most home to some sizeable largemouth bass), Block is a place unlike any other.
If you're sailing to Block, plot a course for the Great Salt Pond (also known as New Harbor) on the island's west side. The island's other port, Old Harbor, is located on the east side, adjacent to "downtown." Old Harbor, the home of the island's commercial and charter fishing fleet, is the arrival and departure point for ferries to and from New London, Point Judith, Providence and Newport.
All of Block's beaches and scenic areas are easy to reach on a bike or motorscooter, taxi or in a rental car. For tips on what to see and do, or which of the island's 40 dining establishments will satisfy your desire, hop into a taxi (they're everywhere) and ask the friendly driver. Settlers' Rock, at the end of Corn Neck Road, marks the landing site of settlers from the mainland in 1661. The Block Island National Wildlife Refuge, encompassing the northern tip of the island at Sandy Point, is where you'll find historic North Lighthouse and Sachem Pond. The latter is an excellent place for birdwatching.
Mohegan Bluffs, on the island's southern coast, tower 150 feet above the crashing surf. A short trail from the parking area will bring you to a scenic overlook with a spectacular view of the Atlantic, and there is a wooden stairway down to the sandy beach. Rodman's Hollow is a natural ravine preserved through a partnership between the Block Island Conservancy, The Nature Conservancy, the Town of New Shoreham and the Rhode Island Department of Environmental Management.
Block Island is not exactly a well-kept secret, and finding a slip or mooring at any of the marinas in Great Salt Pond – Champlin's Marina, Block Island Boat Basin, Payne's New Harbor Dock and Smuggler's Cove Marina – on a sunny summer weekend (or a mid-week holiday like July 4) can be a challenge. If you can, make your escape from the mainland early. Great Salt Pond has a good-sized anchorage area, although the holding ground varies from one spot to another. More than one boat has dragged anchor here, so two anchors are better than one.
For visitor information and an events calendar, visit the Block Island website at blockislandinfo.com.