by 
MARY GRADY
Jessica Wurzbacher, the newly hired Director of Marine Education for Oliver Hazard Perry Rhode Island in Newport, RI, remembers vividly the moment when she realized the oceans would be at the center of her life. "I was sitting on a beach, on an island off the coast of Indonesia, where I'd gone on a research trip after graduating from university," she recalls. "We had spent the day scuba diving for a coral reef survey. I was looking out over the ocean, and I suddenly knew this is what I wanted to do – to study the oceans. I wanted to know the name of every single organism, what it eats, and how it behaves. I wanted to know everything, and that's what I set out to do."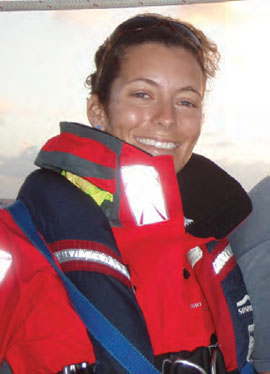 Growing up in Cambridge, England, far from the shore, Jess had little exposure to ships and the sea, but was fascinated with the natural world. "I filled the backyard with rabbits and guinea pigs and cats," she says. "I have a scientific mind and need to know how everything works." She studied biology at Bristol University, and learned to scuba dive in Thailand. "I loved diving, and that's what drew me to the program in Indonesia." She found the money to go through grant-writing and fundraising, skills that will be useful in her new position.
Working on coastal management projects in the South Pacific and Bahamas, Jess met Dan Wurzbacher, who would become her husband, and he introduced her to sailing. After a year in England, where Jess earned a Master's degree, the couple scored jobs aboard Sea/Mester's two-masted schooners, the 88-foot Ocean Star, which sails the Caribbean, and the 112-foot ocean-going Argo. For six years they sailed together, taking college students to sea. As program manager and chief scientist, Jess taught while Dan captained the ships.
"I knew nothing about sailing," Jess says. "For the first semester, I studied alongside the students and learned everything they learned. I fell in love with sailing." Typical to her approach to everything in life, once she found a direction, she followed it full steam ahead. Before long, Jess had her 200-ton captain's license. She's also a certified scuba instructor, with over 1,000 dives and several hundred students signed off.
During her years with Sea/Mester, she and Dan logged more than 40,000 miles at sea. With her students, Jess explored the islands of the Caribbean, swimming, hiking, diving, mountain climbing, and studying rainforests, reefs and volcanoes. "There are mountains in the Caribbean I've hiked 20 or 25 times," she laughs. Along the way, she learned that time at sea can be life-changing for young people.
"It's amazing how you can engage students outside the classroom," she explains. "Hiking up a mountain, you can teach them about the rain-shadow effect. At sea, we'll sail for days with the trade winds, or a flying fish might land on deck, creating perfect first-hand experiences to teach about. [Students] realize that if you sleep in till noon when you get home, you're going to miss a lot. You are so active and busy on a boat that you accomplish a lot in a morning. Maybe you'll find something that inspires you. It could be marine biology, cooking, rigging, diesel engines – any of which could be a great career path. Life at sea is really a life-changing experience."
After six years with Sea/Mester, Dan and Jess decided to make a home ashore and began looking for a place close to the ocean to provide easy access to her family in England. They found an old barn for sale in Jamestown, a stone's throw from shore. "We picked Rhode Island off the map," says Jess. "We had no family here, didn't know anyone, and had no job prospects. But the longer we stay, the more we love it."
Dan now works for a company based in England, selling ocean-going yachts to buyers ready to travel the world. Jess found several jobs in the local marine industry before learning about the opening at OHPRI. In her new role, she's developing education-at-sea programs for the SSV Oliver Hazard Perry, a 196-foot, three-masted square-rigged sailing school vessel now under construction. The OHP is scheduled to start sailing in 2013, and Jess will work with teachers and administrators to create programs that take advantage of the ship's unique capabilities. "I know what works on a boat, what's the most rewarding for students, and what they will enjoy," she says.
Jess hopes to find time to go to sea for a few weeks every year aboard the Perry, but shore life has its attractions, including the dog she's always wanted: a chocolate Lab named Cadbury. She teaches biology part-time at Roger Williams University in Bristol, a job she loves. "Dan and I can't help but live a very active life," she says. "Every weekend, we're bike riding, kayaking, paddle boarding or hiking, and in the winter we ski in Vermont. We exhaust ourselves!" Yet her love for the sea, marine biology, and inspiring the next generation of sailors and scientists, is clearly inexhaustible.