In 2023, there will be two ocean passagemaking races from New England to Bermuda, one from Annapolis to Newport, and one from Marblehead to Halifax. With the exception of the Bermuda 1-2, they all have pretty extensive requirements for the crews to have attended a Safety a Sea seminar. The BDA 1-2 has a comprehensive safety checklist that largely mirrors the Offshore Regs lists, which must be verified by an inspector and a similar sign off by the skippers and crews, for eleven drills and plans for contingencies. Not surprisingly then the Safety at Sea education community is ramping up for a full slate of seminars this spring starting with ones in January at Roger Williams university in Bristol.
I have attended SAS seminars as both a participant and as an instructor. They are certainly worthwhile events, frankly even for sailors with no interest in racing, merely sailing, offshore, and likely with short-handed crews. Close to the Definition of the Exit Plan Community. But a SAS Certificate is not remotely the be all and end all of safety at sea. The information gathered at these seminars, valuable as it is, is just the tip of the iceberg when it comes to going out AND coming back with all hands, and in one piece.
In my various roles around the waterfront, I have the safety file on my mental desktop on a regular basis: When I send the kids out in March or a discussion on the list of issues to be contemplated when sailing doublehanded. Like, if the master (and usually the owner) is disabled, and the question of abandoning ship is on the table, what discussion might be had concerning committing to this act? This can and should be a topic for team discussion on crewed boats, too. Who among the owner's close circle of mates aboard will have the authority, backed by the skill, knowledge and experience to make the call to discard a large and expensive asset?
Or when racing on a 65-foot high speed boat with eighteen souls aboard…largely Corinthian, all good hands but amateurs, focusing on the Big One: an MOB event. Staying focused on YOUR task is one of the main things everyone needs to do.
When coaching folks, often new to sailing or sailing bigger boats, I am not a one-man SAS but cannot help but bring up certain elements of things I think of as important when sailing. Much is made of MOB recovery, but what about not falling overboard in the first place? I have written on this in the past, and the biggest offender is flawed lifelines. The entire lifeline chain, from the bow rail to the stern, must be sound. I have often seen rust under the plastic coatings, turnbuckle locknuts unsecured…it's a long list. Move about the boat with intention. Do not simply go running off to whatever mini-drama is underway. Stop and think, "What is my next action going to contribute to solving this problem?"
I have previously written on and the magazine has published my chart of the Eight Things that may befall a small yacht at sea: windcheckmagazine.com/article/see-safety-no-joke/
Going out and intentionally practicing these Eight Things is hard. No one really wants to make their mast go crashing overboard, bash a hole in the bow or extinguish a fire in the electrical system. I have heard the number one cause of shipboard fires in our world is electrical (lithium batteries notwithstanding).
So, what is a crew to do? READ! The following are some of the excellent resources I like to read and study firstly: The Safety & Seamanship page at the Cruising Club of America's website (cruisingclub.org/safety-seamanship). Their list gets to six but adds Grounding. US Sailing has SAS courses available at ussailing.org/education/adult/safety-at-sea-courses-2022. US Sailing's Arthur B. Hansen Rescue Medal is presented to skippers of pleasure boast or race support vessels who effect rescues from the water. Citations can be found at ussailing.org.
Also worth reading are the "after action reports" of significant events, including the Farallon Islands grounding (ussailing.org/wp-content/uploads/2018/01/Farallones-Report-FINAL.pdf);
Rambler 100 losing her keel adjacent to Fastnet Rock (ussailing.org/wp-content/uploads/2018/01/safety_us_sailing_inquiry_rambler.pdf);
The Cruising Yacht Club of Australia's own internal report on the 1998 Sydney to Hobart Race in which six sailors died (equipped.com/sydney-hobart/);
This copy of a police interview with an Australian designer and skipper of own of his own boat in the 1998 race is a chilling first person account of survival (equipped.com/sydney-hobart/Vol%2010%20Docs/JOUBERT%20Peter.pdf);
This is the New South Wales state coroner's report on the loss of life in that race, in minute detail (equipped.com/sydney-hobart).
The list regrettably goes on. You can search of course for the incident of choice, probably all the way back to the early BOC and Vendée Globe boat crashes.
I have on one occasion managed the "get into the liferaft, in the pool" section at a SAS. I may well have written on this day's activity, but since I am on a roll here I will just highlight a memory. The single biggest takeaway for me was the physical condition of too many of the attendees. Every cohort had one or two people (of about eight) that were, by observation terribly overweight. No, not a medical diagnosis, but we all know it when we see it. Several could not manage to pull themselves any distance up the entrance of the raft, even standing on the webbing steps. For the people in the raft already struggling, adding the expenditure of energy to get an overweight, out of shape person into the raft was a big chore and I think frankly a big ask.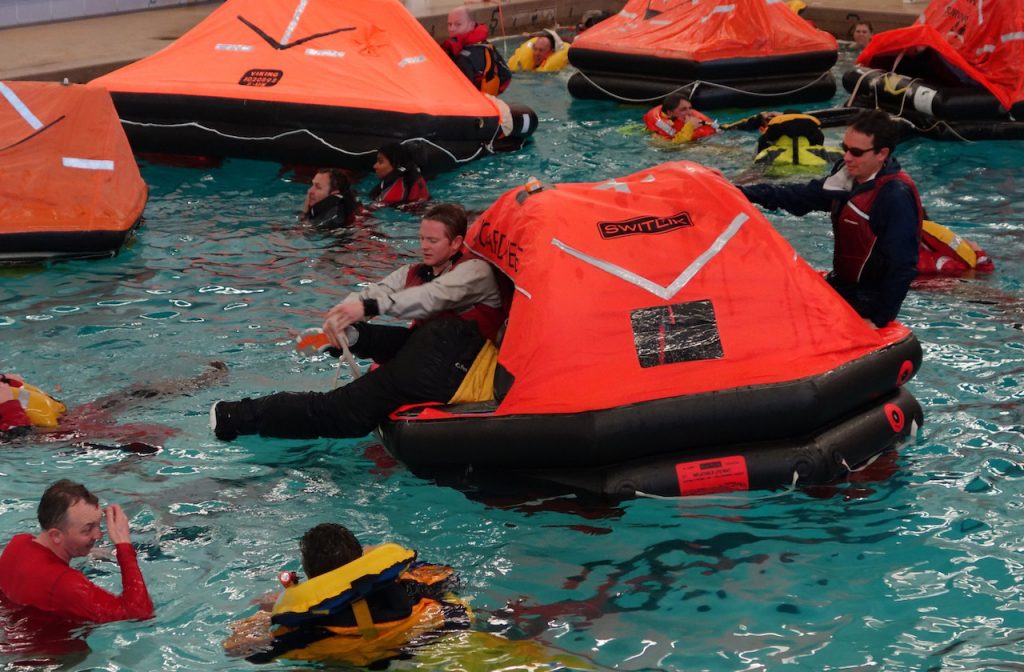 If your boat sinks, are you and your crew fit enough to board a life raft?   © stormtrysail.org
Sailboat racing is a great pastime, but even modestly performance-oriented boats are wearing on the body. Simply hanging on in a broach burns up energy and uses (arm) muscles many people do not normally use. Climbing out of the hatch, swinging up into a berth, grinding winches, moving sails around, walking, crawling and holding on while maneuvering around the deck all take up energy. Combined with less than spectacular food, or a lack of interest in eating it, dehydration, a certain level of anxiety, for yourself or as master for your crew, it is all wearing. If you can get into the raft in the pool. Don't deceive yourself that you're good to go. This is why reading the accounts noted above is good. They will give you a firsthand account of the realities of trying to get into a raft. That is assuming it has, or can be deployed, and has not blown away.
With respect to the harness question, wear it or not…? I remark on this question. Eric Tabarly, perhaps the premier offshore racing sailor of all time (certainly, of his generation) was the guy who put offshore sailing, particularly solo ocean racing, on the map for the French. and he was sailing foiling trimarans solo offshore in the late 1970s.
In the fall of 1997, he completed a transatlantic doublehanded race on an IMOCA, at age 66. Later he was at sea on his family's boat, an ancient but restored William Fife gaff-rigged cutter. He and crew were heading to somewhere in Scotland for a rally of Fife boats. He went overboard in hard weather. He was not wearing a harness. One of the greatest offshore sailors of all time died, aged 67. He was orders of magnitude more experienced, fit, skilled and capable than any sailor competing in a Newport Bermuda Race. His body was recovered, and the official cause of death was drowning.
Compare his fate to that of the late Mike Birch. Like Tabarly, Birch was a professional solo offshore sailor, most notable for his legendary victory, by 98 seconds, in the first Route du Rhum. Birch sailing a 40-foot wood and epoxy Dick Newick-designed, Walter Greene-built tri, reached past Kriter V, the 21-meter monohull, on the approach to the finish, and so to victory after twenty-three days of racing.
Birch was a delivery skipper before he started solo racing. During one delivery with his then girlfriend, he slipped and went off the boat. He managed to hang onto something and started banging on the hull. His girlfriend, down below, came on deck and hauled him aboard. Birch was reportedly never again seen on a boat at sea without a harness on. Birch died at home in Brittany, a few days before the start of the 2022 Route du Rhum, surrounded by family and friends. He was 90.
Finally, if you go overboard and don't make it back, remember it's not just your death that is the tragedy. It is the entire circle of life around you: your family, friends, co-workers, business partner, your car mechanic, the woman at the drycleaners, the college kid at the coffee shop…
They will all ask, "Where is Charlie?" Someone will tell them, "Charlie died in a sailboat race when he fell off the boat and drowned." Your kids, or grandkids, will be missing a key part of their existence. Graduations, birthdays, Christmases, weddings, all changed forever. Your car will never be parked in the driveway again. Your closet full of clothes? Your wife will likely need to do something with them. Your missus puts up with enough with you heading off sailing all the time. Do not make it any harder. 
If you think this column is a bit harsh, know this. I was the head of the Newport Bermuda Race Fleet Comms Office in 2022. I will be reprising this role for the 2024 race. I was on watch and took the first call regarding the Morgan of Marietta MOB incident. I don't ever want to get a call from the Coast Guard asking if we have "next of kin" information for a sailor. ■
Australian born, Joe 'Coop' Cooper stayed in the U.S. after the 1980 America's Cup where he was the boat captain and sailed as Grinder/Sewer-man on Australia. His whole career has focused on sailing, especially the short-handed aspects of it. He lives in Middletown, RI where he coaches, consults and writes on his blog, joecoopersailing.com, when not paying attention to his wife, dog and several, mainly small, boats.