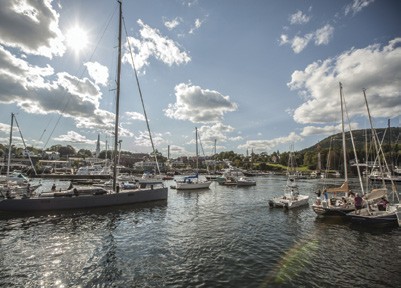 Organizers of the Fourth Annual Penobscot Bay Rendezvous (PBR), to be held August 14-17 in Camden, Thomaston and Rockland, ME, have named LifeFlight of Maine as the event's first beneficiary. Presented by Wayfarer Marine and LymanMorse Boatbuilding and recognized by Yachting Magazine as one of the best sailboat and powerboat regatta events on the East Coast, PBR has been building participation and working with local partners and sponsors to grow the event to a point where monies could be donated to a local charity.
© Joseph Corrado
For 15 years, LifeFlight of Maine has given the care needed to bridge the gap from an accident scene or hospital to specialized treatment facilities. Each year they provide advanced treatment and rapid transport both in the air and on the ground for more than 1,500 critical patients. "LifeFlight is a natural fit for boaters," said Cabot Lyman, owner of Lyman-Morse Boatbuilding. "Accidents or sudden illnesses on the water are rare, but when they occur we are often in a remote place. Like fire trucks and police cars, you would rather not see these guys but if you need them, you are really glad they are there for you.
We could not be more pleased to support this service for all Mainers." "We set out three years ago to create an event that highlighted the local riches of this area," said Shane Flynn, owner of Wayfarer Marine. "Local riches like the gorgeous yachts from Stephens Waring Yacht Design, exemplary products and customer commitment from Allen Insurance and Financial, Linda Bean's lobster, Fiore olive oils and vinegars, and bread from Atlantic Baking Company. We are pleased to feature another jewel of Maine to the showcase – LifeFlight."  The PBR highlights the best of all that mid-coast Maine and Penobscot Bay has to offer – picturesque towns, spectacular coastline, great food and world-class hospitality and facilities. Last year, 55 sail and powerboats gathered for the four-night, three-day event. For more information and to register, visit penobscotbayrendezvous.com.