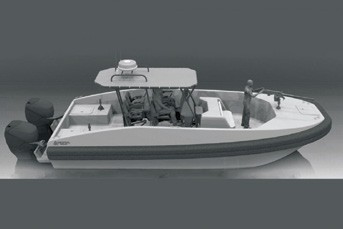 Front Street Shipyard in Belfast, ME has increased its capacity by adding a new facility in the neighboring town of Bucksport. The building houses a team of composites experts who are currently beginning construction on a line of 30-foot multihull boats for Trefoil Marine. Reserved exclusively for Front Street Shipyard's production arm, the Bucksport facility will continue to take on new construction opportunities as they arise.
Trefoil T30 Patrol Cat   © trefoilmarine.com
"The opportunity to build the Trefoil boats brought about this expansion as well as new jobs," said JB Turner, President of Front Street Shipyard. "Everyone in Bucksport has been very welcoming to our newly formed composites team, and we look forward to making the resourceful town our second home."
The T30 Patrol Cat catamarans built in the Bucksport facility will be used primarily for military and police patrol, fire and rescue. The craft's capabilities are also applicable to the commercial and recreational markets. The first boats will be launched in early summer. Front Street Shipyard currently has six full-time employees in the new facility and plans to more than double that number. The yard seeks skilled composites technicians to join the new workforce in Bucksport. Interested candidates can apply online at frontstreetshipyard.com.
For more information about Trefoil Marine, visittrefoilmarine.com.