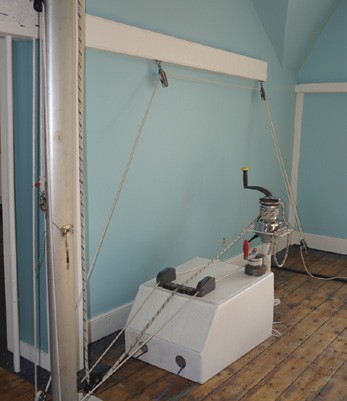 Larchmont Yacht Club in Larchmont, NY has completed an extensive update of their Junior Clubhouse. The building, originally the barn and stable for the Carver home (the current Clubhouse), has served generations of LYC junior sailors since 1952. Under the guidance of Junior Sailing Committee cochairs Steve Leicht and Dorsey Roseberry and General Manager Layosh Toth, LYC Sailing Director Lincoln White and his team spent the winter updating the second floor – previously a storage loft – into a fully-functional instructional and training center for LYC's juniors.
Two of the center storage rooms have been opened up to create a large training space equipped with A/V equipment. There is also a "Training Room" with winches, cleats, halyards, etc. to teach young sailors many boat mechanics. The vibrant colors and line art throughout the Junior Clubhouse are the design contributions of Allie Padin, who worked with White to configure the space most effectively and efficiently. Outside White's new sailing office in the southeast corner of the floor are three fully-rigged models of America's Cup boats, donated by Past Commodore Dr. Carl and Mary Olsson.
Larchmont Yacht Club is hosting Larchmont Junior Race Week from July 14 – 16. The regatta is a part of the 116th Annual Larchmont Race Week, to be held July 12 – 20.
Visit larchmontyc.org for more information.