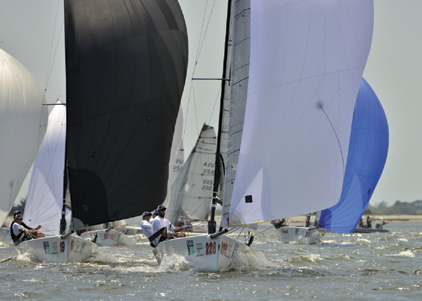 Racin' with a Heapin' Helpin' of Hospitality
Midnight Blue, skippered by Jason Michas of New York, NY, was victorious in the Audi Melges 20 class.
© Allen Clark/PhotoBoat.com
Sunshine-starved sailors from the Northeast reveled in summer-like conditions at the 19th edition of Sperry Top- Sider Charleston Race Week, sailed April 11-13 in beautiful Charleston, SC. This international event drew competitors from 27 states and five continents, from as far away as New Zealand, Scandinavia, Brazil, Guatemala, Australia and Peru. Courses inside and outside Charleston's harbor hosted racing for Audi Melges 20s, Melges 24s, Viper 640s, J/22s, J/24s, J/70s, J/80s and Tartan 10s, as well as PHRF, HPR, Pursuit and (new for 2014) Multihull divisions.
Charleston is a growing and vibrant city, and it's fitting that this regatta attracts dozens of talented young sailors. The U.S. Coast Guard Academy in New London, CT sent seven cadets  to race two of the school's new J/70s in the regatta's biggest class (75 boats), along with offshore racing coach Jack Neades. "We're currently transitioning to a fleet of J/70s for our students, and we thought Charleston would be the perfect event to test the waters and see how we'd go at this level of one-design racing," said Neades, noting that sailing is great for his cadets' training. "They're on the water, navigating boats, driving boats, paying attention to the wind, the currents, and the competition, and that's going to make them better mariners."
No class had more young standouts than the Audi Melges 20s, with 24-year old Jason Michas' Midnight Blue (New York, NY) topping the 22-boat fleet by 13 points. Bombarda, skippered by 23-year-old College of Charleston racer Grace Lucas (Little Silver, NJ) finished fourth. Lucas attributes Bombarda's  success to her crew. "We've got a couple of great college sailors and 'big daddy' Sam Rogers on tactics, and they're making it fun and fast out there," she said. "It's definitely going to be hard to go back to FJs and 420s after this week!" Another College of Charleston student, 20-year old Declan Whitmyer, Jr. of Stamford, CT, skippered Slingshot to 11th place.
Heidi & Steve Benjamin's HPR Carkeek 40 SPOOKIE (Norwalk, CT) dominated the four-boat High Performance Rule class, notching six bullets in six races. "The boat was really going well this week," said Benj, SPOOKIE's helmsman. "We have sailed nearly 100 days in the last year, so the teamwork is very refined and we've gotten to know the boat very well. What's great about this design and many other HPR boats is that when you can get out to spend the time to sail you can get to learn the nuances in trim and set-up, and when you get it right the boat rewards you with better and better performance. The process is really fun, which is why is why we're seeing increasing interest in HPR among serious performance sailors."
The six entramts in the Multihull class provided a spectacle of speed in their Chucktown debut, and Bob Gleason's Corsair Dash 750 MkII Tri Me (Wareham, MA) took second place. "This is the kind of flat-water, reaching stuff that these boats just eat up," said Ron White, who sailed on Rick Warner's F-31R trimaran Cheeky (Marine City, MI), finishing fourth in class. "This is about as good as it gets, from the downtown to the amazing welcome you get to the shoreside organization. If you have a multihull, you should be here!"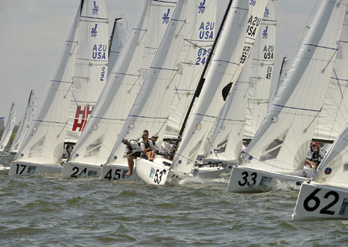 There was plenty of excitement at starts and mark roundings in the
75-boat J/70 fleet. © Allen Clark/PhotoBoat.com
That sentiment was echoed by Brandon Flack, whose J/70 Torqeedo (Stonington, CT) finished 15th. "Imagine a cross between a beach party and a huge regatta," Flack enthused. "They mix the two so well you can hardly tell when one starts and the other stops. If you have not been there yet, you are truly missing out on one of the best U.S. regattas ever!" Visit charlestonraceweek.com to learn more.