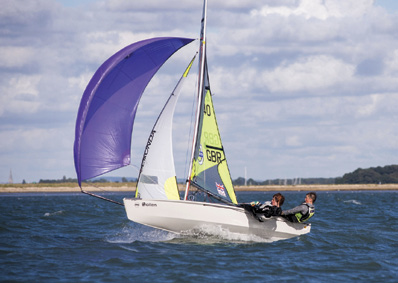 Launched in 2004 by RS Sailing in Hampshire, England, the RS Feva is wildly popular in Europe with an established local, regional, national and continental racing scene. Over the last few years, yacht clubs and community sailing centers throughout the U.S. have likewise embraced this 12-foot doublehander for their training and junior racing programs. In the Northeast, there are growing Feva fleets at Barrington Yacht Club on Narragansett Bay, and Huguenot Yacht Club, Riverside Yacht Club, Larchmont Shore Club and the New York Athletic Club Yacht Club on Long Island Sound.
The Feva fills a niche between the Optimist and the Laser or Club 420, and program directors appreciate the ruggedness and low cost of its roto-molded polyethylene construction. The boat is also a hit with young sailors, who can easily rig it and are stoked with its performance.
"We added the RS Feva to our junior sailing program last summer," said Tim Doolin at Larchmont Shore Club in Larchmont, NY. "We were looking for something for the sailors to move to from Optis, and the Feva has fit the bill. From the first day our sailors got in the boat to the end of the season, they were in love with this boat. It is easy to rig and sail, and the self-setting gennaker is a great feature. On the first day, two girls took the boat out and had the gennaker up in the first five minutes. We are adding another RS Feva this summer, and will most likely be purchasing more boats in the future."
"We needed a boat for kids that are moving out of the Opti but don't want a Laser," said Iris Vogel at Huguenot Yacht Club in New Rochelle, NY. "The kids wanted a double-handed boat, and we were looking for something exciting to sail but also durable. We are getting three Fevas for this season. Since there are no JSA [Junior Sailing Association of Long Island Sound] Feva regattas, we will offer our own invitational regatta."
"The Feva has proven to be an easily rigged and sailed boat that intermediate as well as advanced sailors really like," added Alex Helfand at New York Athletic Club Yacht Club in New Rochelle. "We have sailed with one to four sailors aboard, so it is very versatile, and because it's used extensively in Europe our instructors from overseas are very familiar with it. We are looking to add a third boat to our fleet this summer."
The Feva is an excellent boat that two children (or more) or an adult and a young child can enjoy sailing together," enthused Sue Parkin at Riverside Yacht Club in Riverside, CT. "We have three at Riverside this summer, but it would be great to grow the fleet so that the kids could enjoy the racing that the Optis and 420s enjoy."
With "S," "XL and "XL Race" versions available, the Feva is a "scalable" boat that young sailors can enjoy for several seasons as they progress, and its high volume hull means it will remain fast and fun to sail as they grow. To learn more about why the RS Feva may be the ideal boat for your junior program (or your family), log onto rssailing.com/us.
Just Launched: The RS Aero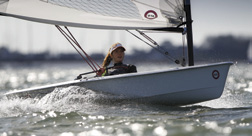 The newest model from RS Sailing, the RS Aero is redefining high performance among non-trapezing, non-foiling singlehanders. With an ultralight hull weight of 66 pounds (less than an Optimist!), virtually anyone can lift this 13- footer onto a car roof rack, and it's very easy to rig and launch.
Me and my Aero…With a flyweight hull and carbon rigs in
three sizes delivering an exceptional power-to-weight ratio,
the RS Aero is the Lotus Elise of singlehanded dinghies.
© rssailing.com
Three rig options are available, all with carbon fiber spars. With 54 square feet of sail area, the Aero 5 rig is ideal for youth sailors from 75 pounds and up, the Aero 7 (77 sq. ft.) suits women and light men, and the Aero 9 (93 sq. ft) is for men up to approximately 210 pounds.
Custom-designed carbon options include a tiller extension, brackets for Tacktick or Velocitek electronics and a GoPro video camera mount. The exclusive RS Aero distributor in the Northeast is The Boat Locker in Bridgeport, CT. Check rssailing.com to learn more.
Special thanks to Scott Hardy, owner of The Boat Locker, for his assistance with this article.The Boat Locker will be moving soon to a new location in Bridgeport, CT and is the exclusive Northeast distributor for the RS Feva and the other exciting models in the RS Sailing range.