It is not now, nor will it be likely be anytime in the future, possible to discuss the 2022 Newport Bermuda Race without noting the tragic loss overboard of the owner and master of the Centurion 42 Morgan of Marietta, Colin Golder. With considerable effort in strong winds and related sea state the crew were able to recover Colin's body.
I, the Bermuda Race organizers, and everyone involved with the 2022 Bermuda Race extends to the family, friends, and shipmates of Colin our heartfelt condolences at his loss. The Bermuda Race Organizing Committee has contacted US Sailing in order to empanel a team to conduct an inquiry into the circumstances surrounding this death. The arrangement for such an inquiry will be announced in due course. I will for now leave this sad news there.
In one of the very few movies concerning HM Queen Liz 2, she has a line "Annes Horibillis." Read as, "What a shite of a year." Such was the Bermuda Race of 2020, a non-starter – one of only a few times in the history of this race. So, with the starting gun on 17 June at last, the accumulated desire to sail to Bermuda vanished as the hounds were released. One of the curiosities of this race was the really wide spread of sizes, types, styles and speeds of yachts.
The first two starts showed five boats spread out over about 150 years of yacht design. Spirit of Bermuda, a 119-foot replica of the kinds of three-masted schooners built on the island between 1810 and 1840, faced off against Columbia, a 141-foot steel-hulled, two-masted replica of a 1900s Captains Courageous Grand Banks cod fishing schooner. These two ships were in different classes, but because they were the only entrants in their respective classes they were started together. Pre-start, Columbia sailed close to weather of the press boat I was on and the power in this beast was palpable. One shudders to think of the lives the guys who longlined for cod in small dories launched and, most of the time, recovered from these monsters.
Likewise, the three fastest boats, two tris and 11th Hour Racing Team's Malama, an IMOCA skippered by Charlie Enright and destined for The Ocean Race were bundled, as the ads say, and started together. Argo, destined to punch a hole in the existing record, by over an hour, a MOD 70 with a truly illustrious crew roster, blasted past the 50-foot RC boat flying a hull that, from my not very good vantage point upwind, looked like it might've gone over the top of the RC boat. In very short order they were trimmed up and disappearing into an 18-knot smokey sou'wester at 25 knots or so.
My role in this year's Bermuda Race was in fact not sailing but, after doing the commentary on the starts (Sorry for the tech difficulties) was as chair of the Fleet Communications Office. Said office charged with managing comms between the RC and the fleet, and for some time with the USCG.
Argo's counterpart was an 80-foot tri named Ultim'Emotion2. She made it about seven hours or 130-odd miles into the race before coming to a screeching halt. The starboard side connection of the aft crossbeam let go from the hull. This beam, holding the running backstays for the mast, tore off the hull, and folded up across the cabin hatch and tossed the (another) mast into SpongeBob's backyard, precipitating our first Incident.
About 1945 Friday night the phone in our office at Sail Newport rang. It was a satellite number and the guy at the other end announced, through average to poor sat comms quality, French accent, and a fearful racket on deck, that, "The Ultim'Emotion2 had had a catastrophic hull failure and "the mast was overboard." Along with the words Man Overboard, catastrophic failure is a phrase no one venturing on the water really wants to use or hear. "Well," I thought, " at least it's a tri, likely won't sink, at least for a while and they are inside helo range." Scribbling notes furiously, I took the boat's name, a position he read off to me, his sat. phone number, the fact all eleven crew were aboard and in good health, and told him I would call the Coasties and give them his number.
I dialed the number for RCC Boston from the emergency numbers sheet. The officer who answered happened to be the CO of the station, one Pat Petrarca, and an easier going and understanding seaman one could not hope to have on the line in such a situation. I told him who I was, why I was calling and the situation I was involved with. He asked some questions: the boat's position, the number and the health of those on board, all the stuff I had answers for, and announced he would muster his team and cook up a plan and let me know what it was.
Now the western Atlantic, not surprisingly, is arranged for rescue mission purposes into divide and conquer sectors, with the area of the race being largely in the USCG First District, HQ'd in Boston. But like any large organization, there is a head office, Boston, and satellite offices at Woods Hole and somewhere on Long Island amongst others. The minutia of this episode is already, less than a week later, fading but the punchline is the office on Long Island ultimately dispatched an 87-foot USCG cutter, the Kingfisher, from Montauk to the tri's position. They called to tell me this and that the ETA on site was nine hours…the bulk of which I spent checking the progress of the tri on the Yellow Brick Tracker.
Somewhere in there I noticed that the winged tri was heading right into the bulk of the fleet bearing down on them at 10-20 knots. "Hummm," I thought. I'd previously had comms with Columbia and Spirit of Bermuda, both of whom saw the situation in their tracker screens. I sent a signal to them asking to relay such information on Ch 16 as a PAN PAN call. The tri, sans mast, was floating only about five feet above the water and motoring slowly with limited maneuverability into 8- to 10-foot seas. A collision under those circumstances would be a not pretty sight. In any event we all escaped unscathed. I think Kingfisher might have been on site by then.
I must give a large tip of the hat to the USCG generally and the crew on Kingfisher in particular. They beat feet into the dark ocean for nine hours, then motored alongside the tri, on station all night into Sunday morning at 3 to 5 knots in 30 knots of wind and a matching head sea. They guarded this broken boat until handed off to the Newport Harbor Master Steve Land and some of the Argo shore crew in their RIBs about 0700 Sunday, somewhere off "R2" south of Castle Hill. I mention my great appreciation of this effort to Pat Petrarca in Boston and that I would work on getting a letter from the Race organizers. He was ecstatic for the cutter crew. He told me they do this all the time and rarely ever get a letter, or thanks. C'mon people, that's just plain wrong.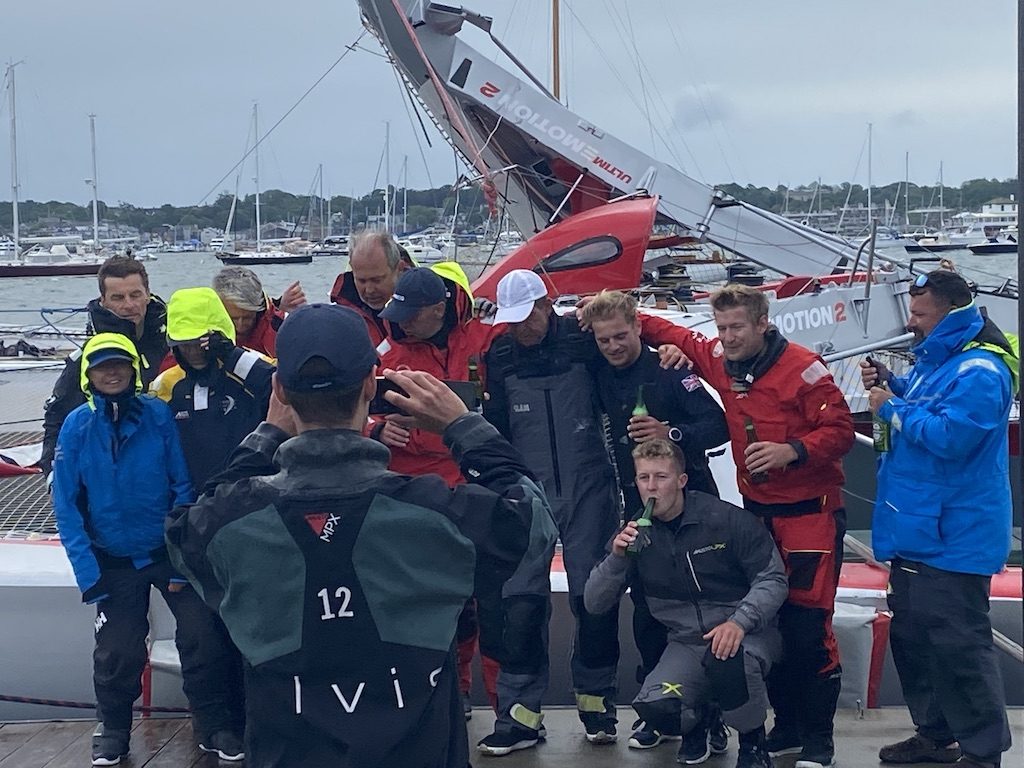 The crew of Ultim'Emotion2 celebrates a safe return to Newport after a catastrophic structural failure and subsequent rescue by the United States Coast Guard.
© JoeCooperSailing.com
The next eighteen hours or so were pretty mild. The retirees did so, not with any particular debilitating damage. Mostly it was some small detail that might be OK if it was blowing only 25 knots, but perhaps not so benevolent in 35kts plus and matching sea state, as forecast. The damage included tracks pulling off the mast, cracks in the gooseneck, a ding in one bow, one boat deciding the race was going to be too much for their smallest boat in the fleet, and so on. Cooper's harangue here: (See last month's column on "too windy.") A lot of the failures reported to us were of a type, I suggest, would've been found if some sailing in such conditions was conducted in advance the race. The Bermuda Race has stringent safety requirements, but there is no substitute for tiller time, even when it's blowing hard. There is a reason the Vendée Globe boats need a 3,000-mile qualifier to be accepted into the race, i.e. go sailing when it's honking.
One boat had a medical episode. This was when a crewmember fell backwards, from the companionway hatch to land back first on the cabin sole. The skipper called and spoke with the doctor on standby in Boston. After the patient was stabilized, the boat retired and delivered the patient to Newport docks then to Newport Hospital. The diagnosis was three broken vertebra and broken clavicle. Don't fall on the cabin floor, folks.
While all this was going down, Argo was setting a cracking pace, showing over 20 knots on the tracker at all times, and only just slowly pulling away from Charlie's (I was so trying to get Angles in here, but…) crew, following along in the high teens. (As I write, the following Thursday, they and Argo were back in Newport,
Meanwhile, back here on planet Earth with the normal boats, there were in this year's race two Doublehanded classes. The better news about this was that the boats were all more or less normal Mom & Pop boats. Among the sixteen DH entries were only two totally dedicated shorthanded boats, both Class40s, and three not-so-much family cruiser racers: a modified Figaro 2, a J/99 and a J/105. J/boats comprised about one third of the race fleet.
The remainder of the boats included a couple Morris Yachts, a Sabre 42, a Sea Sprite 34, a Sigma 41 (winner of the Solo class in last year's Bermuda 1-2), an Apogee 50, and a Ted Hood-designed Little Harbor 37, built by and for Ted in 1962. Thora was sailed by father and son duo Vince & Emmett Todd. Speaking of which, there were several father and son pairs in the various crews, including four on Wizard. I could, and may yet, write a complete column on the families that are the vast majority of this great ocean race.
Masquerade, Andy Burton's class-winning Baltic, had a dad and two sons in the crew and from a separate family, a pair of brothers, and many boats had variations on this theme. The girls from The Lincoln School did well! Team Bitter End got there in one piece and beat one of the other Oakcliff Farr 40s. I had four of my Padawans, including 17-year-old Orla doing bow on Resolute 4, a 40-footer, and Tyler sailing on Stark Raving Mad, plus two former high school sailors of mine, Jimmy and Johnny (one of whom had to bail at the last Covid minute), sailed. There were according to my count 195 or so women in the race, about 11% of the souls on the course. Crew age is not recorded (I think), so I don't know how many Under 25s there were. A good metric to capture, I suggest.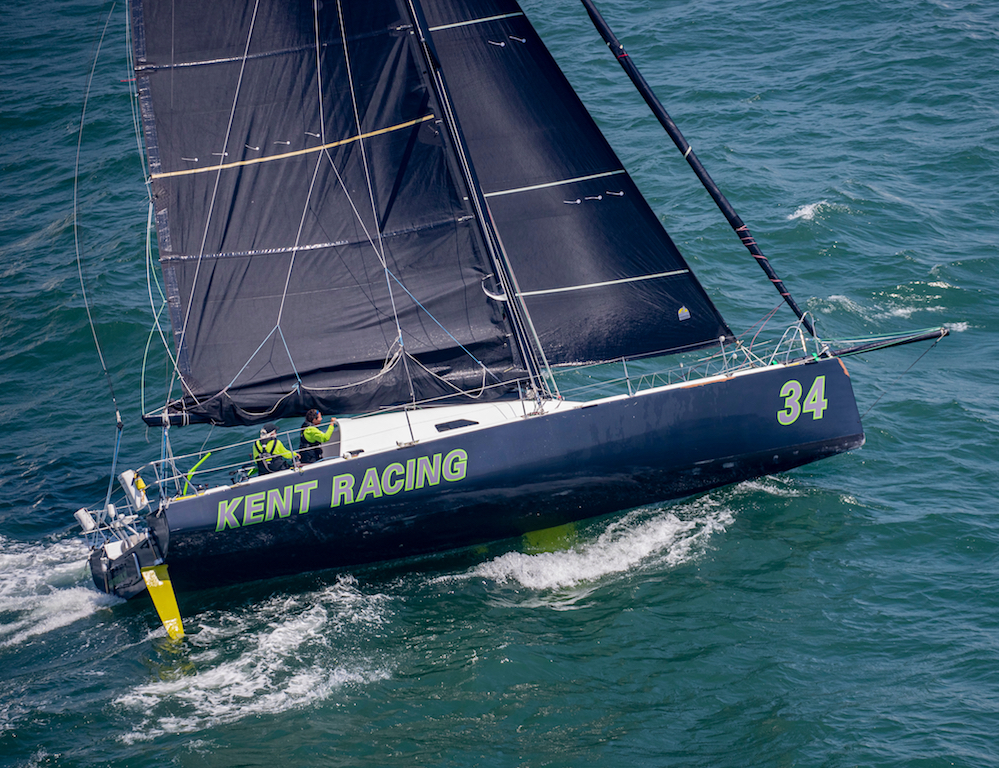 © Daniel Forster/PPL
There was a father-daughter duo in the DH class, Tim Kent and daughter Alison on Kent Racing. Peter Becker, founder of Young American Sailing Academy, sailed a J/105 with 18-year-old Adrien Blanc and pulled out a perfectly respectable second in class and third in division.
And speaking of families, there is always the Becker Sailing Family. Father Becker DH'ing. His son Key doing bow on Hooligan, daughter Carina on Prospector's bow, and mother, wife and shore team manager Adrianne flying down to Bermuda with spares including an electrical harness and three kites in one bag, to replace the two blown up in a 38-knot squall.
The replacement kites are needed for the Bermuda Short Handed Return, which will be underway by the time you are reading this. Remind me to tell you all the story of how this race came about. Seems there were two guys having Dark n' Stormys after a race and… ■
Australian born, Joe 'Coop' Cooper stayed in the U.S. after the 1980 America's Cup where he was the boat captain and sailed as Grinder/Sewer-man on Australia. His whole career has focused on sailing, especially the short-handed aspects of it. He lives in Middletown, RI where he coaches, consults and writes on his blog, joecoopersailing.com, when not paying attention to his wife, dog and several, mainly small, boats.