Olympic hopefuls training at Sail Newport this summer
One of the many aspects, of a depth unfathomable, of living in Newport, Rhode Island is the breadth and depth of the sailing that happens here. At the end of the high school sailing season last May, I noticed an assembly of Nacra 17 catamarans, one of the recent additions to the Olympic sailing roster, in the dinghy lot at Sail Newport. The fact there was a RIB whizzing around with a large USA sticker on the engine suggested something of a small, portable sailing base was in the offing. Me being me, I engaged one of the sailors in conversation.
It turns out Lara Dallman-Weiss had sailed the Women's 470 in the Tokyo Olympics. When the class went co-ed for the next quad and she could not find a male skipper she was happy with, she switched to Nacras. I further discovered that the rest of the cats and crews were here for the summer. After some conversation, I told Lara about my Women on the Water column and asked if she'd be a candidate. Being a great team member, she suggested, "Why not interview all of us?" And here we are. Six boats with co-ed crews is six women, but the day of the interview I could corral only three boats' worth of women. So, as Butch said to Sundance, "Who are those guys?" I spoke with Ravi Parent, Kaleigh Morgan, Cam Farrah, JP Lattanzi, Ben Rosenberg, Henry Lee, Riley Gibbs, and Lara, my facilitator.
Coop: Where are you all from, and what are your sailing backgrounds?
Ravi: I'm from Greenwich, Connecticut, grew up in Florida went to BU, sailed there, and graduated Cum Laude in Mechanical Engineering with an Aerospace Engineering concentration in 2018. I've sailed since I was eight, in prams then Optis. I joined the Sarasota Youth Fleet and started to sail year-round on their race team, qualifying twice for the U.S. Opti Association and representing the U.S. at the South American and British Nationals. (I encourage you to read Ravi's CV at raviparent.com.)
Kaleigh: I'm from Barrington, Rhode Island. I sailed at Sail Newport and coached and taught at Conanicut Yacht Cub. I sailed in high school and was part of the Barrington team that went to the High School Nationals, the Mallory, in 2018. I'm sailing at George Washington University.
Cam: I'm from Destin, Florida and go to Tulane. I grew up sailing 420s and Vipers, and moved into high performance cats. I've been through the Oakcliff Acorn program.
Riley: I was born and raised in Long Beach, California. I started sailing at age four, won the Junior Sabot Nationals in 2010. (As he pauses, the others share his achievements: 5O5 World Champion, top five in the 29er ISAF Youth worlds (2nd), Formula Kite (4th) and Nacra 17 (4th). He was part of the U.S. Olympic Team in 2020 in the Nacra class, along with Lara and crew Nikki Barnes in the 470, and was wing trimmer for Team USA Sail GP.
JP: I'm not strictly part of the cat sailing group but I'm from Hawaii, and I'm here at Sail Newport for the summer. I'm friends with all these guys and I'm a kind of stand in coach/videographer. I sail International 14s and Wazps, and I'm presently an online high school student.
Ben: I'm from East Greenwich and go to URI and sail there.
Henri: I'm from Edgewood and grew up sailing on Narragansett Bay. I go to URI and I'm on the sailing team.
Lara: I grew up in Minnesota, sailing on White Bear Lake. I spent a lot of time as a kid playing basketball, running and dancing. I only clicked into sailing at Eckerd College. I was team captain, placed third in the 2010 Women's Nationals then rolled into 470s going to Tokyo for the 2020 Olympics with my crew Nikki Barnes. I've previously done a lot of professional sailing on Farr 40s, Etchells, C&C 30s, and so on. I was part of the team taking a third in the 2014 Women's Match Racing World Championships.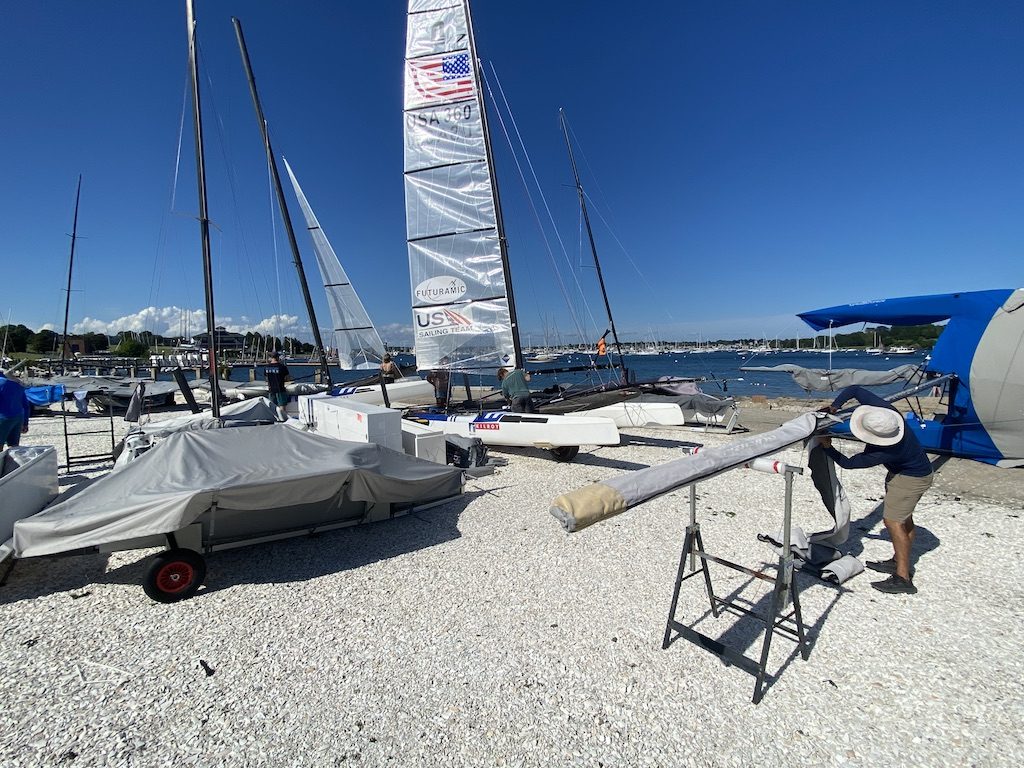 © JoeCooperSailing.com
Coop: When did you decide you wanted to go to the Olympics?
Ravi: I enjoy the idea of working on something and getting better every day. That's basically required in an Olympic campaign: you have to wake up every day wanting to get better.
Lara: When I was nine, I actually wanted to go to the Olympics in basketball. My mom got me a book about women in sports, with basketball players in it. I'd been playing basketball since I was five, but then I stopped growing…
Cam: I met Sally Barkow when I was fifteen. She had just hopped on a foiling A Cat when it was really nuking, and did really awesome. I met her on land later and thought, "Oh, I wanna do this." It was so cool to see a woman do well in high performance sailing. She became the head coach in the Nacra a few years later, and when she told me about her experiences with Team SCA in the Volvo Ocean Race it was so inspiring.
Kaleigh: I have always liked sailing. I was sailing 420s around 2017, and I saw Lara and her crew Nikki working out at the gym at Newport Shipyard. They asked me to take a picture of them for Instagram, and I thought, "Here are a couple badass women, and they're trying out for the Olympics. I wanna do that.
Ben: I think it was the Opti USODA trials in Coconut Grove in 2012. I was getting pretty serious about competitive sailing. Anna Tunnicliffe was there, and it was inspiring to see an Olympic Gold medalist, right there. She's pretty fit, and when she walked into the room people would look at her and listen to her…she looked like an Olympic athlete.
Henri: I'm like Ravi: I like getting better every day and seeing myself improve. I got hooked on the Olympics when I did the Brooke Gonzalez Advanced Racing Clinic at Sail Newport a few years ago. Malcolm Page was there, and he had his medals. He put one around my neck and I thought, "Ooh, this is me."
Coop: In any of the top three events in the sailing universe – Olympics, America's Cup and The Ocean Race – everyone has to wake every day, before the alarm, just burning to get better. What is it about the Olympics versus the Cup or The Ocean Race that resonated with you?

Ben: I think the Olympics are the most competitive event where you contribute the most per race versus the other two events. In the Olympics you, as an individual, need to master lots of small elements yourself.
Lara: I think the Olympics brings you closer to the other competitors.
Coop: Sailing, in the U.S., has never been able to generate the kind of professional sponsorship dollars other sports do, so how do you keep all the finances together? Do you all have day jobs?

Ben: Yes, I work at Sail Newport coaching the Brenton Cove Racing Program. Cam and I do boat work or sail in the morning, then I coach, then Cam and I sail in the afternoons. It's a hard balancing act, but I'm committed.
Coop: Is there a dedicated US Sailing Olympic class coach for you all?
Lara: No, not right now. She's on maternity leave.
Coop: Why the Nacra?
Ravi: The Nacra is an interesting boat because it takes a certain skill set and desire to develop and manage the boat. You need to be able to trapeze, have strength and agility, and be a bit of an engineer to have the understanding to deal with foiling.
Riley: Yeah, there needs to be a technical savvy here. These are very technical boats, so there's a smaller group that wants to sail them.

Coop: How long are you here in Newport?

Riley: Until July 29, then a week off, then sailing at the Worlds in Halifax.
Coop: What are the things you have work on to improve?

Lara: I'm spending time singlehanded foiling. I want to get a better understanding of the feel of steering, to better understand what is going on, what the skipper is experiencing. There are a little adjustments and techniques for doing things on these boats. They all need to happen quickly and smoothly and there is often not a lot of time, if any, for the skipper to say something.
Ben: You really need to have a full understanding of each other's jobs and total respect for each other's skills…you gotta know each other pretty well.
Ravi: Communications: Two individuals as a pair, not two individuals.
Cam: Time management: The only commodity we all have is time, so how we use it is important.
Coop: Yup. John Bertrand said that in 1980. Speaking of which, thank you for your time, and good luck to you all. ■