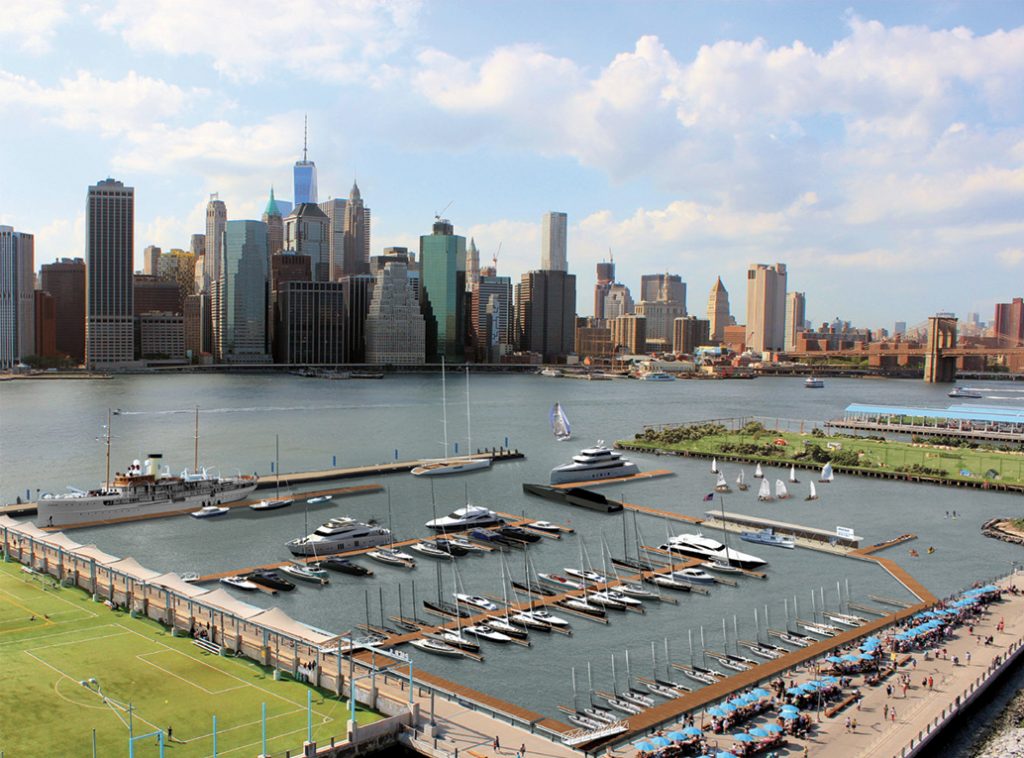 New York City's first new marina in over 50 years is opening at full capacity in Brooklyn Bridge Park. ONE°15 Brooklyn Marina, set on eight acres between Piers 4 and 5 at the mouth of the East River, came with a price tag of over $28 million and involved massive infrastructure work.
"ONE°15 is proud to bring to fruition the first new marina in New York Harbor in a generation and to welcome boaters to the calmest waters in the New York Harbor," said Chairman and CEO Arthur Tay, the marina's developer. "We were pleased to partner with Brooklyn Bridge Park and the City of New York to develop this outstanding marina, which will revitalize recreational boating in New York City and offer a wealth of community programs."
With over 100 berths for vessels up to 200 feet, ONE°15 Brooklyn Marina also has a sailing club and sailing school. Construction included the expansion of the Community Dock, the city's largest public access point, for recreational and educational activities including kayaking, sailing, biology, etc. Nestled between two major rivers and the Atlantic Ocean, New York Harbor is susceptible to challenging tides and choppy waters. In response, ONE°15 implemented a robust system of wave attenuators comprised of deep draft steel barges, the first setup of its kind in New York City, to reduce the size and energy of incoming waves.
"The operational team at ONE°15 Brooklyn Marina worked closely with engineers, architects and its Singapore-based owners to maximize the usage of this iconic location, facing lower Manhattan's Financial District and flanked by Brooklyn Bridge and Governor's Island, to accommodate the widest range of water enthusiasts," said John Winson, general manager of ONE°15 Brooklyn Marina. "The marina will accommodate everyone, from deep draft ocean-going yachts to single kayakers." To learn more, visit one15brooklynmarina.com. ■