By Fred Waitzkin
Illustrated by John Mitchell
Published by Open Road Integrated Media, Inc. 143 pages paperback $17.99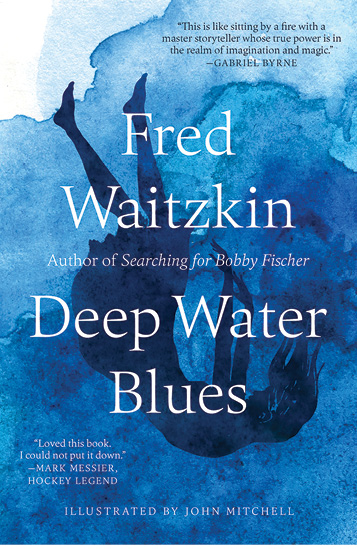 On the remote Bahamian island of Rum Cay, expatriate American entrepreneur Bobby Little, a master chef and former skateboarding champion, surfer and undercover DEA agent, has built a small marina that caters to wealthy sportsmen in search of the huge blue marlin in the cobalt waters.
One night, however, as millionaire clients are enjoying fine French cuisine in the marina's four-star restaurant, an overloaded sailing vessel carrying Haitian founders on a reef just offshore. Most of the older passengers are soon drowned, and many of the younger ones are devoured by bull and tiger sharks as they desperately swim for shore. In the wake of this tragedy, tourists stop visiting Bobby's little paradise and a different sort of self-made businessman attempts to assume control of the island, igniting a bloody private war. Inspired by a true story, Deep Water Blues is a gripping summer read.
Fred Waitzkin's work has appeared in the New York Times Sunday Magazine, the New York Times Book Review, Outside, Sports Illustrated, Forbes, the Huffington Post, the Daily Beast, and other publications. His memoir, Searching for Bobby Fischer, was made into a major motion picture, and his other books include Mortal Games, The Last Marlin and The Dream Merchant. He lives in Manhattan with his wife Bonnie and spends as much time as possible on the bridge of his old boat, The Ebb Tide, trolling baits off distant islands with family and friends. To learn more, log onto fredwaitzkin.com. ■