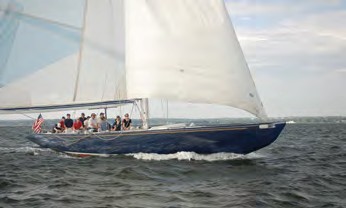 The New York Harbor Sailing Foundation in New York, NY has signed a deal to acquire a second America's Cup 12 Metre yacht. This new 12 Metre, America II US 42, is the sistership to another America II, US 46, which the Foundation already owns. The new 12 Metre has been moved into storage at New England Boat Works in Newport, RI. Fundraising for her restoration will begin soon.
© Allen Clark/PhotoBoat.com
"There were a total of three America IIs built for the 1987 America's Cup, which was held in Freemantle, Australia," explained Michael Fortenbaugh, the Foundation's Executive Director. "These were US 42, 44 and 46. All boats were named America II. This Cup was won by our patron Dennis Conner on Stars & Stripes. For the past eight years, our club [Manhattan Yacht Club] has been involved with US 46, the final America II which actually raced in the Cup. A group of visionary members purchased this vessel to help celebrate our club's 20th Anniversary. Then the members donated her to the Foundation. With the Foundation now acquiring US 42, there will soon be two identical 12 Metres sailing and racing in the harbor."
The New York Harbor Sailing Foundation is a non-profit organization whose mission is to foster and promote amateur sailing of national and international importance in New York Harbor. For more information, visit nyharborsailing.com.