An especially large number of individuals and organizations from the Northeast were recognized this year by US Sailing for their contributions to the sport of sailing in the United States. The organization's 2018 Association Awards, Community Sailing Awards and One-Design Awards were presented during the National Sailing Programs Symposium (NSPS) in Jacksonville, FL in January.
Association Award Winners
Barbara & Thomas Farquhar of Marion, MA and St. Petersburg, FL, who have taught race management, judging and umpiring seminars extensively around the world and given countless volunteer hours to regattas, US Sailing and World Sailing for over 40 years, received the prestigious Nathanael G. Herreshoff Trophy for their extraordinary contributions to the sport of sailing.
MudRatz, a youth sailing organization in Stonington, CT that offers excellent opportunities in dinghy, sportboat and offshore racing, received the Captain Joe Prosser Award for excellence in sailing instruction.
Noel Field of Little Compton, RI, who has served on US Sailing's Review Board since 2003 and was appointed its first Sailor Ombudsman in 2004, was awarded the Harman Hawkins Trophy for his contributions to race administration.
Ed "Buttons" Padin (New Rochelle, NY), Siobhan Reilly (South Salem, NY) and Bill Sandberg (Essex, CT), founders of the Robie Pierce Regatta, received the Gay S. Lynn Memorial Trophy for their outstanding contributions to sailors with disabilities and to adaptive sailing.
Jessica Servis of Ocean View, NJ, US Sailing's Productions Team Lead, received the Dick Allsopp CREW Award for her remarkable work for the Education Department and all other aspects of the organization.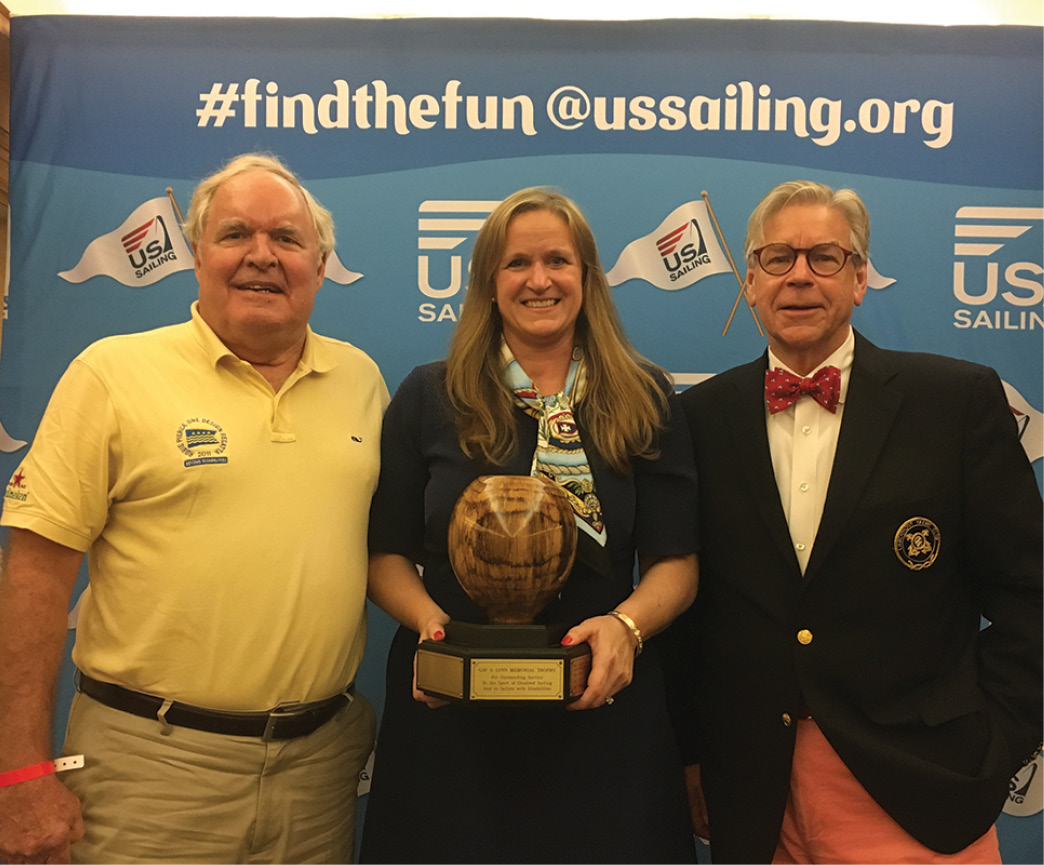 From left to right are Robie Pierce Regatta co-founders Bill Sandberg, Siobhan Reilly and Buttons Padin with the Gay S. Lynn Memorial Trophy, awarded for outstanding contributions to sailors with disabilities and to adaptive sailing.
Community Sailing Award Winners
New England Science & Sailing, a non-profit ocean education organization in Stonington, CT, received the Jim Kilroy Award for Outstanding Outreach & Inclusion.
Gregory Pimentel, Program Director at the Community Boating Center in New Bedford, MA, received the award for Excellence in Instruction.
Brad Read, Executive Director of Sail Newport in Newport, RI, Rhode Island's Public Sailing Center, received the award for Outstanding Organizational Leader.
Hudson River Community Sailing in New York, NY, an organization that uses sailing to fulfill its mission of developing leadership skills and academic success in underserved New York City youth and providing maritime education to New York City at large, received the award for more than Ten Years of Hallmark Performance for their continued commitment to community sailing.
One-Design Award Winners
Cedar Point Yacht Club in Westport, CT received the National One-Design Club Award recognizing administrative excellence, fleet growth, creative programming, regatta support and member contributions.
Victor "Pete" Bethge, Commodore of the Menantic Yacht Club in Shelter Island Heights, NY (known as a "Shangri-La" for Sunfish sailors), received the National One-Design Leadership Award.
Jen Guimaraes of Bristol, RI, US Sailing's Youth Education Manager, received the Martin A. Luray Award for her outstanding and unselfish contributions to further public access to sailing.
More information about these award winners and others from around the country can be found at ussailing.org.
Jake Fish, US Sailing's Communications Manager, contributed to this report.